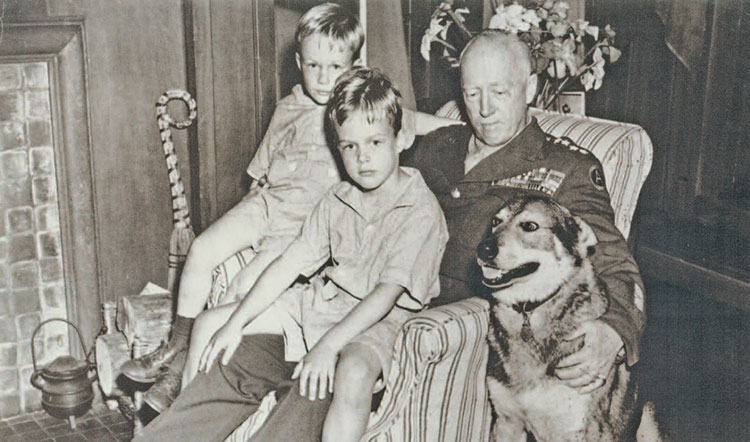 In real life, actor George C. Scott looks nothing like the colorful and controversial World War II general he portrayed in "Patton," the award-winning 1970 movie. One Mount Pleasant resident does exhibit a marked resemblance to the iconic Army officer, however, and for good reason. George Patton "Pat" Waters is the grandson of Gen. George S. Patton Jr.
And Waters, though he knew his larger-than-life grandfather for only 15 days, garnered some valuable lessons from the general that served him well later in life.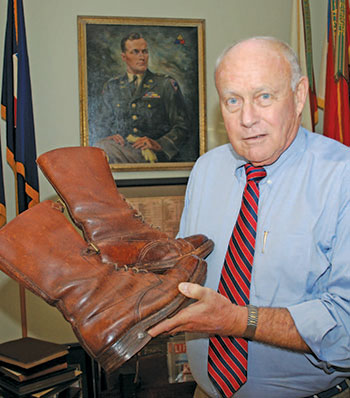 "I learned commitment – doing for others and not just for yourself," he said. "Despite what you see, he was a humble person. This may be in conflict to what people saw in Patton. He gave all the credit to the men who served under him and did the job. He was a genuine person."
Waters, now 75, has lived in Mount Pleasant for the past 24 years. He met his grandfather only once, late in the summer of 1945, when the general stayed with Waters and his family during a 15-day victory tour at the close of World War II. In his combat uniform, he left a lasting impression on young George, who wasn't quite 5 years old.
"He scared the hell out of me," Waters remembered.
Patton's Army footlocker also arrived, and inside were Christmas presents for the four grandchildren he was meeting for the first – and only – time. Among the gifts, Waters recalled, were a Mauser rifle, pistols, a bloodstained German uniform and helmets once worn by enemy soldiers, one of them distinguished by a bullet hole.
"Patton said this was the helmet of a hero," Waters pointed out. "He said he had died for his country, so he regarded him to be a hero, despite the fact that he was also a German."
After his 15-day tour, Patton returned to Europe. Not long after, in December 1945, he was scheduled to come back to the United States, but his plane had mechanical issues, so he went hunting instead. His driver lost control of the staff car, and the resulting accident claimed the life of an American war hero.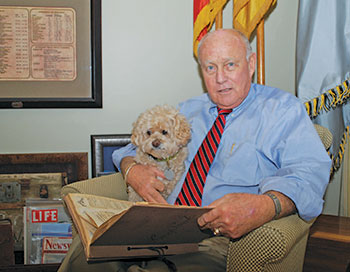 "The sad thing is that he didn't get to know his grandchildren. And he didn't get to thank the American women who produced the men and women who went over there to fight," Waters said.
Waters' father, John Knight Waters, was also an Army lifer. As a lieutenant colonel during World War II, he was captured at the Battle of Kasserine Pass and spent "two years, two months and 10 days" in a prisoner-of-war camp. He served in Korea as well and rose to the rank of general.
When it came time for George Patton Waters to serve his country, he chose to do so in the Navy rather than the Army and in relative anonymity, going by the name George Waters and insisting, when asked, that his nickname, Pat, "was just a good name." Eventually, his shipmates aboard the USS Braine discovered that his father, grandfather and uncle – Patton's son – were all generals.
"It was more my dad than my grandfather," Waters said. "I didn't want to follow in his footsteps. I wanted to make it on my own."
Waters spent five years in the Navy, about six months of that time near Vietnam aboard the Braine, a destroyer. His dreams to become a naval aviator were dashed by his less-than-perfect eyesight, so, "fascinated by radar," he was trained as a combat information officer, retiring in 1970 as a lieutenant. Prior to his military career, he attended Norwich University in Vermont and graduated from Pfeiffer College near Charlotte with a business degree.
When he left the Navy, Waters went to work at Coca-Cola as an administrative assistant. Three hundred sixty four days later, he left the corporate world behind, borrowed some money and started his own business.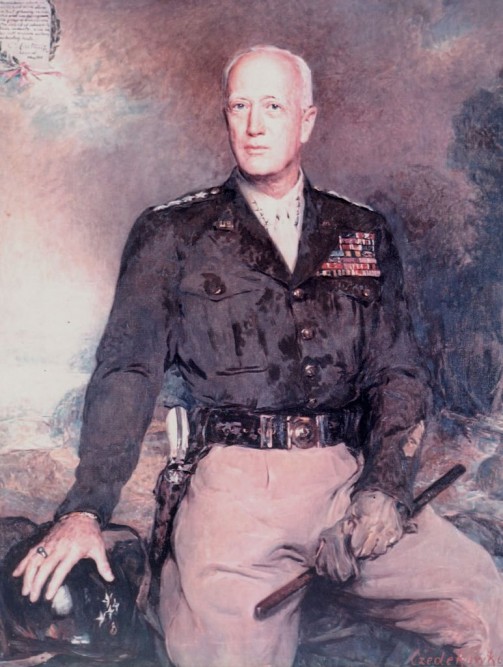 "It's better to be in business for yourself," he said, then went out and proved it by establishing a successful land development company in the Baton Rouge, Louisiana, area.
He retired in 2005, and his son still runs the business. That doesn't mean, however, that Waters spends his time in a rocking chair on his back porch. Though he once shunned the spotlight of being the grandson of an American military icon, that is no longer the case. He is a member of the board of directors of the General George Patton Museum and Center of Leadership in Fort Knox, Kentucky. When he visits the museum, usually around four times a year, he now flies commercial, even though he is a private pilot and a longtime and active member of the East Cooper Pilots Association, which is based at the Mount Pleasant Regional Airport.
A room in his Mount Pleasant home dedicated to his grandfather features a portrait of the general painted by Polish artist Boleslaw Czedekowski. Patton sat for the portrait shortly after the Germans surrendered in May 1945; the artist finished it after Patton passed away.
Waters has collected a wealth of other Patton memorabilia, including newspaper clippings, photos, flags and the boots the general was wearing when an auto accident took his life. A small St. Christopher medal is embedded in the side of the heel of each boot, and dirt and stones from Mannheim, Germany, where the accident occurred, are still stuck to the soles.
Only the shoelaces are not authentic, which Waters regrets.
"The laces are not original. They cut the originals off to get the boots off his feet after the accident," he explained.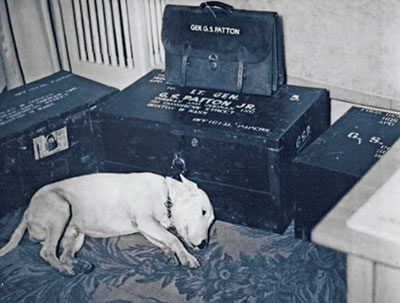 Waters has also visited a camp in Poland where his father was held as a POW during World War II in an effort to convince the Polish government to let the community of Szubin build a Hall of Remembrance there. The camp is currently the site of a reform school for kids who have committed crimes; they would provide the labor to build the memorial.
He also visited Flossenburg, Germany, around five years ago with nine survivors of the Nazi concentration camp built there in 1938. He was afraid that his fellow travelers would resent him because Patton used Germans to help run the country after the Nazis were defeated, but, as it turned out, his concerns were entirely unfounded.
It seems, according to Waters, that his familial relationship with Gen. George S. Patton has been much more a blessing than a curse. He recalled meeting a man not long ago who told him: "I'm only here because of your grandfather. He kept us moving. If we had stopped, I would have died."
"I guess I look a little like him," Waters concluded. "It's an honor. You get to meet people who admired him. The opportunity you have is to express the gratitude he had for the 400,000 men who served with him."
By Brian Sherman