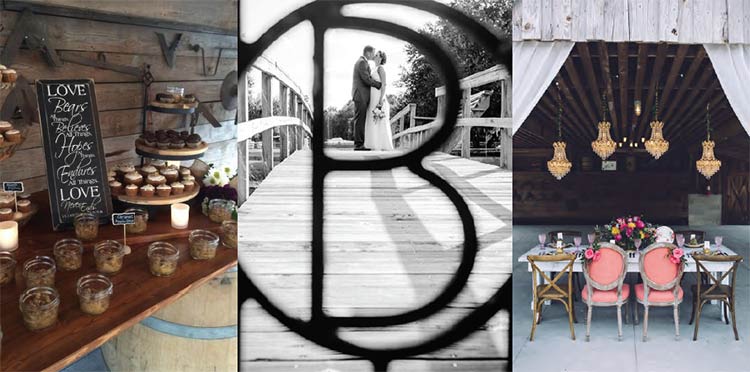 In an area where nearly all wedding venues are billed as "unique," the Stables at Boals Farm stands out from the crowd. Although it opened to weddings and other events just two years ago, it has already become a favorite among couples, both locals and visitors. Weddings held here are a perfect combination of something old and something new.
Ronald M. Boals Sr. established the farm and started growing cane sugar in 1965. Relics such as the vintage syrup kettle – which is in the syrup house – provide a glimpse into an old-fashioned life. In fact, everywhere you look, you'll see bits of the past reclaimed and recycled to create a truly special place.
Until just a few years ago, the property was simply a working horse farm. But Jason Boals, son of the owners, saw possibilities as a wedding and special events venue and worked to bring his vision to fruition. He designed the improvements and created a venue that was both charming and practical.
Ashley Truitt, daughter of current owners Tommy and Karen Boals and Jason's sister, said "everything here is authentic," pointing out a recycled roof, vintage tiles and repurposed wood that lend a rustic feel to the property. The centerpiece is the 2,000-square-foot open-air pavilion, which includes a flex space and even a circa 1800s carriage "which can be used to hold gifts or as a photo opportunity."
"The flex space can be used as a bar or a food serving station or even as a DJ booth," Ashley said.
She added that nearby vendor parking makes life easier for caterers and other professionals.
In addition to the pavilion, which by itself is suitable for smaller events, Ashley explained that there is room enough for a 40-by-40-foot tent for events that can accommodate up to 500 people.
"We can set up tables under the tent," Ashley said. "The pavilion is good for dancing."
Ashley pointed out that rental items that enhance the country chic theme are available for an additional fee, including plantation bench seating, a variety of tables, lanterns and signage and even stump aisle markers.
The Stables at Boals Farm also offers several options for the actual ceremony, allowing each bride to add creative touches such as lanterns hanging from stately oaks or fabric draping the barn door. Especially nice for the bride and her attendants is the delightful cabin that is just steps away. With two bedrooms and a kitchenette, there is ample space for pre-wedding preparations and relaxing before the ceremony. The men of the bridal party gather at the nearby conference room.
Weddings are family affairs and, at this venue, the Boals family is on hand to make sure things go smoothly. They do require that couples have a professional day-of-event coordinator to handle the details of the wedding itself while the family takes care of logistics such as setup and parking.
Pricing for weddings ranges from $2,000 to $3,000 for a full-day rental, depending on the day of the week, with Saturdays at the high end. This includes the cabin, a small conference room that can be used to meet with vendors in advance and a variety of vintage accessories. Photos for engagements or bridal portraits are included in the wedding package, while other pictorial possibilities can be arranged for $50 per hour.
The reasonable pricing is second, however, to the family atmosphere and the flexibility of this serene spot. This property has been the site for celebrations for generations. That tradition continues today as Jason Boals, along with his family, creates memorable events for your family at an authentic Lowcountry farm.
Create your own bit of history. It's as easy as meeting with Ashley and Jason and sharing your vision of how your perfect day should look. They'll know exactly how to make that happen.
Is the Stables at Boals Farm your perfect venue? Visit BoalsFarm.com to learn more or call 843-501-6339 to arrange a visit. The Stables at Boals Farm is located just off Clements Ferry Road and is easily accessed from I-526 and Highway 41 in Mount Pleasant.