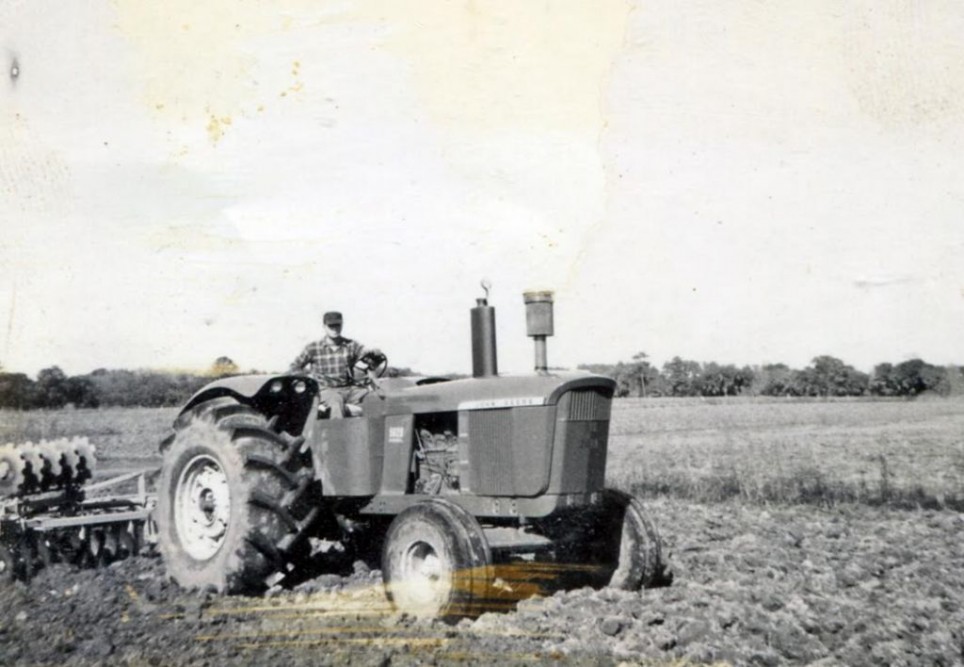 Once upon a time, the main thoroughfares of Mount Pleasant were not gateways to the beautiful neighborhoods we recognize today but expanses of fertile land where hardworking farmers grew scores of tomatoes, cucumbers, peppers and other staples of Southern produce. It was, of course, long before I moved to this area – even before I was born – but, as I spoke to Douglas M. Heath about the industry that sustained his family for decades, I could almost picture it.
The original Heath family – made up of Alva M. Heath and his wife, Iva Lee Heath, as well as sons Douglas, Alec, Clayton, Marvin and George and daughters Gloria, Diane, Joye and Cindy – established themselves in the heart of East Cooper as farmers of produce and grain from the 1950s until the 1990s. Douglas, Alec, Clayton and George were instrumental in the business – but they also had a little help from their friends, as the song goes.
Born in Georgia and raised in Mount Pleasant, Douglas recalled his earliest days when his dad worked for Seaboard Coast Line Railroad as a fireman and "would travel between Savannah and Charleston." A new opportunity awaited the family when Iva's uncle, who owned the land now known as Wakendaw Lakes, needed help farming and broached the idea of a partnership with Alva. The rest, as they say, is Mount Pleasant history.
"We initially worked out of a four-room shack located where Stuhr Funeral Home is now," Douglas Heath said. "We started out with one mule – a huge mule named Julia – plus a very small tractor and a sled. We'd load the sled and drag it around."
Back in those days, the 1950s, both Mathis Ferry and Bowman Road were dirt roads, according to Heath. And even the site of the former Wando High School building, at the corner of Mathis Ferry and Whipple roads, was nothing more than a lush grove of pecan trees. The Heath family, making good use of the available land, farmed among those very pecan trees until the school was built in 1973.
"Where the Live to Play swimming pool and tennis facilities are now, that's where our largest packing house was from the late 1960s on," Heath explained. "Our original packing house, located where Riverwood Apartments are now, had been burned, and the second one was built at 1503 Mathis Ferry Road. The house and shed are still there."
Eventually, Douglas Heath's son, Douglas L. Heath, was introduced into the family business. He and his mother, who taught at Wando High School, were original Warriors.
"I've lived here all my life," the younger Doug Heath remarked. "Not many people know how Mount Pleasant used to be."
Students from the new Wando High School as well as from Bishop England High School, proved to be a welcome source of labor for the Heaths. Even maintaining the packing house was entirely too much work for the family to accomplish alone. Business was thriving, and Alva and sons stayed busy farming many areas along Mathis Ferry – the current sites of I'On, Olde Park and Point Pleasant, to name a few – as well as along Long Point Road and in McClellanville.
"We would hire at least a hundred local students to help us pack," Douglas Heath remembered. "We would also hire locals from Snowden as our tractor drivers. And we'd have crews from Immokalee, Florida. We had a number of migrant workers helping as well. When the crews would leave Mount Pleasant, they'd head up the Eastern seaboard and continue working other farms."
According to the Heaths, helping out at the packing house, which was 230 feet long by 100 feet wide, was a coveted form of summer employment from mid-May until July. Boxes of tomatoes, cucumbers, bell peppers, beans, cabbages and more were prepared to be sold in different areas of the region. Produce from Heath Farms was available at the juncture of Ben Sawyer Boulevard and Rifle Range Road in an open air market, at the downtown Charleston market and even as far away as in Columbia, in what Douglas Heath called "a natural progression" of business.
Then, in 1983, Alva Heath passed away, and plans changed. In an effort to scale back but still honor the family's legacy, Douglas Heath, his brothers and their immediate family members decided to open a produce stand at 1503 Mathis Ferry Road, known as Heath Farms Fresh Produce. The business was a true family effort and remained a cornerstone of Mount Pleasant culture until the early 1990s.
"My two sisters-in-law – Clayton's wife, Sally Heath, and Alec's wife, Jeanie Heath – ran the produce stand, which was about 60 feet by 30," Heath remarked. "We still farmed, but we did it on a smaller scale. The one thing we knew back then was work."
Today, Douglas Heath and his remaining family members are no longer in the produce industry, but East Cooper residents can still view the brick house where the Heaths lived, plus the packing shed and the slab of concrete where the produce stand was near the corner of Mathis Ferry and Whipple roads. Meanwhile, Douglas Heath now lives in Seaside Farms and enjoys a more leisurely pace of life.
And probably a salad for nostalgia's sake every now and then.
By Denise K. James.
Photo courtesy of the Heath family.