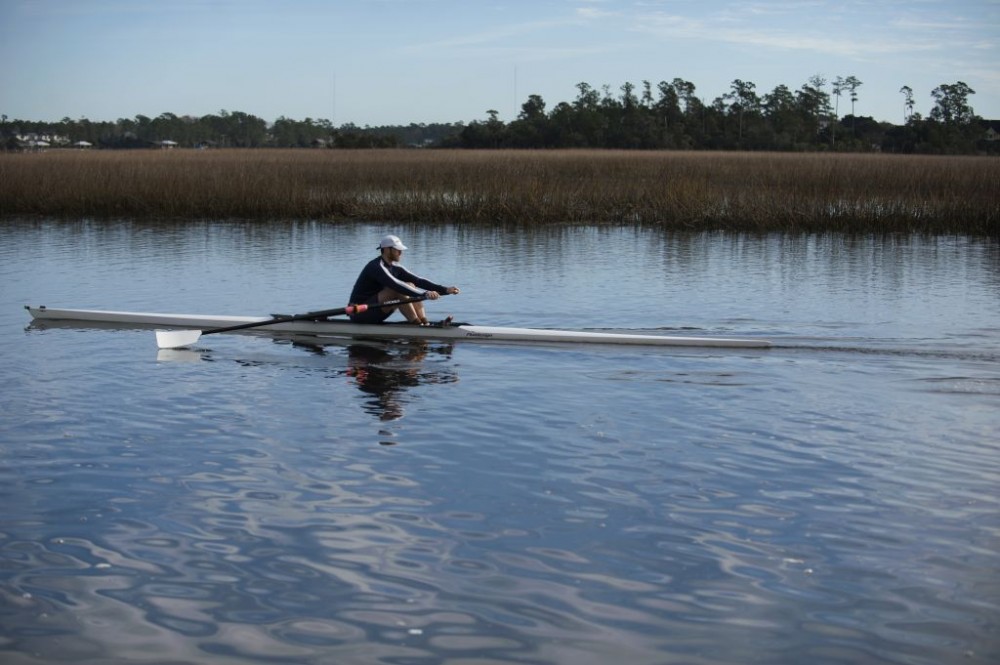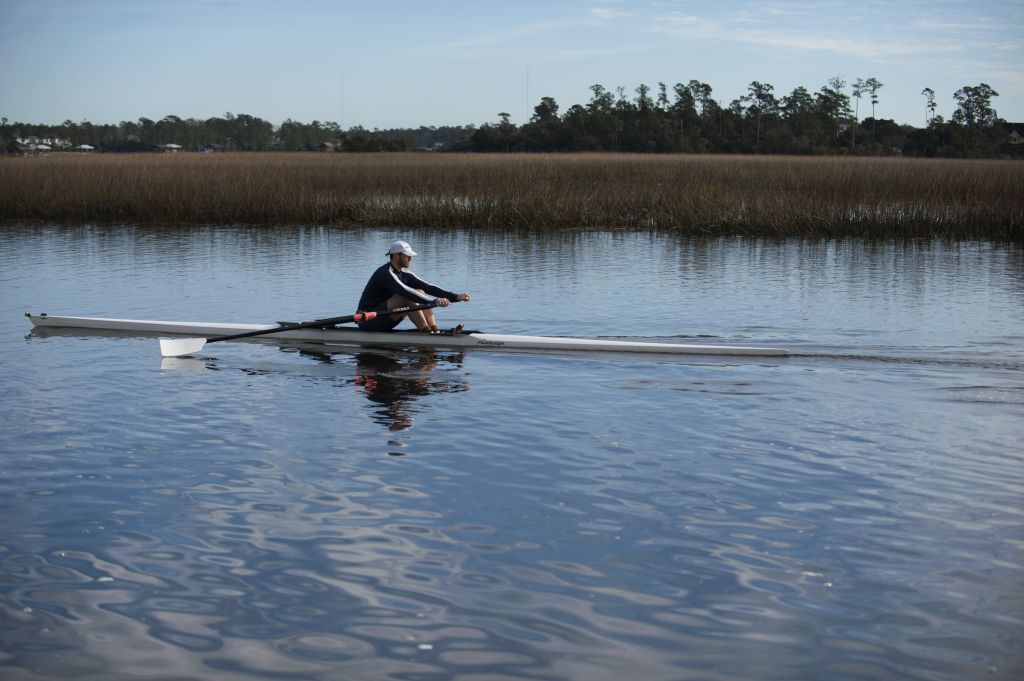 The Charleston Rowing Club is a product of humble beginnings. Launched by Rando Blyth in 1987, none of the organization's "five or six guys" even owned a racing scull until after Hurricane Hugo blew through the Lowcountry in 1989. They found a boat that the violent storm had tossed from who knows where. No one claimed the vessel, so, by default, it became the property of the club.
Blyth rented space on Shem Creek to store the group's newfound windfall and, later, the rest of its fleet. Not long after, another key member of the Charleston Rowing Club arrived in the Lowcountry, seeking a way to continue his love affair with the sport of rowing.
Rob D'Italia has been a member of one of the most prestigious rowing clubs in America. He has skimmed across tranquil streams and choppy creeks up and down the East Coast and elsewhere throughout the United States, and he has put his racing scull in the water at some of the nation's most prominent regattas. At one time, he even had aspirations of competing in the Olympics.
A quarter of a century after relocating to Mount Pleasant from Philadelphia, a hub of the rowing universe, D'Italia, Blyth and a dozen or so other Charleston Rowing Club members are still spreading the word about the grueling but liberating sport.
"Once I started, I never wanted to stop," said D'Italia, now 62.
Since arriving in the Charleston area, D'Italia has worked with and competed alongside the club rowers at the College of Charleston and at one time helped coach rowers at The Citadel. He now hones the skills of members of the Charleston Rowing Club and also serves as vice president and treasurer of the Greater Charleston Rowing Alliance, an organization of area clubs "dedicated to the promotion and development of the sport."
D'Italia has not always been addicted to rowing. At Camden Catholic High School in Cherry Hill, New Jersey, he ran track and cross country. But when he arrived at nearby Stockton State College, he sought a sport that presented more of a challenge. A friend suggested the crew club.
"I wanted to do more than just run," he explained. "I wanted to use my whole body. I wanted it to be more than a pair of legs and a set of lungs."
As it is with so many other rowers, his love affair with the sport remained torrid after he finished college. He earned a spot with the Vesper Boat Club, established in 1865 and headquartered on historic Boathouse Row along the Schuylkill River in Philadelphia. He rowed for Vesper for eight years and with the nearby Malta Boat Club for another five. During that time, he was part of an eight-man team that took top honors twice at the prestigious Head of the Charles Regatta in Boston.
When D'Italia landed in Mount Pleasant in the early 1990s, he was concerned that his rowing days might be over. However, he soon discovered Blyth and company, though he also found that Shem Creek isn't the best place to test the capabilities of a racing scull and the strength and stamina of a rower.
"A single scull is not conducive to chop or waves. I was swamped many times by tugboat waves," he said.
The Charleston Rowing Club later moved its base of operations to a former canoe-rental facility at Palmetto Islands County Park in Mount Pleasant. Club members now can access the Wando River by way of Horlbeck Creek.
Blyth, 67, also a Mount Pleasant resident, last year had hip replacement surgery that kept him off the water for five months. He was quick to point out that the injury was not a result of rowing.
"Rowing is the best aerobic exercise, and it's fun," he said. "I like to row all over the harbor. I'm out there for fun and adventure."
He added that he was drawn to rowing because he "never got along well with engines." He spent a lot of time in Arkansas as a child with his grandparents, though he "lived all over" because his father was in the Marine Corps. He learned all about sailing, canoeing and rowing at a Red Cross instructors' school in Wisconsin and taught others about these watersports, and, when he relocated to Mount Pleasant in 1978, he sailed off Sullivan's Island.
Still looking for a hobby he could call his own, Blyth, who already had a pilot's license by the time he arrived in the Lowcountry, took up flying until the cost of fuel made that pastime a tad too expensive. He had an epiphany in 1987 after reading a book about open-water rowing.
"I said 'That's what I want to do,'" he explained.
Blyth now teaches the younger members of the Charleston Rowing Club the basic rowing strokes, while D'Italia trains them for competition. Blyth also does his best to pass along his own personal outlook about the sport.
"My philosophy is that rowing is fun and an adventure," he said. "And without realizing it, you get a really good workout. But it's not a chore. You shouldn't think of it like exercise."
D'Italia, obviously more serious than Blyth about the competitive aspect of the sport, pointed out that there are two major categories of rowing. In a sweep boat, there can be two, four or eight rowers, each handling one oar that is around 12 feet long. In an eight-person boat, there might also be a coxswain who steers the vessel and coordinates strategy, which is especially important in a head race, which generally runs along the course of a river.
Strategy is key, according to D'Italia, because it is difficult to turn a boat that might be more than 60 feet long. And, in a head race, a half dozen or more vessels could be maneuvering to wend their way through an area wide enough to accommodate only one or two boats at a time.
A sculling shell, on the other hand, can be propelled forward by the efforts of one, two or four rowers, each handling two oars that are around 9-and-a-half feet long.
In addition to head races, where strategy is paramount, rowers compete in straight-line, 2,000-meter sprints. D'Italia said an eight-man boat can travel at speeds of up to 24 mph, while a single scull can cover 2,000 meters in seven to eight minutes.
He added that the shape of the oars and boats has changed over the years, all for the purpose of increasing speed.
"Everyone is moving in the same direction with a single thing in mind – as much speed as possible," D'Italia said. "The whole idea is a graceful, flowing movement, dictated by the physics of the boat moving forward as quickly as possible."
When he was racing with Vesper and Malta, D'Italia would row 800 to 1,000 miles per season, physical training that is necessary for competitive rowers.
"In a 2,000-meter race, after about 500 meters, you're already oxygen-deficient," he explained. "You have to learn to force your body to work through that and still perform. Your muscles are burning."
D'Italia admitted that he no longer trains as diligently as he did when he rowed for Philadelphia's big-time rowing clubs. He said he now travels to compete in five to six races a year. Currently, no races are held in the Charleston area.
Over the years, D'Italia has competed at venues including the Head of the South Regatta in Augusta, Georgia; the Head of the Hooch Regatta in Chattanooga; the First Coast Head Race in Jacksonville, Florida; the Tail of the Tiger in Clemson, South Carolina; and the USRowing Southeast Regional Championship Regatta. His dedication to the sport of rowing has taken him to the Detroit River, Long Island Sound, the Connecticut River, Miami and various other venues along the East Coast.
How long will he continue to row? When is he going to retire from the sport that has been his passion since he left high school?
"When I can't pick up my boat and put it in the water," he said.
Blyth, just as dedicated to the sport, isn't thinking about trading in his racing scull for a rocking chair anytime soon either.
"I stress to all these kids that rowing is a great way to get in shape and have fun outdoors," he said.
For more information about Charleston Rowing Club visit their Facebook page.
By Brian Sherman.
Photo by John Kurc.