Anyone who's lived in Mount Pleasant for more than an hour-and-a-half knows about Dog & Duck, the family-friendly sports pub with two locations. Opened 13 years ago, the popular restaurant at the Stein Mart end of the Belle Hall Shopping Center spun off a satellite store in 2008 near the Park West Publix.
With their voluminous roster of tasty pub food – munchies; wings and things; tacos; sandwiches and wraps; burgers and dogs; and much more – plus their numerous beers in the bottle and on tap, their multiple TVs tuned to the best in sports and their almost nightly special promotions, the Dog & Duck duo thrived.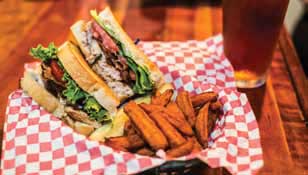 Yet something was missing, and, just this summer, that something was found. Dog & Duck owner Rod Bradley leased vacant retail space next door to the Park West restaurant, nearly doubling its size to dimensions comparable to those of its always packed big brother in Belle Hall.
"That's our big news," Bradley said, "and we couldn't be happier about it. Opening up our Park West space has allowed us to expand our family restaurant concept."
According to Bradley, Dog & Duck Park West was previously limited to 43 patrons at a time, but now its capacity is a robust 95. Additionally, the restaurant has upped its draft beer taps from four to 10 – with more to come – has mounted nine television screens, including five 50-inchers, and found room for a quartet of comfortable booths.
Like the Belle Hall location, Park West offers a spacious and attractive outdoor dining area with picnic tables and umbrellas. In this alfresco area, customers are welcome to bring their dogs, and canine guests are always offered a large, refreshing bowl of cold water.
"We've done everything possible to make the family dining experience the same at both restaurants," Bradley said. "Our organizing principle is consistency in everything we do, and providing the same fun experience at both of our stores is our goal."
"Now we can be that family pub at both locations," he added. "We can accommodate families that need the table space to share a meal together, and we can reach out to sports groups, such as rec league teams, who would like to drop by for some refreshments together after a game."
Additional staff has been added as well, because both Dog & Duck locations serve food until midnight during the week and 1 a.m. Fridays and Saturdays, and Bradley insists that no one should have to go to the bar to order something to eat.
As is the case at Belle Hall, Park West now offers three lunch and three dinner specials seven days a week, in addition to its already extensive menu. And, should a special event require catering, the restaurants are well equipped to handle assignments from wedding receptions to feeding celebrity artists backstage at the Family Circle Cup.
Although they're not listed on any printed Dog & Duck menu, both locations specialize in some exotic, delectable and maybe just a little bit weird desserts, of which FrozenChocolateFudgeBananaCreamPie is just one. It's in good company with a number of other mind-boggling sweets, such as Frozen Peanut Butter Pie and Candy Bar Pie.
With its wide range of food and beverages, wallet-conscious happy hour specials, trivia and music competitions, Friday night live music and weekend bloody mary bar, there's little that the two Dog & Duck restaurants in Mount Pleasant don't offer. Except, of course … duck!
To find out more about Dog & Duck, visit www.dogandduckfamilypubs.com or call 843-388-6127
By Bill Farley