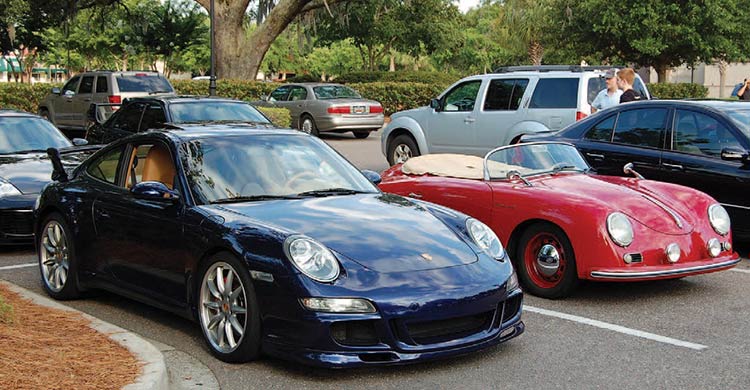 There's a popular club in Mount Pleasant that meets weekly, regularly attracts more than 100 people – mostly men – to its gatherings but has no admission requirements, no membership rolls, no dues and, pretty much, no rules. Everyone is wel-come to join just by driving to Towne Centre and parking in the lot right in front of Atlanta Bread any Saturday between 8:30 a.m. and 10:30 a.m.
The attraction, according to its Facebook page, is automobiles "foreign,domestic, old, new, clean or dirty."
Welcome to Charleston Cars & Coffee, one of a host of similar gatherings nationwide but very likely the only one that convenes weekly – rain, shine or 100-degree weather – all year round.
The coffee element isn't mandatory. Some participants bring their own java, and there's always plenty more available inside Atlanta Bread. The key word, not surprisingly, is "cars."
On any given weekend, more than 100 automobiles fill every parking space in the lot and overflow into adjacent spaces. Almost universally, those vehicles are unlike any others seen daily on the Lowcountry's highways and byways.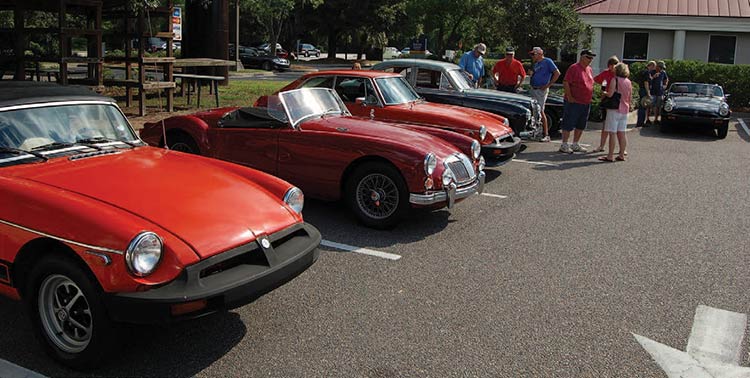 There are Ferraris and Maseratis, Lamborghinis and Aston Martins, classic MGs, Jags and Triumphs, vintage pickups, tricked out motorcycles and plenty more.
There's no racing and no judging, just the opportunity to showcase everyone's favorite car and give others a chance to admire it, ask questions about it and maybe even sit in the driver's seat and imagine what it would be like to take it out on the road or track.
Charleston Cars & Coffee got its start not long after Hurricane Hugo, meeting for several years at various locations in the Old Village. About five years ago, a handful of the car faithful struck a deal to hold their regular meetings at their current location, and car buffs from as far away as Myrtle Beach and Beaufort began showing up to show off their prized possessions.
One of those founding members is Don Curtis, who lives in Brickyard and drives a Porsche Carrera. Charleston Cars & Coffee continues to grow, he admitted, but added that "It's not about the numbers. We don't have any goals.
We're a niche community of interest. We're a 'multimarque' gathering, so we've seen everything here: Model Ts, Model As, vintage Packards, McLarens, Vipers, Hummers, half-million-dollar street hot rods – you name it. About the only exotic car we haven't had yet is a Bugatti.
"The Porsche Club has staged their cruises here, and the British Car Club has more or less adopted this as their meeting spot as well."
Of course, not everyone has an Isotta Fraschini in their two-car garage, so you're just as likely to see a Jeep Cherokee or a Hyundai Sonata parked next to a "Bug Eye" Sprite or a classic 1960s Toyota Land Cruiser looking as if it's ready for a race through the streets of Tokyo in pursuit of Godzilla.
Jim D'Damery of Darrell Creek, who works as safety director at Wando Trucking Company, arrived one Saturday in a pedestrian silver SUV. A diehard Corvette fancier, he explained that his regular ride was having electrical problems, so he drove his backup vehicle so he wouldn't miss the meet.
"My Vette wouldn't start this morning, so I just jumped in my truck and came anyway. No one even noticed. What's important to me, and, I think, to everyone who attends, isn't so much the showing off of fancy cars but the camaraderie. We may come from all walks of life, but our common bond is our love of cars."
Charleston Cars & Coffee's unofficial photographer, Lane Anderson of Dunes West, echoed that sentiment.
"Most of us aren't mainstream sports fans. In South Carolina, you can run into a hard-core football fan just about anywhere. But when you start talking about cars, most people go blank. With the people at our Saturday meets, you can sit around and talk cars forever!"
On this Saturday, he left his BMW 128i at home and arrived in his Beck Speedster, a 2006 factory-built recreation of a 1957 Porsche 356 Speedster that's guaranteed to have any classic car buff salivating.
Parked nearby Anderson's Speedster was another vehicle that always attracts lots of attention – a fire-engine red 1939 Ford known as "The Bootlegger." Owned by Bob Demschick of Mount Pleasant, this meticulously customized street rod comes complete with a whiskey barrel – which Dan swore is nonfunctional – built into its trunk.
Demschick said that when he has shown "The Bootlegger" up North, it's always gotten its fair share of attention.
"But, down here, folks really crowd around for a close look, and they love it. After all, just about everyone living here seems to know someone or is related to someone who's run moonshine!"
And Dan Whitton, a lifelong car guy who runs Whitton Marine, Inc. on Clements Ferry Road and calls the Corvette "the backbone of the entire General Motors empire," noted that all of the attendees at Charleston Cars & Coffee have at least two things in common: "They are car guys. And they are not golfers. Cars are their hobby."
So, if T-tops are more important to you than tee times, make it a point to motor on over to Towne Centre any Saturday. You won't be disappointed, And, except for your coffee, it's all free.
By Bill Farley
Photos by Lane Anderson