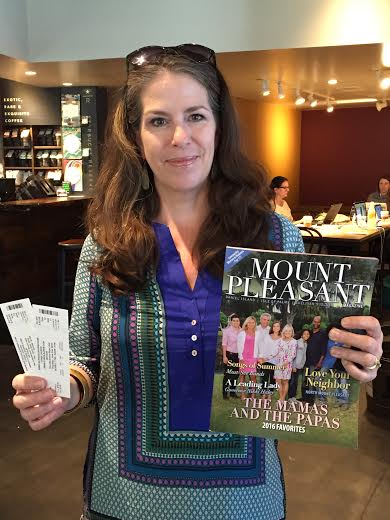 Mount Pleasant Magazine loves our Facebook contests just as much as you do! So we jumped at the chance to give away tickets to see Cyndi Lauper perform at the Charleston Music Hall. The iconic 80's singer is a Grammy, Tony, and Emmy award winner who we all know and love. She's toured the world, written a memoir, and she's behind the original score for the musical Kinky Boots. Our lucky winner is Paige Hamann. She took one of her three daughters, Peyton, to the show. Her taste in music is your fast paced 80's rock and roll, so no wonder she wanted to see Cyndi live! She was most excited to hear her favorite song, the hit "Girls Just Wanna Have Fun".
We got to talk to Paige after she went to the show to see just how amazing it was. Paige and Peyton started off their evening with a quick dinner in Mount Pleasant before enjoying some King Street shopping. Of course, she was quick to tell us that Cyndi Lauper, and her opening act, was a fabulous performance. Paige, being new to the area, had yet to be in the Charleston Music Hall and fell in love with the intimate feel and beautiful acoustics. She said she will absolutely have to go back.
Paige moved to Mount Pleasant when her husband received a job here at the Medical University of South Carolina as a researcher at Drug Discovery. It's becoming more and more common these days: people moving into Mount Pleasant from all over. And, honestly, who wouldn't want to live in a city surrounded with this much beauty?
Paige loves the local food, the beaches, and her new neighborhood. Out of all the great spots to grab a bite to eat, her favorites are Vickery's and Acme Lowcountry Kitchen. Since she's new to Mount Pleasant, we had to know what she is looking forward to doing most now that she's here. Paige is a runner and cannot wait to take on the Arthur Ravenel Bridge. Eventually she plans on doing the annual Cooper River Bridge Run. Paige also has paddle boarding Shem Creek, a popular new hobby, on her checklist too.
Written by Alyssa Zapinski