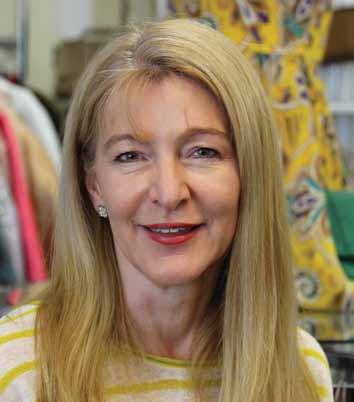 Butterfly Women's Consignment Boutique
624-H Long Point Road
Mount Pleasant
843-884-8577
www.butterflyconsignments.com
Transformations occur daily at Butterfly Women's Consignment Boutique – turning an outfit from drab to dramatic or turning expensive brands into affordable items.
On a bright Thursday morning, the store in the Belle Hall Shopping Center bustles with activity. Owner Amanda Rosen assists two women dropping off highend clothing for consignment while a friendly employee helps other customers find the right dresses in the right sizes. Racks of colorful clothing, from casual items to evening wear, fill the intimate boutique. One whole wall features an irresistible collection of shoes, while fashionable accessories are on display throughout the store – most notably Chanel and Louis Vuitton handbags.
Rosen, polite and professional with a slight accent revealing her British roots, has owned Butterfly Consignment for the past seven years. She believes passionately in the motto behind her business as a "store where every woman matters."
"The most rewarding part of my job is that we are, on all levels, able to support women," she said.
Clients get paid for consigning, customers benefit from a huge selection of designer brands at discount prices and even clothes that are not sold go to ECCO – East Cooper Community Outreach – to help those in need. Amanda emphasized the main philanthropic drive behind her store is a focus on women and their families. The business has supported girls in Kenya, sponsored scholarships and is willing to work with any local community outreach groups that share the goal of educating and empowering women.
Originally from England, Rosen has lived in Mount Pleasant for 18 years with her pilot husband. Her daughter, 14, will be attending Wando High School in the fall, and her son, 12, will go to the University School.
"I like that this is a small enough community that I have access to a myriad of experiences for our family to embrace and enjoy the area," she said.
Rosen relies on her staff of five to help her business run smoothly.
"The women are all fabulous. They allow me flexibility to fully participate in my children's lives," she said with gratitude.
If a woman brings in items for consignment, Rosen and her staff will assess each garment to make sure there are no stains or imperfections and will agree on the prices. If an item is sold within 60 days, the money goes directly to the client. Butterfly Consignment accepts merchandise seasonally, without appointment, and is always seeking couture house, designer label and top mall brand clothing in all sizes. Designer accessories including purses, jewelry, shoes and hats also are welcome.
While she believes in quality clothes and personal style, Rosen admits that as a busy parent and small business owner, her lifestyle is far from glamorous – but she prefers it that way.
"I just try to be part of the fabric of everyday life that makes Mount Pleasant a great place to live," she said.
By: Pamela Brownstein