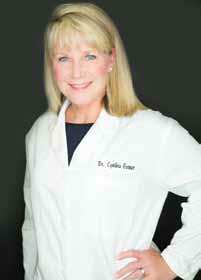 Garner Family Dentistry
1059 Chuck Dawley Blvd
Mount Pleasant
843-884-6002
www.garnerfamilydentistry.com
Dr. Cynthia Garner always wanted to be in the health care field. She chose dental school over medical school because she was drawn to the artistic aspect of cosmetic dentistry.
"In my profession, you have to have an aesthetic vision for each patient. To make that vision a reality, you work with your hands like an artist to shape veneers or carve teeth from wax. For bridges, crowns and veneers, I choose materials, colors and shapes to craft something that is customized to each patient and makes their smile brighter while ensuring their occlusion functions properly," Dr. Garner explained.
Following dental school and advanced training at Temple University, she began practicing dentistry in Omaha, Nebraska, where she met and married Lt. Col. Alan Garner, a native of the Isle of Palms. She continued to work as a managing dentist and associate with different practices during her husband's military career.
When he retired, they moved back to the Lowcountry, where an opportunity opened for Dr. Garner to buy a practice of her own. She has now been practicing dentistry for over 20 years.
Dr. Garner owns Garner Family Dentistry, where the constant goal is providing outstanding dental care. She stays on the cutting edge of dentistry through comprehensive hands-on courses with Spear Education and active membership in the Seattle Study Club, an international network of dentists.
"What inspires me most in my career is the difference dentistry can make in someone's life," Dr. Garner said. "I love helping people improve their health and feel better about their appearance. To see someone truly excited about their smile and feeling good and out of pain is truly rewarding. It is why I love what I do and why I am so thankful for the privilege of caring for my patient families."
By: Anne Toole