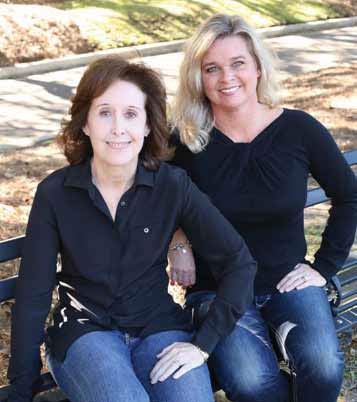 Coldwell Banker United, Realtors
1127 Queensborough Blvd, Suite 103
Mount Pleasant
843-270-1207 | 843-810-8287
www.wearecharlestonrealestate.com
The Mount Pleasant and Charleston real estate markets are ever changing, and lately the two have been in high demand. Having an experienced and knowledgeable Realtor on your side, whether you are a buyer or seller, is essential to getting the most out of your sale or purchase.
For many people, the decision to rely upon the Charleston Fine Homes Team at Coldwell Banker United, Realtors turned out to be the right choice. Led by Franne Schwarb and Chari Karinshak, this team with more than 30 years of experience has found great success in the past five years.
"The Charleston market is still figuring out how to react to teams. We think two heads are always better than one," said Schwarb.
"We complement each other's personalities by lending support or constructive criticism when necessary," said Karinshak. "Franne and I bring a unique perspective to the table for each transaction because we are from different generations and backgrounds. Our honest communication and trust in one another plays a key part in our success."
Schwarb and Karinshak are women in a professional field that has always had a female presence.
"Historically, women have been in real estate since its inception in the late 1700s, but mostly in clerical roles. They didn't become agents and brokers until the 1880s. I don't think we changed the profession but instead bring different perspectives," shared Schwarb. "As in any profession, you have to earn respect from your male and female counterparts. Knowledge is power."
Karinshak agreed and added, "Helping others make a major purchase in their life is a serious responsibility, not to be taken lightly. Women just beginning in the real estate profession should know that real estate is a life-consuming job choice. Flexible hours are key to meeting the ever changing needs of clients."
Today, the method for buyers to find their new home begins with the Internet, and Realtors such as Schwarb and Karinshak have adjusted.
"When I started in real estate, I chose the homes I showed my clients," explained Schwarb. "Today, my clients often go online and tell me what they want to see."
As part of the platinum level Coldwell Banker United, Realtors 'A' relocation team, Schwarb and Karinshak are usually the first to introduce newcomers to the Lowcountry. This team never forgets their goal of providing a smooth transaction, from contract to closing, by always working for their clients.
"We are honest, dependable and hardworking women who value a client's time and opinion," explained Karinshak. "Our years of experience and knowledge of the area will put our clients at ease and make for a less stressful experience. We are passionate about our business and it shows."
The ladies of the Charleston Fine Homes Team are members of the East Cooper Top Producers Club and achieved the International Diamond Society level in 2014 within the Coldwell Banker network. They are members of the Coldwell Banker Previews International, which means they are certified to participate in their luxury marketing program. Additionally, Schwarb and Karinshak are Realtors of Distinction and achieved the Coldwell Banker International Sterling Society in 2015.
By: Stacy Domingo