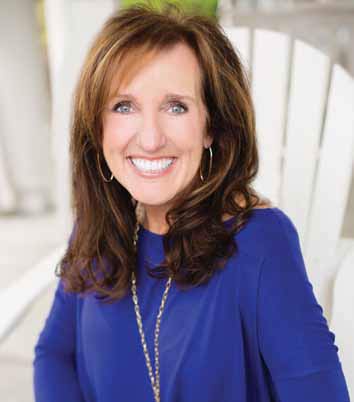 Schirmer Insurance Group
Mount Pleasant and Moncks Corner
843-881-1771
www.schirmerinsuranceagency.com
For Gina Schirmer, owninG and operating an insurance agency is second nature. She is CEO of Schirmer Insurance Group LLC, in Mount Pleasant.
Originally from Greenville, South Carolina, Schirmer comes from a family insurance background that exceeds 62 years, beginning with her grandfather, Gene Adams, a 40-year Nationwide Insurance agent. A high school file clerk and receptionist in the insurance office, she said with satisfaction, "The summer job was always secure."
In 1983, after graduating from Winthrop University with a degree in Foreign Politics and a minor in Spanish, she married Mount Pleasant native Sam Schirmer.
"My grandfather and my grandmother baited Sam just enough to spark his interest in insurance and encouraged him to interview with Nationwide, and that was the beginning of our Lowcountry insurance life together," she said.
After five years in commercial banking and real estate, she worked privately doing interior design and renovation projects while assisting her husband with building and growing Sam Schirmer Nationwide Insurance Agency – and setting about raising a family.
"The three children added the icing to the cake, bringing major joy and consistent activity to our lives," she said. Schirmer has engaged in every aspect of parenting, from teaching academics to coaching sports. She also acted as Booster Club president, PTA president and board member for the Charleston Collegiate School for a number of years.
In 2009, when the couple's youngest child started high school, Schirmer returned to the insurance business fulltime and with vigor. She began the foundation work to open an independent insurance agency, and, in 2011 partnered with her oldest son, Sass Schirmer, to open the doors of Schirmer Insurance Group.
Today, Schirmer Insurance Group focuses on the individual insurance needs of its clients and finds solid solutions based on the planned, as well as the unexpected. The agency offers a variety of carrier options and a full line of insurance products. They gladly share their knowledge of personal and commercial property insurance guidelines within the coastal region.
Since its inception in 2009, the company has doubled in size, according to Gina Schirmer, and obtained a "full fledged" sales team, marketing team and human resources department. Finding the right fit within the company is a passion for Schirmer, as she values happy employees who will keep the clients happy as well.
"We are very service and relationship focused," she explained. "We strive to have an environment that stays on top of sales and service."
One way the company keeps that service promise is through a new digital platform that sends automated emails to clients and prospective clients. As for sales, the company has achieved five acquisitions since 2009 and maintains an "internal structure that allows for growth," according to Schirmer. Her daughter, Grayson, who obtained her insurance license in January 2016, recently came on board for marketing and social media.
"We're all about relationships," Gina Schirmer emphasized. "We encourage everyone on the team to engage with the community and give back. We want our clients to feel satisfied after speaking with us."