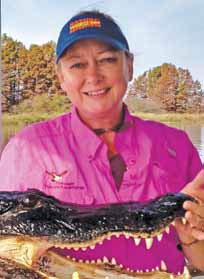 Nature Adventures Outfitters
Shrimp Boat Lane
Mount Pleasant
843-568-3222
www.kayakcharlestonsc.com
Known locally as "Woods Woman" and "Kayak Lady," Kathie Livingston not only loves what she does but shares that love with others. "
As a child, I lived outdoors. I was always on my horse, hiking in the woods, camping outside. My mother and sisters would literally pay me to wash my hair," the owner of Nature Adventures Outfitters laughed.
Livingston studied Resource Planning and Ecology at the University of Michigan before moving to South Carolina in 1988. She worked as director of the Edisto River Canoe and Kayak Commission and as a naturalist for the National Audubon Society at Beidler Forest.
Eleven years later, she opened Nature Adventures Outfitters, which is dedicated to helping others experience the great outdoors: kayak, canoe and paddle board rentals and instruction, camping equipment rentals, paddlefit classes, hiking tours, overnight expeditions and more. "I want to get people unplugged and connect them to nature. It is so important to relate to our natural world and see the bigger picture of how our relationship to the environment is interrelated to our very existence," she said. "Every decision we make affects so many dynamics for not only us but for future generations."
While running the business requires her to spend more time indoors than she would prefer, Livingston credits her excellent staff of biologists, naturalists and operations managers for sharing with 24,000 clients annually the same knowledge and respect for the Lowcountry that she has had for 28 years.
"I have been blessed in being able to do what I love to do, and to work doing it," she said. "Watching people connect to nature, see a dolphin or a thousand-year-old bald cypress tree always brings a smile and amazement to their face. That I can help people experience things like that is the best part."
By: Anne Toole