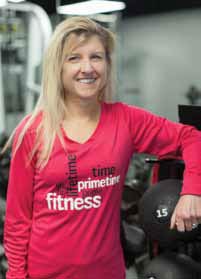 PrimeTime
1558 Ben Sawyer Blvd
Mount Pleasant
843-883-0101
www.primetimefit.net
Meredith Nelson has a varied and extensive history in the fitness industry. Starting in the 1980s and carrying 30 extra pounds, she gradually developed a love of all things active – especially running, weightlifting, yoga and cycling. She also gets her thrills putting others through a grueling indoor cycling class, weight-training workout or boot camp. Ask her about weight loss and she'll talk for hours – after all, she's been there and lives it every day.
Nelson opened PrimeTime Fitness on Sullivan's Island in 2000. With a masters in Rehabilitation Counseling, her original goal was to incorporate fitness into the lives of those with disabilities. She continues to provide a haven for anyone, regardless of age or ability, to pursue their fitness goals. After 15 years of offering the residents of Sullivan's Island a place to go for all their fitness needs, PrimeTime Fitness relocated to Mount Pleasant in December 2015.
PrimeTime Fitness is unique in that it offers big-gym fitness with boutique individualization. Group fitness classes, personal training, indoor cycling, boot camps, yoga and more fill up the schedule, but the trainers know each person by name. Some members prefer to do their own thing, without the guidance of a trainer, and that is encouraged at PrimeTime as well, with members having access to the facility between 5 a.m. and 10 p.m. Anyone can feel comfortable walking in the front door – from the seasoned athlete to the novice exerciser.
"Building on success is critical for retention, so we celebrate even the smallest accomplishments along with our clients and members," Nelson said. "We also listen to the ideas, suggestions and even criticisms of our members in our efforts to provide the experience they are looking for."
By: Amy Mercer