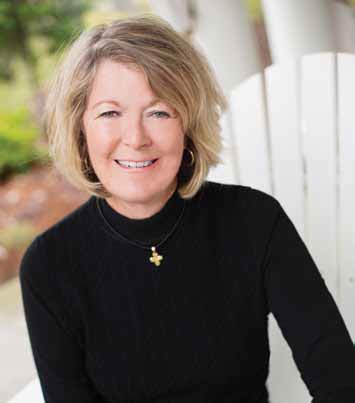 Carolina One
628 Long Point Road
Mount Pleasant
843-814-1622
www.pambishop.com
By the time Pam Bishop decided to enter a career of real estate, she knew more than a little bit about her choice. Her father, brother and even nephew had all enjoyed success in her home city of Fort Lauderdale with the family business, and Pam felt that real estate might be the right choice for her as well.
"My father, Harlan Drum, started Drum Realty in 1952," she remembered. "It's still in Fort Lauderdale and is managed by a third generation of our family. Real estate was the centerpiece of my environment. Being the youngest of four children, I understood success in business and in life required dedication to hard work."
Bishop and her husband met at Reinhardt College and were married two years later in Fort Lauderdale. Thanks to multiple relocations with her husband and three children, she realized what it was like to move, settle again and create a comforting new home – and she felt that she would able to relate to the clients' concerns when it came to moving.
"I had the opportunity to assist a top-producing agent," she commented. "He suggested and encouraged that I go full-time. It became apparent that my family's real estate background made it a good choice. I started full-time as an agent with Presson & Stromon Realtors."
In 1986, the family moved to Mount Pleasant and, according to Bishop, their "love for the area was immediate and continues to this day, though it was a smaller town then."
Today, her career with Carolina One, which has spanned more than 20 satisfying years, has brought her plenty of challenges, accolades and enjoyable moments with the community. She credits the opportunity to "help people make the Lowcountry their home" as the reason she has enjoyed her career. She described helping potential buyers find the right place to live and the right house as a fulfilling challenge. Even during the housing market downtown, Bishop felt that the situation gave her further insight into the local market conditions.
"People are moving here now for all the area has to offer – good schools, great dining, shopping, beaches and a great climate," she commented.
Bishop's business motto has always been to treat others in the way she would like to be treated, and she hasn't strayed from it since beginning her career in real estate. Her distinctions include being a Certified Residential Specialist, an honor earned by only 4 percent of the top Realtors in the nation. Recently she received her SRES – Seniors Real Estate Specialist – certification as well. She also is an Accredited Buyer Representative. In addition, she continues to be a frequent Realtor of Distinction in the Charleston Trident Association of Realtors, a consistent member of East Cooper Top Producers and the recipient of Carolina One's Lifetime Achievement Award, plus numerous other achievements including CTAR Realtor of the Year in 2007.
Because Bishop believes in giving back to the community, she has been able to garnish accolades and recognition from her peers in the real estate market. She has served on the board of directors for the Charleston Trident Association of Realtors and worked with the Realtor Housing Fund, also known as RHOF. On a more personal note, she and her husband are members and stewards of St. Peter's Anglican Church and regularly host small groups and Bible study.
"I knew when I started my career in real estate that my reputation would always be important to me," Bishop said.