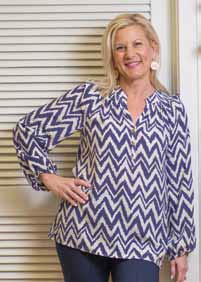 The Ragamuffin Children's Boutique
Stride Rite Shoes
Radical Rags
210 Coleman Blvd
Mount Pleasant
843-884-4814
www.ragamuffinchildrensboutique.com
When she was 23 years old, Charleston native Windi McKeithan took a leap of faith and decided to buy two children's wear shops in Mount Pleasant.
Armed with a fashion merchandizing degree, good taste, an eye for upcoming trends and an entrepreneurial spirit, the businesswoman grew her trio of small businesses – Ragamuffin Children's Boutique, Stride Rite Shoes and Radical Rags – into a success story.
This spring she's celebrating 32 years in business.
"I had been a buyer for junior sportswear, and I decided to try out the world of children's fashion, and I ended up falling in love with it," she said.
The entrepreneur said one of her favorite things about her job is building lasting relationships with customers.
"I'm definitely a people person and love the great relationships I have with our customers. Customers that used to shop for their children now come in with their grandchildren. It's such a blessing for us to dress the newest generations of their family."
McKeithan said her days stay filled with helping customers, placing orders, meeting deadlines and "personally handpicking everything that comes into the stores." Although tedious, she said "Owning these stores doesn't feel like 'work' to me. I'm so thankful."
She credited her continued success, in addition to her own hard work, to her support system: her husband and children, her staff and a higher power.
"My husband and children are always by my side. My mom worked here for many years. Every one of the ladies that work here is amazing and they all love what they do. We have the best time working together and helping our customers. When you love what you do, it shines through!"