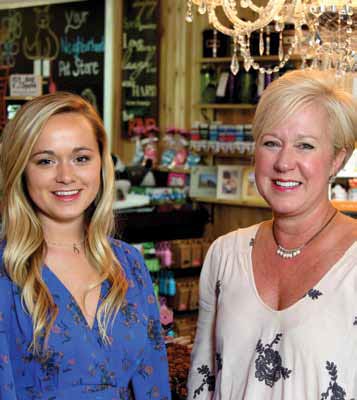 Woof Gang Bakery and Grooming
1055 Johnnie Dodds Blvd
Mount Pleasant
843-388-5167
www.woofgangbakery.com
Can you hear the woof-woof? Old MacDonald's farm it is not but rather the popular Woof Gang Bakery & Grooming that has opened in Mount Pleasant to the chorus of cheerful barking. This upscale neighborhood pet store is the dog-diggity for the most refined pets.
Woof Gang Bakery & Grooming carries the vibe of a doggie Tiffany's, with calming brown tones accented with hot pink and chandeliers.
"Our store has a different feel than others in Mount Pleasant," explained Cameron Reid, co-owner of Woof Gang Bakery & Grooming. "We are super friendly and have a happy store. You will love bringing your pet here."
The retail store offers all-natural dog foods, durable toys, a senior section and the very popular treat table.
"Our senior section carries products geared toward older dogs that may need soft treats," explained Reid. "We have treats that help with memory, joints and for the heart that many people really want for their older dogs."
In addition to the gourmet dog treats, Woofgang Bakery & Grooming, located in Crickentree, offers full-service dog grooming.
"We have an incredible groomer with a lot of experience," said Leigh Reid Hope, co-owner and Reid's mother. "We are so excited over this business. The business is a family affair for us, and I am so proud of my daughter. We have only been open a short time and we are doing great. We can't wait to meet more of the four-legged residents that live in our town."
Many people already know that Woof Gang Bakery & Grooming, part of a franchise, is recognized as the 11th largest pet retailer in the country.
"I can't say enough good things about this franchise," boasted Hope. "It is a high-end dog store, and we worked hard to find the perfect location. We believe we have found it in Mount Pleasant."
Reid agreed and has great enthusiasm for her first business, but being a young woman in business has its challenges.
"I look a lot younger than I am, and people didn't always take me seriously," Reid shared. "I've learned to stand up for myself and not get pushed around. I've really enjoyed the experience so far, and it's really good working with my mother. She has over 30 years of experience in the business world and has pushed me in the right direction."
Hope has owned another business for decades and also has raised four children as a single mother.
"While I went through my divorce, it was nice having a career to fall back on. It is important to love what you do. Prior to owning my business, I was torn between being at work and needing to be home with the children. Owning a business was a great solution because I was able to make my own hours. A person can definitely sleep better at night when they are able to put their family first."
By: Stacy Domingo