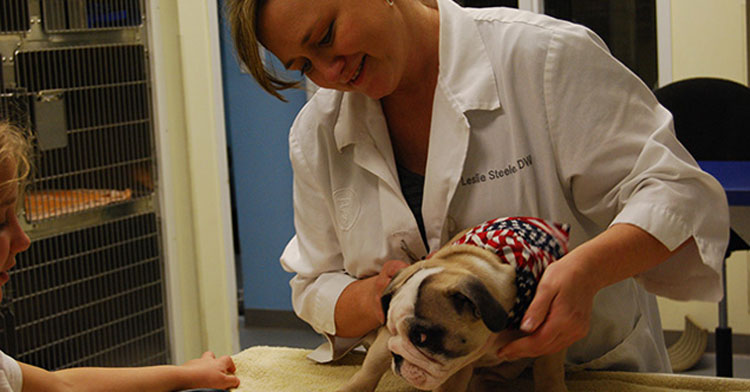 When it comes to pet care, Drs. David and Leslie Steele and their staff at Advanced Animal Care do exactly that: They care about your pets. Their personal approach to pets and people is one reason Advanced Animal Care is among Mount Pleasant residents' most trusted veterinary practices. The Steeles opened their practice in north Mount Pleasant in 2001, and their emphasis on comprehensive care and quality of life for its furry patients has earned them two Best Of awards previously.
"Part of what makes us different is that we care," said owner Dr. David Steele. "We care about our patients, and we care about our clients. We don't just do veterinary medicine: We listen, we talk, we empathize and we get involved. We take the time to get to know our patients and their family. We know our clients and they know and trust us. We counsel, educate, empathize, celebrate, laugh and sometimes cry with our clients. It brings us great joy and satisfaction to be a part of our patients' lives."
While many veterinary practices tout their cutting-edge technology and progressive medical knowledge, Advanced Animal Care takes a humbler approach. That isn't to say they don't know what they're doing – in fact, they work hard to provide the best veterinary medicine possible and to be progressive in their thinking and delivery of care – but, in recent years, the practice has taken a few steps back to look at the broader picture. The Steeles found that what worked best for them, their patients and patients' families had changed over time.
"The world of veterinary medicine has changed dramatically in the last 15 years," Dr. Steele explained. "We have quite literally seen pets move from the backyard and into the bed! The relationship our clients have with their pets has changed from one of property, utility and social status to a close personal relationship in practically the blink of an eye. As the relationship changed, so did the demand for services and care."
Rather than exhausting their time and resources to be the most technologically progressive veterinary practice in the field, Advanced Animal Care's mission has refocused to become a positive influence in the lives of as many animals as possible. They emphasize preventive and wellness care and behavioral clinical medicine and its impact on the human-animal relationship, and they focus on education.
Advanced Animal Care also takes time to educate the community and finds joy in serving those less fortunate. The staff supports Grateful Golden Rescue, Pet Helpers, the Charleston Animal Society and several private animal welfare groups. In addition, they are developing their own organization, East Cooper Pet Relief, which provides veterinary care and support to those in the community who cannot provide it due to financial, physical and transportation barriers.
"People don't care how much you know until they know how much you care," said Dr. Steele. "We get to know you and your family and are here to simply help people care for their companions from adoption to hospice and to give the support people need to make their life and their companion's life the most fulfilled and complete life possible."
To learn more about Advanced Animal Care of Mount Pleasant, visit www.advancedanimalcaremp.com or call 843-884-9838.