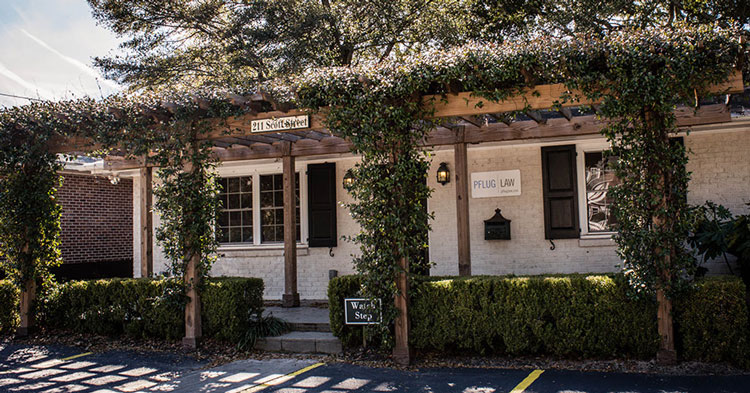 Find a career that you love and you'll be happy. That's true for both Sarah Pflug and her husband, Chaun, who discovered not only each other but a love for practicing law. They've chosen different disciplines within the law and have blended them into one of the best law firms in Mount Pleasant.
Sarah was a French major at the College of Charleston, where she graduated cum laude with a bachelor of arts degree. After college, she attended law school in New York City. She then decided to return to Charleston, where she got a job with an attorney who practiced real estate law. She enjoyed the challenge and the process in getting a transaction closed and decided to focus on residential and commercial real estate.
Chaun began as a science major – he has a bachelor of science in Biology from Fairfield University – before attending New York Law School and finding a way to combine those two loves into one successful vocation. He focuses on environmental, business and real estate law.
A third attorney in the firm, William Kleindienst, concentrates on employment law as well real estate and environmental law.
"We help each other on client matters, bringing to the table what we each do best. This helps us provide better service to our clients," Sarah said.
The Pflugs met while attending law school and ultimately moved to Sarah's hometown of Mount Pleasant, where they established their careers. After several years of practicing at one of South Carolina's largest law firms, Chaun opened his own practice, starting in a small office in I'On. Sarah joined him shortly thereafter, and they moved to their present location on Scott Street near Shem Creek.
As a full-service firm, Pflug Law offers an array of legal services but maintains their focus on real estate and environmental law. The steady growth in the area brings commercial and industrial clients that need the help of an experienced law firm.
"We are primarily a transactional firm," Chaun stated. "We don't do much litigation."
He added that the firm is involved in a good number of major economic development projects that involve both real estate and environmental factors.
The Pflugs are passionate about their roles in the community and consider client service as critical as excellent legal service to their success.
"We try to make ourselves available as much as possible seven days a week," Chaun stated.
Asked why the Pflug Law Firm is considered one of the very best in Mount Pleasant, Chaun was quick to reply.
"We'd like to think that we provide good service and that we are responsive," he said. "We enjoy the challenges of this practice, the problem solving and meeting interesting folks."
For more information, visit www.PflugLaw.com or call 843-647-7774.