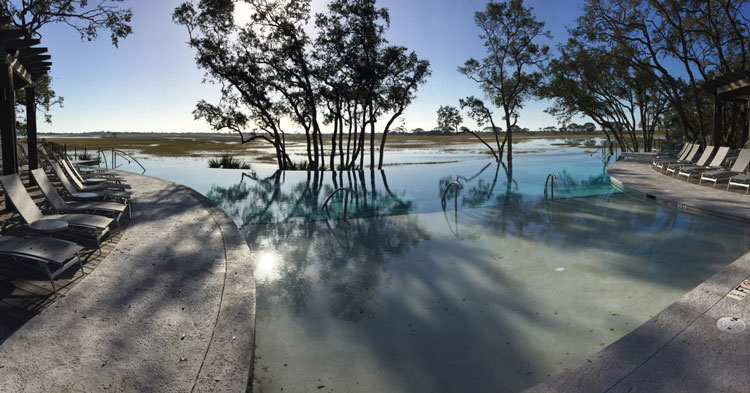 Starting with nothing more than a red supply shed and a pickup truck, Atkinson Pools and Spas has been making waves in Mount Pleasant for over three decades. Today, the family-owned business has grown from a pool maintenance company into the most established pool builder in the Lowcountry. Their longevity and quality workmanship helped them earn the title of Best Pool and Spa Company, according to the readers of Mount Pleasant Magazine.
"We're a family company, and we still operate as one. My parents, Rex and Jenny Atkinson, started this company in 1984, and I joined their team in 2005," said Josh Atkinson. "Our passion is building and providing the best products and services in town."
Atkinson Pools and Spas handles the entire pool design and construction process. Going beyond the pool itself, the company creates a totally new environment, helping clients choose everything from pool shape and color to pool deck style, material, customized colors and more. Free design consultations with a backyard designer are offered for pool planning, spa planning and landscape design services.
The in-house construction department of professionals knows the latest in pool trends and technology. The company is Charleston's only member of the Aquatech Society – part of the United Aqua Group – which is a national artisan and trade guild dedicated to professional pool building and services. As a member of the society, Atkinson Pools and Spas continues learning the best and latest in pool design, information and technology year after year.
"We try and hold ourselves to a higher standard, always using innovative design, unparalleled craftsmanship and uncompromising ethics," Atkinson explained. "That's how we turn our clients' dream pools into a reality."
But Atkinson builds more than just pools: Relationships with clients, the community and the pool industry are what has kept it afloat for so many years.
"When the pool is complete, we provide customers with ongoing maintenance so the customers can learn how to operate their pool and understand its workings without being thrown into the deep end," he said. "We also offer routine maintenance services so our clients can do what they do best: enjoy their pool."
No matter the reason you dream of a pool or a spa – to feel like you live on vacation, to increase the value of your home, to encourage your children to learn and love to swim early, for exercise or simply to encourage togetherness – Atkinson Pools and Spas' staff of design and construction professionals have the knowledge and technology to make those dreams come true.
If you're interested in learning more, visit www.atkinsonpools.com or dive into their pool and spa sales location at 1113 Bowman Road in Mount Pleasant.