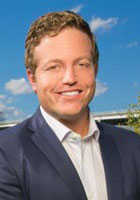 "Service. We built everything around that."
That's what mortgage loan officer Wes Sellew believes makes him and his team at the Mount Pleasant branch of Mortgage Network different from other lenders. It's undoubtedly why he was voted Best Loan Officer by the readers of Mount Pleasant Magazine – again. Wes was No. 1 in 2015 and 2016 and No. 2 in 2014. In addition, Mortgage Network was voted the No. 1 Best Place to Get a Mortgage in 2015 and 2016. Clearly, they're doing something right.
In the mortgage world, service means being meticulous, patient and accessible. Sellew, the branch manager, works with five other people in his office, and his team gives out their cell phone numbers to clients so they can call seven days a week. Talk about accessible.
There's no question that Sellew's clients appreciate it – take a look at the branch's thank you board, covered in handwritten cards, and you'll see how much his team's hard work has meant to area residents.
"This is the biggest transaction most of our clients are going to make in their lives. We take personal responsibility for that from start to finish," he said.
After all, Sellew is not simply approving loans. He's helping people fulfill a dream of home ownership. He's enabling them to make choices that will affect their families and finances for years to come.
Sellew's approach is to be so good at handling the loan process that his clients don't have to even think about that aspect of it.
"Our industry is heavily regulated," he said. "We have so much behind-the-scenes paperwork, processes and verifications and crossing t's and dotting i's. We try to streamline it so we're not badgering our clients down the road. So the word 'process' is out of their mind. Instead, they can focus on other aspects of moving into a new home – where to hang the TV; the measurements of the couch. The fun part."
Home ownership brings with it advantages like tax deductions and long-term wealth building. And with rates at historic lows, everyone knows this is a great time to buy.
"It's cheaper than rent," said Sellew. "If you know you're going to be here, you should be buying a house."
It's also a great place to buy.
"People can live and work in Mount Pleasant and not have to travel too far. There's great shopping, great restaurants, great businesses. You've got everything right at your fingertips," he said.
It's also wonderful for families, because of the exceptional school system.
Sellew noted that any buyer is sure to find something appealing in the area, no matter what their taste.
"Mount Pleasant has old homes, new homes, big homes, small homes. Houses and condos. We have a variety of real estate," he commented.
Helping people get into the home they want is the goal. Being at Mortgage Network, which specializes in mortgages, "sometimes we're able to get things done that other banks cannot," said Sellew. "We have a broader spectrum of how we analyze loans. We're not confined to four walls that, say, a large bank would be."
Even after 16 years in the business, he's still enjoying it.
"Every day when I come to work, I have fun. Every day is a new challenge," he said.
Mortgage Network is located at 321 Wingo Way in Mount Pleasant. To learn more, visit www.wessellew.com or call 843-388-1772 or 843-368-2124.843-853-7730.