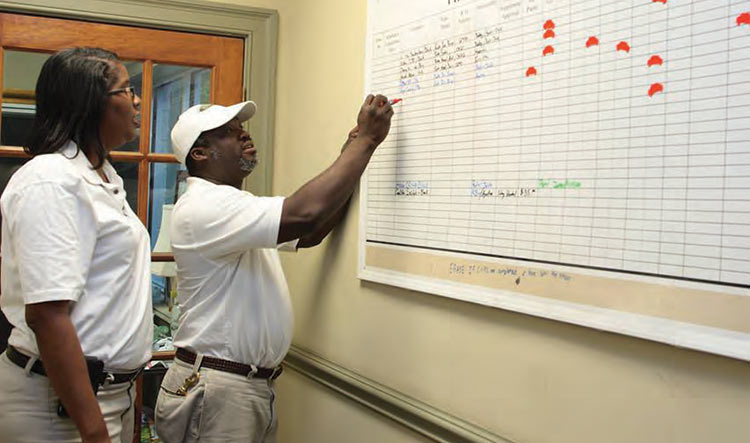 In 1968, Timothy Ascue, his wife, brothers, sisters and cousins opened one of the first minority-owned businesses in Mount Pleasant in what had been an old vegetable stand on Schirmer Drive. Craig Ascue continues to run his father's business with the same commitment to customers and with his family by his side.
"Just servicing the paint and body needs of local customers in a small town and trying to make a living was a great accomplishment," Ascue explained. "Today, there are many more challenges involved with the end product of a quality repaired car, truck or SUV. Ascue's has separated itself from other local businesses by being able to keep up with the ever-changing collision repair market by leading in tooling technology, knowledge of vehicle safety and using top-quality original parts to repair our customers' vehicles."
Vehicle collision repair has become a difficult task for the independent shop owner, who must maintain high standards of safety and aesthetics while dealing with the added pressure from insurance companies to cut costs and from the federal government to meet equipment and technology guidelines. Ascue's has willingly accepted these challenges on behalf of its customers.
"Ascue's is committed to its community and its customers, both old and new. We understand commitment to the Mount Pleasant community and the value of good business practices," said Ascue. "Our continued willingness to have an entrepreneurial spirit is reminiscent of what Tim Ascue had in 1968 when he first opened Ascue's Paint and Body Shop – when he knew everyone said he couldn't!"
Ascue's Paint and Body has been at the leading edge of collision repair, with customer safety and satisfaction in mind. The business utilizes the latest technology in vehicle measuring, welding and paint tooling.
"We work hard and diligently for our customers," stated Ascue. "We offer post-repair inspections, which ensures that the collision repairs that were done were done completely and correctly. Most vehicle owners don't know about post-repair inspection and never bother to inquire."
The collision center is one of the most comprehensive in the Charleston area. Minor and major collision damage repairs, advanced paint-matching technology and dent and scratch repairs all come with an Ascue's satisfaction guarantee.
With a staff of talented, young certified technicians, Ascue's is proud to be a local business in Mount Pleasant.
"Our customers and friends that have supported us through good and hard times mean the world to us. We are even more proud of the fact that we have helped incubate several other small business owners through the tri-county area, and we have done it with love and care and a work commitment that we hope will keep Mount Pleasant moving in the right direction," he said.
To learn more about Ascue's Auto Body and Paint Shop, visit the shop at 1725 Highway 17 North or call 843- 884-6862 to make an appointment. You also can check out Ascue's at www.ascuesautobody.com.