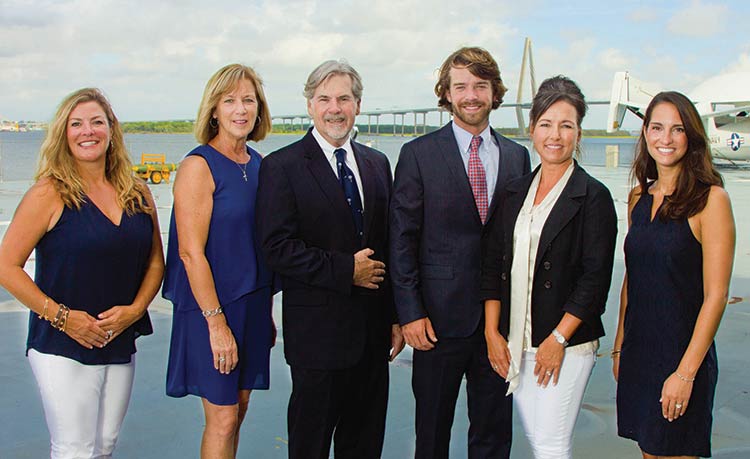 Businesses that have been in the East Cooper area for a long time tend to earn credibility in the eyes of their clients, and one such business is the Hunnicutt Real Estate Team. Initiated by Ed and Cathy Hunnicutt back in 2003, the team is now comprised of their son, Matt, as well as GeorgieAnn Hoerner and Mary Hamilton, all residents of Mount Pleasant. According to Cathy Hunnicutt, the fact that all the agents are longtime East Cooper residents helps preserve the cohesion and ensure the success of the group.
Here's a fun fact about Ed and Cathy: They learned some of the skills they use to navigate the housing market through the country music industry. When they first met, according to Ed, they "were both in the music business in Nashville, with Cathy working in promotion."
"Later, when I got too busy as a single agent, I asked Cathy to leave her nursing profession at the time and come on board," Ed explained. "I said, 'Remember public relations in the music business? You can do that for real estate, too.'"
"The team started with Ed as our listing agent," Cathy added. "And as a real estate team grows, you have a need for administrative help and buyers' agents."
Hoerner, who has been part of the team since 2005, and Hamilton, since 2013, help Ed and Cathy cover the now vast area that is Mount Pleasant. Hoerner lives near the Belle Hall area; Hamilton lives in North Mount Pleasant and the Hunnicutts reside near Coleman Boulevard. And how often does this dynamic group get together? Not as often as you'd think, according to Ed and Cathy – they all mostly work from their homes and make use of today's technology by sharing most documents online.
"We have a virtual office," Cathy pointed out. "We use GoogleDocs, an E-calendar and Dropbox."
As you might have guessed, clients of the Hunnicutt Team value Ed, Cathy and their cohorts for their devotion to Mount Pleasant and to a satisfying real estate transaction for everyone involved. Repeat clients are common, and, according to Cathy, sales within one family are common as well.
"Cathy was so easy to work with," commented Mary Prelack, an enthusiastic client. "She was always available for our questions and reasonable in approach. Even before we actually moved to Mount Pleasant, Cathy was there when needed. It didn't take long to become comfortable with Cathy and Ed in roles of trusted advisors."
Prelack pointed out that her son also worked with the Hunnicutts when the time came for him to purchase his own abode.
"Once again, he was extremely pleased with the process and the outcome as a first-time home buyer," she said.
"I'm not surprised they were voted best in Mount Pleasant," added Nancy Forrest, who, along with her husband, Len, has had "multiple transactions" with the Hunnicutt Team. "They work very hard to find the correct property, and we never felt like they were trying to talk us into a property. They are low pressure, high service."
Nancy concurred that the team's knowledge of East Cooper has helped most of all.
"They know real estate and our market, inside and out," she noted. "They hone right in on what we are looking for."

To learn more, visit www.edhunnicutt.com or call 843-416-3050.