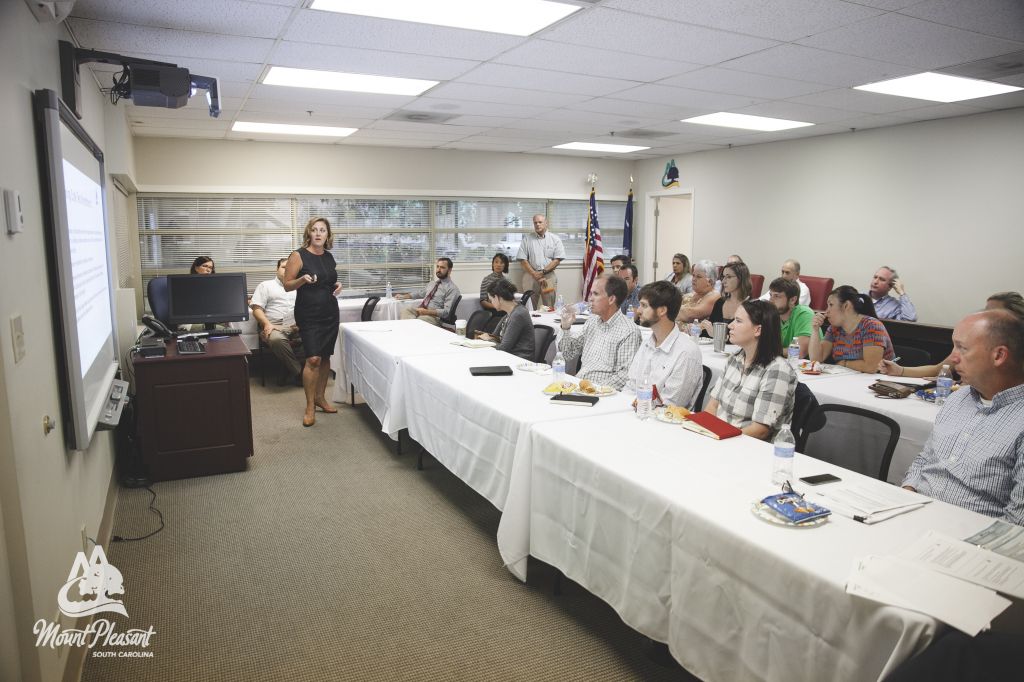 Director of Planning & Development Christiane Farrell speaks during a recent Code for Lunch event.
The rules and regulations that play a major role in determining how one of the fastest-growing municipalities in the United States will grow can be complicated, difficult to understand and nearly impossible to explain.
As a result, Mount Pleasant's Planning & Development Department is making a concerted effort to help local residents and businessmen understand how they can play a role in what their town will look like decades from now. Based on its efforts to provide information to and forge a partnership with those who live and work in the town, the Department has earned a coveted award from the Municipal Association of South Carolina.
The town was informed that the Planning & Development Department had earned MASC's 2017 Achievement Award in the Public Service category after a group that included Senior Planner Mike Robertson traveled to Columbia March 6 to make a presentation to the Association.
"Once again, the Pleasant Planning Department has set the bar for the whole state, this time in outreach and engaging citizens in the planning process. I'm very proud of the team," Mayor Linda Page commented.
The award will be presented at MASC's annual meeting in Hilton Head in July.
According to Director of Planning & Development Christiane Farrell, the award was based on the four legs of the Department's Planning Public Outreach and Engagement Program: an annual Meet & Greet with local residents; Citizens Planning College, an opportunity for interested citizens to learn about the planning process; Code for Lunch, which is aimed at professionals in the areas of engineering, architecture and construction; and an annual report compiled with the help of Wando High School students.
Between 80 and 90 people attended the Meet & Greet, established seven years ago and, in 2017, held at the end of February at Alhambra Hall. Participants were given the opportunity to learn about a wide range of planning issues, including flood regulations, zoning, impact fees, water quality and even which types of trees are protected.
"We had our staff there, and we set up stations around the room and answered questions," Farrell explained. "There are a lot of things people don't understand when they see a new building going up, like traffic and impact assessment."
"We understand planning and zoning are difficult to understand," she added. "This let us share information and meet face to face and engage with citizens in the community."
The Citizens Planning College, taught on Thursday evenings by Planning Department staff during five-week sessions in the spring and fall, gives local residents the chance to learn about a different planning-related issue each week. There is no charge for the class.
"We take people through the planning process," Farrell said. "Each class is unique, maybe on building codes or zoning regulations. We generally have around 20 people sign up."
Engineers, architects and builders meet with the Planning Department three or four times a year as part of the Code for Lunch program, each time delving into a different topic. The last session, held in January, concentrated on changes in the town's building code.
"It's an opportunity for us to kind of dive deeper into changes in regulations and have direct communication with a lot of our colleagues in the planning and building industries," Farrell pointed out, adding that approximately 35 people showed up for the January session.
Farrell said the Planning Department has been working with Wando students for the past two years on the Annual Report, which includes demographics as well as information on special projects, planning boards and commissions, sign permits and tree removal requests, among other items.
"It captures everything we've done in the past year," Farrell said.
The MASC Achievement Award is not the first honor earned by the Planning Department – it was cited for the same four programs last year by the South Carolina Chapter of the American Planning Association.
"These organizations especially like the programs we've developed because they are completely transferrable. They can be very easily duplicated," Farrell noted. "Our program is unique, it is very broad and it offers so many different opportunities for our citizens to learn, to be involved and to be engaged.  
"I continue to be extremely proud of our Planning Department for achieving this wonderful milestone and for the multiple accreditations and awards they have received over the years," Mount Pleasant Councilman Mark Smith commented. "Our town is blessed and fortunate to have such talented people helping us as we navigate these challenging times that result from our significant growth."
By Brian Sherman