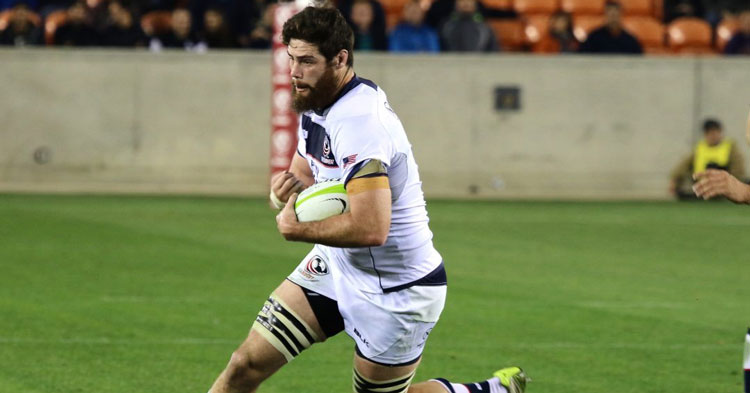 Rugby isn't played under the transparent glare of Friday night lights, the crowds are not large enough to cause traffic issues and, so far, it has not ascended to the status of sports such as football, basketball and baseball in South Carolina high schools. College scouts don't come around to marvel at a 320-pound lineman who can outrun a quarterback half his size, a 6-foot, 6-inch forward who can jump through the roof or a pitcher rumored to be able to throw a 95 mph fastball.
Why, then, do student athletes and volunteer coaches at Wando High School, Bishop England and a dozen or so other schools across the Palmetto State spend their late afternoons preparing to participate in a brutally tough, grueling and ultimately unappreciated sport? Is there a reason they look forward to 60 minutes of controlled mayhem, protected only by a mouth guard and nothing else that even remotely resembles the helmets and shoulder pads that protect their counterparts on the football field?
It's all about the camaraderie and mutual respect that bind teammates as well as opponents and the opportunity to take part in a game where every player is required to test his fitness and stamina, as well as his mental and physical toughness.
"The game is about mutual respect, brotherhood and sportsmanship," said Keith Bayer, rugby coach at Bishop England, which captured the Division 2 state championship in the spring of 2016. "The best thing about it is that it's so much fun that the kids become addicted to it. Unlike football, they are really in control of the game. I can set the lineup and coach them, but they make the decisions."
"Hopefully, our boys understand and learn the lessons of working hard, teamwork, fair play and respect for yourself, your teammates, the opposition and the referee and apply what they learn to other aspects of their lives," Wando Rugby Assistant Coach Steve Evangelista added.
Wando has played in the state championship game the past four years, winning in 2014 and repeating in the 2016 Division 1 title game with a come-from-behind, 25-24 win over South Greenville in May. The eight-year-old Rugby program was launched by David Marshall, a radiologist who now serves as executive administrator. Tod Shepherd and Chris Davis share the head coaching duties, while Martin Vorster, Jack Strobel, Kerry Gholson and Evangelista serve as assistants. In "real" life they are engineers, contractors, insurance company auditors and stay-at-home moms; on the rugby field, known as the pitch, they are volunteers who give their time and talents to promote the game they love.
Though they are volunteers, all coaches must be certified. They are required to pass online subjects such as safety, concussion protocols, bullying and general knowledge of the sport, and they also have to complete a twoday course hosted by USARugby.
The rugby program at Wando is supported financially by fees paid by players, a small admission charge for matches and fundraising events such as pancake breakfasts. Evangelista pointed out that most of the program's financial support comes from its sponsors. The largest is Cambria Sports.
"I can't say enough about our sponsors," Evangelista commented.
The situation is much the same at Bishop England, where Bayer is assisted by Paul Truluck of Mount Pleasant, Citadel cadet Matthew Loveland and Noah Butler, who played rugby at Clemson.
"We don't get any financial support from the school, but they let us keep the gate when we host matches," Bayer explained. "That's a big source of income. And they let us recruit on campus. It really helps us feel like an official part of the school."
The rugby programs at both Wando and Bishop England are growing. Bayer, who played at the University of Cincinnati and has coached at Spring Valley High School in Columbia and at two schools in the Cleveland, Ohio, area, said he started the program at BE in 2014 with seven or eight players – none who had ever played the game. Now, 18 to 22 players participate during a season that runs from late January into May. At Wando, Evangelista, who played rugby for 10 years in college and in the Army, said the roster includes around 50 players, up from 21 or 22 when he started coaching five years ago. The club fields an A team and a B team.
Many players have been bitten by the rugby bug during the entire time at Wando – or longer. Joe Griffin, for instance, originally from England, has been playing since the age of 7.
"It's a real brotherhood," he commented. "Once I got in, I didn't want to stop."
He said he hopes to continue playing after he leaves Wando this spring, "either for the Coast Guard or with a local team where I'm stationed."
Joe Schmidt, also a senior, played football as an eighth-grader, "but it wasn't as tightknit as I wanted it to be." Once he tried rugby, he was hooked on the sport and stuck with it for four years. He said he probably won't extend his rugby career at the College of Charleston.
Senior Josh Cummins also played rugby for four years and hopes to continue participating either at the College of Charleston or Clemson. His brother convinced him to give the game a shot.
"He said it was a fun game, and it turns out it was. It's unlike any other sport. You have respect for your teammates and for your enemies, and there's lots of teamwork," he remarked.
Though a rugby ball resembles a football – "It looks like a pregnant football," according to Evangelista – the rules of the two games are decidedly different. There are 15 players on a side, there's tackling – always around the waist and legs – but no blocking, and you can only pass the ball laterally or backward. You move forward
toward your opponent's goal by kicking or running. The pitch is larger than a football field – 100 meters from goal line to goal line and 68 meters from sideline to sideline. And there's no time to take a break in the huddle; play continues unless the ball goes out of bounds, a penalty is called or a team scores.
There are four ways to score in rugby. Five points are awarded for a try – touching the ball down across the other team's goal line. A two-point conversion attempt follows. The ball must be kicked from a point straight back from where it is touched down: the closer to the center of the field the ball is touched down, the easier and shorter the conversion kick will be. Three points are awarded for a successful penalty kick, which follows a major violation of the rules. And a drop kick can be taken from anywhere on the field at any time. If it splits the uprights, it's worth three points.
Evangelista pointed out that you don't have to have great size or incredible speed to be successful in rugby. You simply have to possess stamina, be a good tackler and have "a willingness to get out there and play."
"The great thing about rugby is that you don't have to be a monster. Regardless of your size, there are at least two positions in rugby that you're perfect for," he said.
To learn more about rucks, mauls, scrums and line-outs, visit www.USARugby.org.