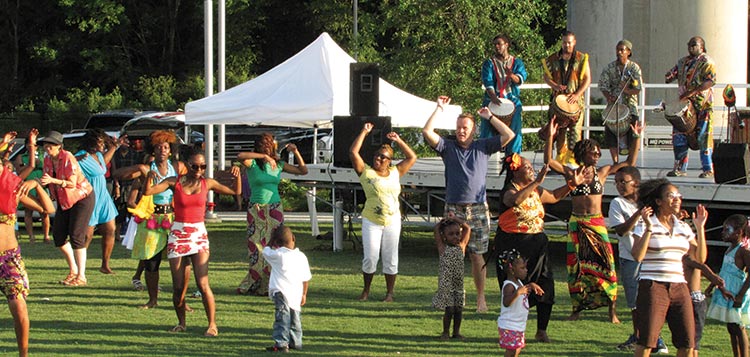 The 12th annual Sweetgrass Festival will offer fun, food, entertainment and education, but it also will provide local residents and visitors with the opportunity to learn about important issues that affect the local African-American community.
Visitors to the Festival, scheduled for June 3 at Memorial Waterfront Park in Mount Pleasant, will have the chance to purchase sweetgrass baskets and other arts and crafts, all the while listening to and watching live music and entertainment and enjoying a variety of savory food.
This year, the Sweetgrass Festival has something special to celebrate. In April, the South Carolina Arts Commission and McKissick Museum at the University of South Carolina has presented the Sweetgrass Cultural Arts Festival Association with a 2017 Jean Laney Harris Folk Heritage Award. The honor, named for a state representative who passed away in 1997, "recognizes those who practice art forms that have been transmitted through their families and communities," according to the South Carolina Arts Commission website.
Though the Festival, scheduled from 9 a.m. to 4 p.m., promises a good time for all, a Gullah Geechie seminar will offer some insight into some more serious issues – the disparity in health and education among African- American families and the problems that are occurring with heirs' property.
The seminar will be held from 9 a.m. to 1 p.m. in the Cooper River Room at Waterfront Park.
"In recent years, developers have approached family members and urged them to sell their property. If all the family members don't agree, all too often it ends up in court, and developers end up buying it much cheaper," explained Festival Director Thomasena Stokes-Marshall.
She pointed out that once the property is sold, families that have owned the land for generations are forced to move, in many cases out of Mount Pleasant.
"There's no affordable housing in Mount Pleasant. Even renting an apartment is expensive," Stokes-Marshall commented.
She said the seminar, in its fifth year, has continued to grow in attendance. More than 200 people showed up in 2016, and she expects an even bigger crowd this year. She added that people from other communities in the tri-county area are interested in the subject of heirs' property as well.
"They want us to come to their communities and hold this type of session," she said.
Stokes-Marshall said she is currently working with the African-American Settlement Communities Historic Commission, which consists of residents of the Scanlonville, Snowden, Phillips and Cainhoy communities. The group already has met with Mount Pleasant Water Works, the town of Mount Pleasant and Charleston County.
"Our goal is to form a historic commission, just like the Old Village Historic Commission. They pretty much determine what can and cannot happen in the Old Village, and we want the same rights," Stokes-Marshall said. "We want to establish zoning laws that will protect our communities."
She pointed out that the seminar on heirs' property and the Festival itself are only part of what the Sweetgrass Cultural Arts Festival Association does to try to make life better for residents of local African-American communities. For example, starting in June, the Association will hold a basket making summer camp for boys and girls between the ages of 8 and 12.
"Most of our basket makers are middle-aged or senior citizens," Stokes-Marshall pointed out. "If we do not put forth a concerted effort to teach the next generation, as the elders pass on, so will the art form."
By Brian Sherman