Falcons/Patriots?
According to a USA Today post on January 30, 2017 "Fans could pay as low as $1,000 for Super Bowl LI tickets." They also noted in this same article that the cheapest seats on the secondary market as of Monday (Jan 30) were about $2,200.
Of course, these prices don't include all of those extras like airline tickets to and from Houston, hotel accommodations, car rentals, trips to and from the stadium —  and that's all just to be able to show up and watch the game. There are still more mandatory and optional extras.
For most Americans, this means Super Bowl Sunday will not be spent in Houston's NRG Stadium watching the game live. So what then is the recipe for a perfect Super Bowl Sunday? The answer is a great time with family and friends and some tasty grub!
So, for those of you who are staying home like we are, here are five tasty recipes for game day, provided via Facebook by a few Mount Pleasant residents and South Carolina residents. Enjoy!
Queso Dip
1 pound of ground turkey or beef
1 pack of Velveeta
2 cans of Ro-Tel original
Melt Velveeta and mix with Rotel in small crock pot. Melt on low and then transfer to keep warm.
Cook ground turkey or beef in skillet and then transfer and combine with cheese mixture. Enjoy!
Sausage Dip
One roll of ground sausage
16 oz of cream cheese melted
1 can of Ro-Tel original
Cook sausage and combine with other ingredients. Enjoy!
Honey Sriracha Meatballs
1 pound frozen meatballs
¼ cup honey
¼ cup Sriracha hot sauce
3 tablespoons butter
1 tablespoon soy sauce
Cook meatballs.
In small saucepan over low heat, mix together honey, Sriracha, butter and soy sauce until the butter is melted. Stir frequently.
Pour mixture over cooked meatballs and serve over rice or alone as an appetizer.
Notes: If Sriracha is too spicy for your taste, try Yum Yum sauce, available at most grocery stores in the international cuisine.
The sauce is also good with baked chicken wings. Simply coat wings with sauce and bake for another ten minutes.
Loaded Potato Chip Dip
16 ounces sour cream
2 tablespoons hot sauce
1 cup shredded cheddar cheese
6 slices bacon, cooked and crumbled
½ cup chopped green onions
In a bowl, mix sour cream and hot sauce.
Add in shredded cheese, bacon and green onions, leaving a little bit of each for garnish.
Mix well. Put in serving bowl and garnish with leftover cheese, bacon, and green onions.
Serve with potato chips, pita chips, pretzels, crackers, or waffle fries.
Deviled Potatoes
1 pound petite red potatoes (about 15)
1 tablespoon olive oil
1 1/2 teaspoons kosher salt, divided
1/2 cup sour cream
2 tablespoons brined capers, drained and rinsed
2 teaspoons chopped fresh flat-leaf parsley
2 teaspoons chopped fresh dill
2 teaspoons whole grain mustard
1 teaspoon lemon zest
Garnish: chopped fresh flat-leaf parsley
Preheat oven to 350°F. Place potatoes in a small bowl, and drizzle with oil. Sprinkle with 1 teaspoon of the salt; toss to coat. Spread potatoes in a single layer on a baking sheet, and bake until tender when pierced, about 40 minutes. Remove from oven, and cool 15 minutes.
Cut each potato in half crosswise. Carefully scoop out potato pulp into a medium bowl, leaving shells intact. Place shells, cut side up, on baking sheet, and bake in preheated oven until dry, about 10 more minutes. Cool completely, about 30 minutes.
Stir together potato pulp, sour cream, capers, parsley, dill, mustard, zest, and remaining 1/2 teaspoon salt. Spoon mixture generously into each potato shell.

What is the Recipe for Super Bowl Sunday?
So you don't know what to do for your Super Bowl Sunday celebration? Maybe it's your first time doing the Super Bowl, or maybe you want to do something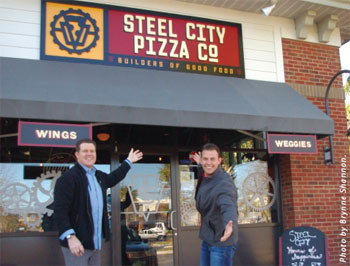 different this year? Here are a couple of ideas for your Super Bowl Sunday party.
Watch the game at home – Who needs crowds? Settle down and treat yourself to the game  and maybe some of the recipes above.
Host a Super Bowl Party – Invite your best buddies, some friends from work or  family. You'll need a little extra in the way of eats and drinks.
Go to a Neighborhood Restaurant – Local places take the pressure off of you to provide, well, anything. No planning a menu, making food or cleaning up required. Local restaurants for Super Bowl Sunday might include Steel City Pizza, Wild Wing Cafe, TGIFridays, The Shelter Kitchen + Bar, Liberty Tap Room, Dog & Duck or Reds Ice House. There are more! Most restaurants that have a bar and TV screens will be good for Super Bowl Sunday.
Bars. Especially sports bars – Can you think of any sports bars without good snacks and multiple TV screens? Neither could we.
RELATED LINKS
How to Watch Super Bowl 2017 Online for Free
8 Creative Ways to Make Money on Super Bowl Sunday
Tips, Tricks and Recipes for Hosting a Successful Super Bowl Party
More Super Bowl Snack Ideas from Food Network