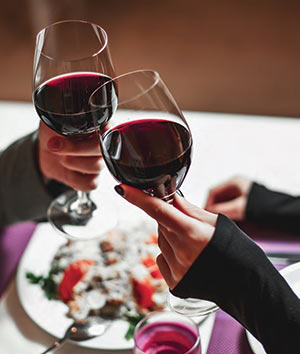 Buffie Bell Lilly has established an exciting twist for dating in the Lowcountry. Taking her cue from the traditional art of matchmaking, she brings couples together in unique ways through her company, Charleston Wine Pairings.
After employing her skills to help seven couples find true love and eventually marriage, she was inspired to start a business that redefines dating. Lilly and her team interview single professionals, assessing their personalities and their quests for romantic fulfillment. She then invites small groups of men and women to meet at casual, intimate wine tastings in upscale venues around Charleston.
Lilly herself is upbeat and energetic, constantly developing ways to improve the love lives of her clients. She's appeared on "Two Girls and a Guy" for Matchmaker Mondays and recently launched "Top Tuesdays" for business professionals to connect on the first Tuesday of each month at Elements Wine Bar. In fact, her newest venture is a social concierge membership.
"Membership will include voyages to romantic places as well as unique experiences such as cooking classes, ropes courses or comedy shows," Lilly explained.
Lilly's background, which includes a sociology degree from Clemson and a master's degree from MUSC, makes her especially suited to her career. In addition, she is certified by the National Matchmaking Institute in New York and trained with millionaire matchmaker Patti Stanger during an exclusive conference in Los Angeles.
"I was fortunate to be hand-selected as one of 15 matchmakers from across the country," she said. "Through that experience, I learned how essential it is to keep evolving and inventing new opportunities to help people find love."
Visit www.charlestonwinepairings.com to learn more.