A new restaurant combining upscale and casual to create the quintessential date night hot spot is now open on Long Point Road. Ember Wood Fired Kitchen is the latest brainchild of Glowfisch Hospitality, known for Five Loaves Café and Sesame Burgers & Beer, and has transformed the previous casual pizza restaurant space into the new "place to be" that offers something for everyone.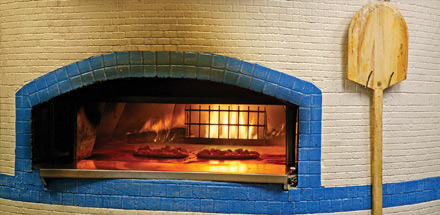 "I practically raised my kids at the pizza place that was here for about 10 years," Casey Glowacki, partner and owner of Glowfisch, reminisced.
When he heard the shopping center was losing both the casual, family style pizzeria and another upscale date night restaurant, his wheels started turning.
"Why not do them both in one? Not only do we give people really good pizza with amazing ingredients, but we give them an opportunity to get a creative bottle of wine, some clams and have a nice piece of steak or some fish," he said.
While many people make the connection that Ember is a pizzeria, the lunch and dinner menus reflect a much wider variety – sandwiches, salads, appetizers and main courses – in addition to 10-inch personal pies.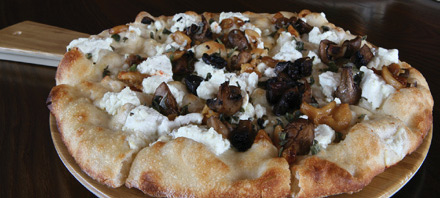 "It's been a pizza place for the last 10 years. It makes sense to do pizzas when there is already a wood-burning oven that takes up 70 percent of the kitchen, but my take on running restaurants is to offer a little something for everybody," said Glowacki.
Cameron Ingram, chef and managing partner of Ember, created a menu to do just that. Among the most popular picks is the Ember pizza – a unique combination of oak-roasted chicken, tomato, fresh basil, mozzarella, ricotta and piquillo pepper jam. The Hearts of Romaine salad is a take on a steakhouse wedge, with aged blue cheese, oven roasted tomatoes, pancetta and lemon. The Oak Roasted Chicken, a half chicken served with Yukon gold potatoes, carrots, herbs and lemon, has become a fan favorite on the dinner menu.
One of Glowacki's personal favorites is the Veggie Trio: "Our roasted vegetables are so addicting that there is a special section of the menu devoted to them. The trio makes it easier to decide."
Ember has already undergone a change. The restaurant now has separate lunch and dinner menus. Sandwiches are the main offering at lunchtime, while the dinner menu includes some sandwiches and several larger-portion main dishes.
Ember's draft options include 17 local beers and three wines.
"I'm really proud of our wine list. An advanced sommelier with Curated Selections put it together," said Glowacki. "This is where you can find a reasonably priced, obscure bottle of wine. If you're ever feeling adventurous and want to venture out of the norm from a regular cabernet, pinot noir, rosé or chardonnay, this is the place to go."
Ember offers half-price bottles of wine on Tuesdays, as well as nightly happy hours.
"Ember really is where you'll find friends meeting for drinks and appetizers, families enjoying dinner outside or couples out for a nice date night," Glowacki said. "We have something for everyone on the menu – casual and upscale."
To learn more, visit www.emberkitchen.com or call 843-352-7443.