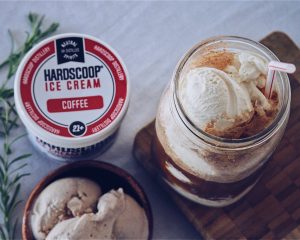 Ice cream plus 16-proof alcohol – that's the delicious not-so-secret behind Hardscoop, the new distillery in Mount Pleasant.
"Sixteen proof is pretty much a golden ratio of ice cream and alcohol. If you go below, what's the point? If you go above, it won't stay frozen to perfection," said Jason Kirby, president of the innovative company.
Hardscoop Distillery is a truly local team effort. Kirby runs the company along with his brother-in-law, Chris Ledbetter, good friend Rachel Solomon and parents – Kirby's dad is the CEO and his mom manages their federal alcohol compliance. Together, they dream up flavors and taste-test them to perfection.
As of now, Hardscoop is keeping things classic with vanilla, chocolate and coffee flavors as their staples. Each flavor measures at 8 percent alcohol by volume. From there, the team adds local ingredients like natural cocoa, dark roasted coffee beans and Madagascar pure vanilla. This fall, Hardscoop debuted its first seasonal batch, a hard pumpkin spice ice cream. The limited edition flavor features real pumpkin along with cinnamon, cloves, ginger, nutmeg, allspice and brown sugar.
"It tastes just like mom's pumpkin pie," Kirby said.
"I don't think it could have been any more perfect," added Kirby, who opened the shop four months ago on a fast-developing stretch of Clements Ferry Road, which is bringing streams of curious passersby into the distillery.
"Everything that we do, we do months ahead of time because of federal alcohol regulations," said Kirby, who gathers everyone around the company's de facto dining room table to dream up each future flavor.
After dedicating weeks to perfecting the flavor, the ice cream has to be tested and approved by federal labs and government regulators because it's an alcohol product. Then it is truly ready for production in Charleston and shipping to Hardscoop's growing list of retail partners, including Bottles Beverage Store, Boone Hall Farm Market, North Charleston Coliseum and Performing Arts Center, The Sanctuary at Kiawah and as far as Columbia and Fort Mill. With a federal and state liquor license that allows Hardscoop to distribute across state borders, Kirby plans on expanding even further throughout the Southeast.
"The plan was for the tasting room to only be open Friday afternoons and to focus on distribution," said Kirby, but Charlestonians have made the Hardscoop Distillery a destination. "We put up a sign that says 'alcohol + ice cream' on it, and people just have to try it."
Now they are open Monday through Saturday, with free samples and pints to take home.  
Hardscoop has come a long way from when Kirby and Solomon started, testing flavors themselves in an old-fashioned Rival electric ice cream maker. Now the team is in the process of crafting and taste-testing several new spirits that will be for sale in the near future. Kirby said they are always creating innovative offerings. After all, Hardscoop falls into the imaginative "Distilled Spirits Specialties" category.
Hardscoop is still all about family and enjoying a treat. The distillery, which is available to rent for events, parties and game days, is the Hardscoop team's home away from home. Recently, Kirby filled the tasting room with friends and family to watch the Mayweather vs. McGregor fight while enjoying sweet 16 proof treats – because nothing brings people together like liquor and ice cream.
To learn more, call 843-936-3626 or drop by the distillery at 2030 Wambaw Creek Ste. 101, Charleston, SC 29492.
By Enid Spitz
Art credit: Photo courtesy of Hardscoop Distillery.