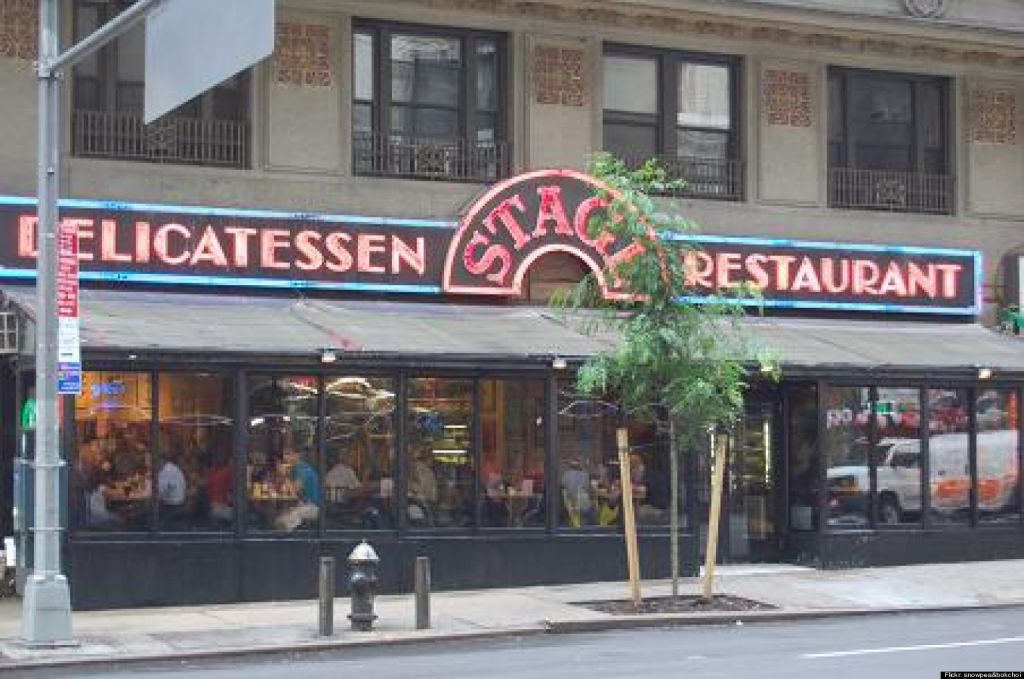 Some chicken soup and maybe a knish could have saved John Lennon's life. According to the Daily Mail, Yoko Ono wanted to go to the Stage Delicatessen for a late night supper, but John opted to go home instead. Fifteen minutes later, he was fatally gunned down outside The Dakota on Manhattan's Upper West Side.
For 75 years, that was the kind of place that iconic New York Jewish deli was, a gourmand's delight where the rich and famous would sit side-by-side with the tourist couple from Kalamazoo, and they'd all attack the Stage's overstuffed sandwiches and, maybe on Valentine's Day, a festive heart-shaped chopped liver.
Celebrities who called the Stage Deli their favorite place ran the gamut from actors to sports figures to just plain folks. Hungry folks. A mere sampling of some of the well-known names who frequented the landmark eatery would include Yankee sluggers Mickey Mantle and Roger Maris – who shared an apartment over the restaurant early in their careers – Mike Tyson, Pete Rose, Hank Bauer, Ron Blomberg, Donnie Wahlberg, Adam Sandler, Roseanne Barr, Linda Lavin, Martin Short, Tony Curtis, Jackie Mason, Milton Berle, Joey Brown, Wilt Chamberlain, Kareem Abdul- Jabbar, Nipsy Russell, Dizzy Gillespie and Sarah Ferguson, the Duchess of York.
Even famed writer Damon Runyon and gossip columnist Walter Winchell were frequent diners. And one night the entire Philadelphia Phillies baseball team stopped by.
Presiding over it all for 25 of those glorious years before the Stage finally closed its doors in 2012 was Steve Auerbach, who now lives in Wild Dunes with his wife, April, a Charleston native.
Steve's father, Louis, was a Polish Holocaust survivor who arrived in America after the war without the ability to speak or understand English but with plenty of determination and entrepreneurial spirit. He parlayed a Brooklyn candy store – more of a mini general store back in those days – into a string of diners and eventually to co-ownership of the Stage Delicatessen. He believed the restaurant was being run poorly and set out to make things better.
Son Steve, who graduated from the University of Maryland, wasn't sure whether he wanted to go into the family business. But in 1985, one of Louis' partners passed away and after working for his father for six years, took over Louis' stake in the restaurant.
Immediately, he inherited the vestiges of what a New York City tabloid had dubbed "The Deli Wars," a reference to the sometimes fierce competition between The Stage and its rival 7th Avenue deli, The Carnegie. In the beginning, they both served sandwiches featuring 6 ounces of meat. When one upped the ante to 8 ounces, the other raised the bar to 10. Eventually, both were serving the 12- to 14-ounce jawbreakers for which they became famous.
"We never actually made any money on those overstuffed sandwiches," Steve Auerbach said. "Our profits came from soda and cole slaw and everything else we served."
Auerbach dispelled the notion that The Stage was a huge facility.
"We were only 2,000 square feet and seated about 135 at a time. That's why there was always a line out the front door," he explained.
One night, a limo pulled up and out stepped Dallas Cowboys owner Jerry Jones and his entourage. Spotting the NFL big shot, Auerbach went to greet him and see if he'd like to be seated right away. Jones declined, saying he'd prefer to stand in line just like everyone else.
The 2008 economic recession hit The Stage badly, and, in 2012, with the rent escalating, Auerbach knew it was time to forever close the restaurant's doors. Having spent plenty of time in the Lowcountry – both his daughters graduated from the College of Charleston – it was an easy decision to relocate to East of the Cooper.
Today, Steve Auerbach is a real estate agent with Carolina One, a profession he chose because he felt he'd be good at it and because it would help him get involved in his new community. Asked if he might ever get back into the deli business, he noted that daughter Lana has solid experience in restaurant hospitality and might want to try her hand at the matzoth ball soup and stuffed derma market.
If the right opportunity came along, he'd welcome the chance to work with her in the business they both love, even though, "The Stage was open 365 days a year and someone had to be on-site 22 hours every day. It's a tough way to make a buck."
Plus, he's not sure he'd like to once again take on the job of educating new customers about the intricacies of deli.
"At the Stage, every once in a while someone would come in and order a pastrami sandwich with mayonnaise. One of our waiters, most of whom had been with us for 25 years or more, would discreetly tell the customer that putting mayo on pastrami was 'illegal' in the city of New York. But if the customer kept it to himself, he'd slip him a little bit on the side."