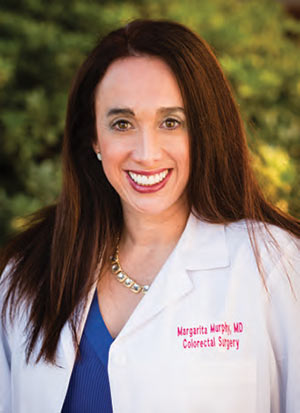 Ever since she can remember, Dr. Margarita Murphy wanted to be a doctor. She pursued her dream with gleeful and dogged persistence and has established herself as one of the leading gastrointestinal surgeons in the Lowcountry. It is no surprise then that Dr. Murphy was chosen as "Best of Mount Pleasant" by the readers of Mount Pleasant Magazine.
"I wanted to be a doctor to help people, to get close to them, create a special bond and cure them from devastating diseases like cancer. As I started medical school, I realized that this was definitely my calling. I fell in love with surgery when I realized that I could do exactly what I had always wanted," she explained.
Dr. Murphy believes having a "special relationship" with her patients has been a key to her being successful in her practice.
"To have that relationship with my patients that they will trust me enough to allow me to operate on them and allow them to live a long and full life: What a blessing," she beamed.
On receiving the plaudit as a Mount Pleasant "Best Of," Dr. Murphy said, "It is a great honor to have been chosen as best colon and rectal surgeon in the area. I feel that my genuine concern for people and hard work is valued and apparent. My team and I love our patients and having been voted 'Best Of' feels like they are loving us back."
She continued: "It is very common to hear lots of laughing if you stand outside my exam rooms. Those patients who walked into the office completely scared and embarrassed to be there in the first place are now laughing with me. I really get involved with my patients. I get to know them as people, moms, daughters and dads. It is part of making them part of our family at the office."
Dr. Murphy owns and manages two different businesses: a surgery practice – Gastrointestinal Surgical Specialists – and a surgery center – The Colorectal Endosurgery Institute of the Carolinas.
"It is all about priorities. Number one is God, two is my family, and three my patients. Also, I live in Mount Pleasant and feel committed to this wonderful community. That means putting my two businesses here, having my kids in the Mount Pleasant public schools and living in Mount Pleasant. I also feel that because I am blessed I have to give back. My husband and I participate in multiple local programs designed to give specialty care at a discounted fee or completely free," she said.
Dr. Murphy believes that because she practices only GI surgery and not general surgery, she is much more experienced than others in intestinal resections for such issues as cancer, diverticulitis, ulcerative colitis and Crohn's disease.
"My partners and I created the first-in-the-country JCAHO-approved Center of Excellence for minimally invasive colorectal surgery. We achieved this by showing excellent expertise in laparoscopic bowel resections with better results and lower complication rates than the national average. We utilize the latest treatment options, including transanal endoscopic microsurgery and sacral nerve stimulation."
She said Mount Pleasant is a "wonderful place to work and to live," adding, "The greatest asset in this area is the people. We have a community with great principles and two great hospitals to do surgery at and better cater to our patients."
Dr. Margarita Murphy's office is located at 1439 Stuart Engals Blvd. in Mount Pleasant. To learn more, call 843-853-7730.