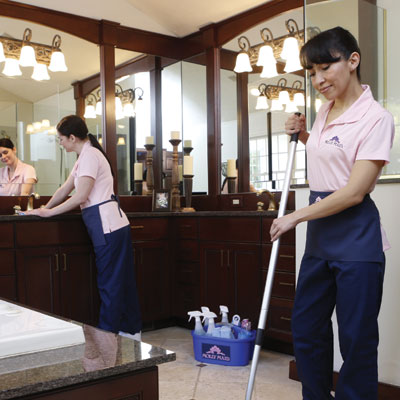 Now that school's out, you may find that your little ones are tracking pluff mud through the house after days of outdoor play. Perhaps they have gotten creative with an art project that proved to be as messy as it was fun. Hosting dinner parties and out-of-town guests? Whatever your plans are for this summer, one thing we all can agree on is the importance of keeping our homes clean, organized and at their absolute best. Whether you need a little extra help with weekly upkeep or want to wow company with a home that is just as inviting as it is tidy, Molly Maid of Greater Charleston is the one you should enlist. With a reputation of delivering amazing results, this company proves to always leave abodes flawless, at a price that won't hurt your wallet.
"Helping a range of people trade house cleaning time for other more interesting or important parts of their lives is really what we're all about," said Jennifer Poole, co-owner of the Mount Pleasant franchise. "Whether it's a working mom being able to spend more time with her family, a retired couple getting another round of golf into their week or doing anything other than housekeeping, that's why we're here."
Trustworthy, respectful and dedicated, Molly Maid's first priority is customer satisfaction.
"There really isn't anything magical about house cleaning, and, in all honesty, the services one company might provide versus another aren't all that different," said Poole. "What is different, however, is the way we go about providing the service.  We aim to be as flexible as possible, as communicative as possible, knowing every situation is unique. We really want to customize what we do to a specific customer's needs, work to meet a schedule that works for them and fits into their financial budget."
Behind the spotless countertops and gleaming tile floors, you'll find a business built on helping others. At Molly Maid's core is an altruistic essence dedicated to helping those who find themselves in potentially dangerous situations. The Ms. Molly Foundation distributes funds to different area shelters and organizations dedicated to aiding in the protection of women throughout the Lowcountry.
"The Ms. Molly Foundation is an incredibly important part of who we are as a company," said Poole. "Domestic violence disproportionately affects women. Ninety-five percent of our employees historically are female, and a huge majority of the customers making a buying decision are also female."
Poole and her team have witnessed firsthand the detrimental effects domestic violence has had on those within their own community.
"We've seen cases over our 12 years in the greater Charleston area where domestic violence directly impacts families of both our employees and customers," said Poole. "The contributions the foundation receives are able to benefit our two most important groups of people – employees and customers."
So much more than a cleaning company, Molly Maid serves the community in ways that go beyond streak-free mirrors and polished tabletops.
"We often hear from customers that they just love coming home after we've cleaned – the smells, the fresh look of the home," said Poole. "There is just something invigorating about knowing someone else spent a couple hours doing all this, allowing clients to focus on other parts of their lives."
Molly Maid is located at 1035 Johnnie Dodds Blvd. in Mount Pleasant. For more information, visit www.mollymaid.com or call 843-216-6130.
By Kalene McCort