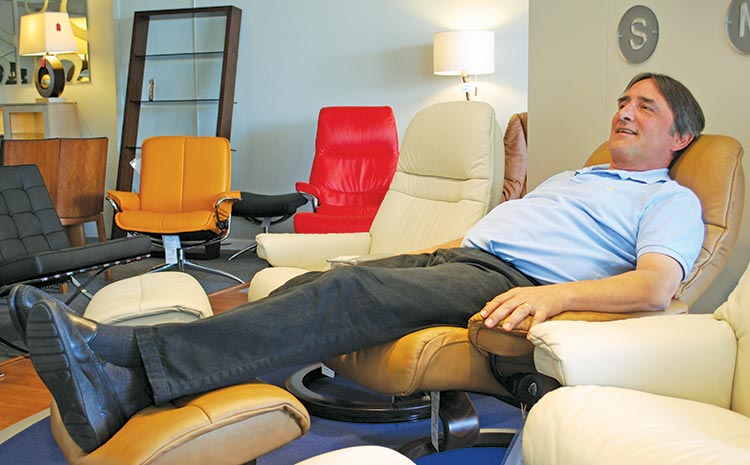 Paul Haugaard didn't plan to stay long when he came to the Lowcountry from Massachusetts in 2009. He wanted to remain long enough to help shut down the business his father started in 1986. Eight year later, he's still here and Danco Furniture is still thriving.
Originally established on East Bay Street in Charleston, Danco Furniture set up shop in Mount Pleasant in 1991. Focusing on selling high-quality contemporary furniture, the business has outlived many of its competitors for three main reasons: customer service, knowledge of the furniture industry and a lowkey sales approach.
"We're here to help our customers. We strive to provide high-quality products and offer great service, but we aren't pushy," he explained. "We're kind of laid-back."
Haugaard pointed out that Stressless recliners and American Leather sleepers are among his most popular furniture lines. The Norwegian company that manufactures the recliners employs ergonomics to make them as comfortable as possible.
"They come in three different sizes, so they work whether you're 5 foot 2 or 6 foot 2," Haugaard said of the line of recliners the store has been carrying since it opened in the mid-80s. "Most chairs aren't designed to fit smaller people."
He pointed out that Stressless recliners have been known to last for 25 to 30 years, adding that the same company also makes sofas that are ergonomically engineered.
American Leather comfort sleepers, manufactured in the United States, are another popular line at Danco Furniture. They provide a great option if your house includes a dual-purpose room.
"If you live here in the Lowcountry, you're going to get a lot of visitors," Haugaard said. "If you have an American Leather sleeper, you can use a bedroom as an office and not feel bad when your guests sleep on it. They really are comfortable."
Haugaard, who carries an array of contemporary chairs, tables, sofas, sectionals, desks and bookcases, finds quality furniture by attending shows in High Point North Carolina and through manufacturer's representatives who visit the store regularly. In addition to Norway and the United States, he buys items made in Finland, Italy, Denmark and Canada. Though he orders many items, they usually arrive quickly because most companies he deals with keep stock in the United States.
Danco delivers the furniture it sells to customers in the tri-county area and beyond, from Hilton Head to Wilmington along the Carolina coast. Haugaard said many of his clients travel from Kiawah, Seabrook, Charleston, Beaufort and Myrtle Beach to shop in his store.
"We sell quality furniture. What you buy here isn't going to look nice for six months or a year and then fall apart," he said.
Though he was a newcomer to the Lowcountry when he arrived in 2009, Haugaard was a veteran of the furniture business. Except for a three-year period, he has been making a living in the industry since 1979. His recipe for success hasn't changed much over the past four decades.
"Offer your customers a wide selection of high-quality furniture, mix in years of valuable experience in the business and add unparalleled customer service, and they'll keep coming back again and again," he explained. That's exactly what they do at Danco Furniture.
Danco Furniture is located at 1035 Johnnie Dodds Blvd. in Mount Pleasant. To learn more, visit www.DancoHome.com or call 843-884-2256.
By Brian Sherman