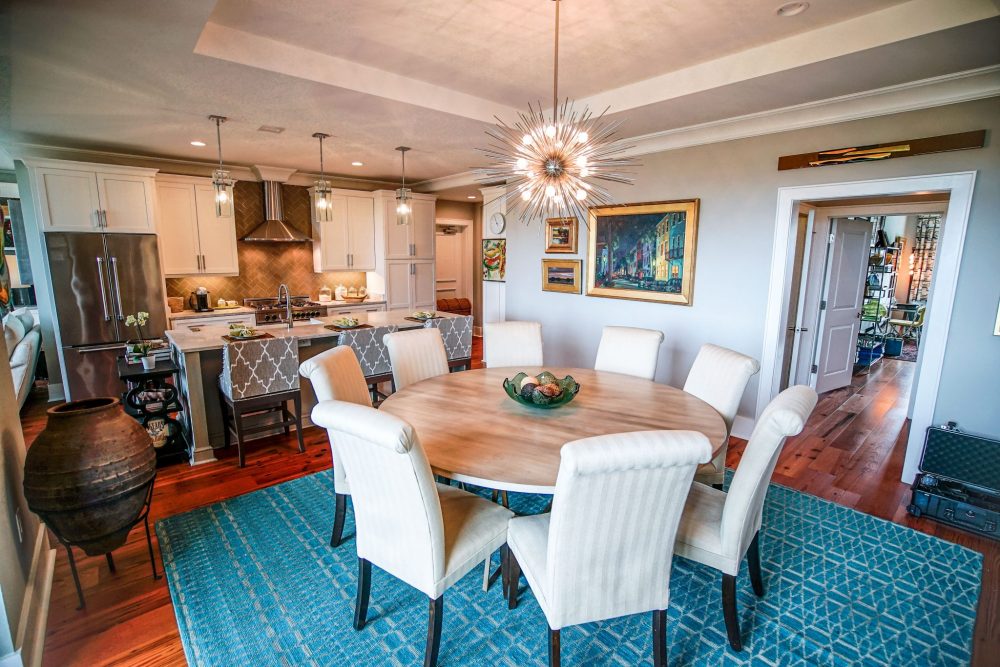 What makes life enjoyable is time spent out in the world enjoying relationships with others. Chats over morning coffee, dinners, friendly card games and quality time with friends or family are all important. That's why Tides IV, a luxury condominium at the foot of the Ravenel Bridge on the Charleston Harbor, offers residents the opportunity for shorter to-do lists and longer hours of leisure. For those looking to downsize from larger homes, the opportunity to have ample space and less maintenance is a key reason for happiness.
Residents Karen and Bob O'Neill knew that condo living at Tides IV offered exactly what they wanted: plenty of space, waterfront views, convenience and the chance to make new friends. The O'Neills have four grown daughters and a number of grandchildren. Yet, downsizing from a large home in Mount Pleasant seemed logical with two of their four daughters living locally. The couple also enjoys frequent travel, and the maintenance of a large home and yard became less appealing.
"We were previously living on a cul-de -sac in Grassy Creek," Karen O'Neill said. "It was secluded. And living here is so social – we've enjoyed bridge, mah jong, dinners, wine tastings and even Riverdogs games with our new friends."
"This location is great," her husband added. "We're practically downtown."
"I like living by the waterfront," Karen shared, admitting that she finds watching the passing container ships on the harbor an exciting bonus.
The O'Neills' eclectic taste in decor radiates throughout their home, a mixture of "modern pieces and sentimental family items," according to Karen. Personal favorites include paintings by Carl Plantsky and local work by Betty Anglin Smith.
Corinne and John Morgan share a similar story to the O'Neills – they, too, wanted to downsize from a "big, custom-built house" in Beresford Hall, initially deciding to wait until road projects progressed. But when an acquaintance unexpectedly wanted to purchase the house sooner rather than later, they found Tides IV in a heartbeat and realized it met their needs.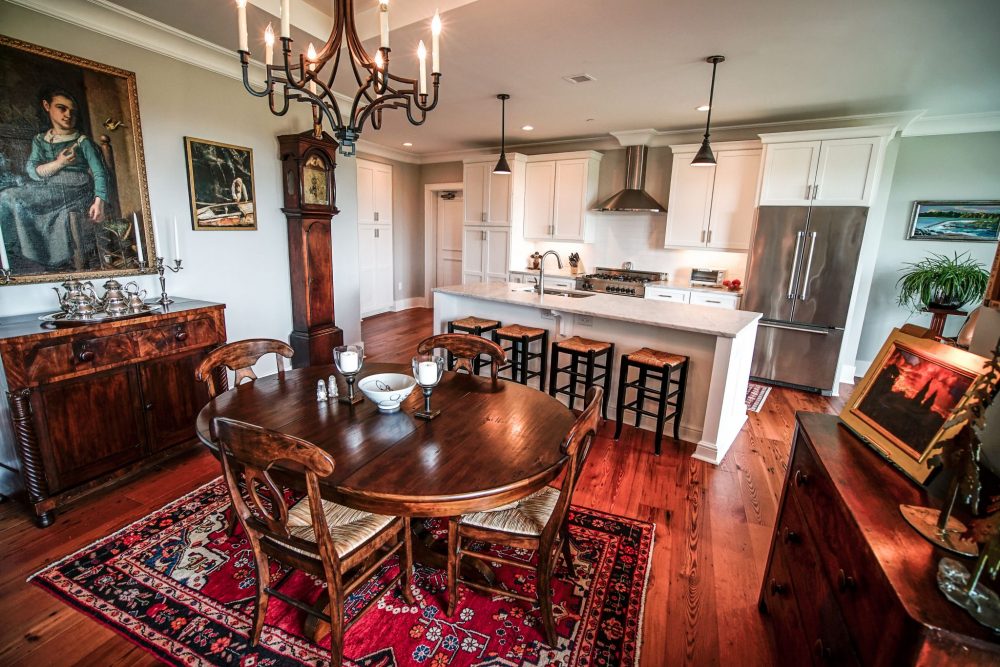 "We like the three-bedroom layout; it fits most of our furniture," John pointed out.
Like the O'Neills, the Morgans have made the space their own. John Morgan, a developer with Kolter Homes, was impressed with the finer details of their new abode, and artwork ranging from "European to local" offers an air of stately elegance.
But perhaps what the Morgans most enjoy is the view of the Charleston Harbor, often from their expansive porch.
"We face north," John Morgan explained. "It's the best view, and it brings in the best sunlight. And the third floor is ideal – close to the birds."
The Morgans enjoy inviting their grandchildren over, who "love going to the park and the pool." They're also making connections with friendly residents through the many amenities offered at Tides IV, including the on-site, state-of-the-art gym and the popular owner's retreat, where neighbors gather for morning coffee or weekly Friday night happy hours.
By Denise K. James.
Photos by Thomas Runion, Salt Glass Media.