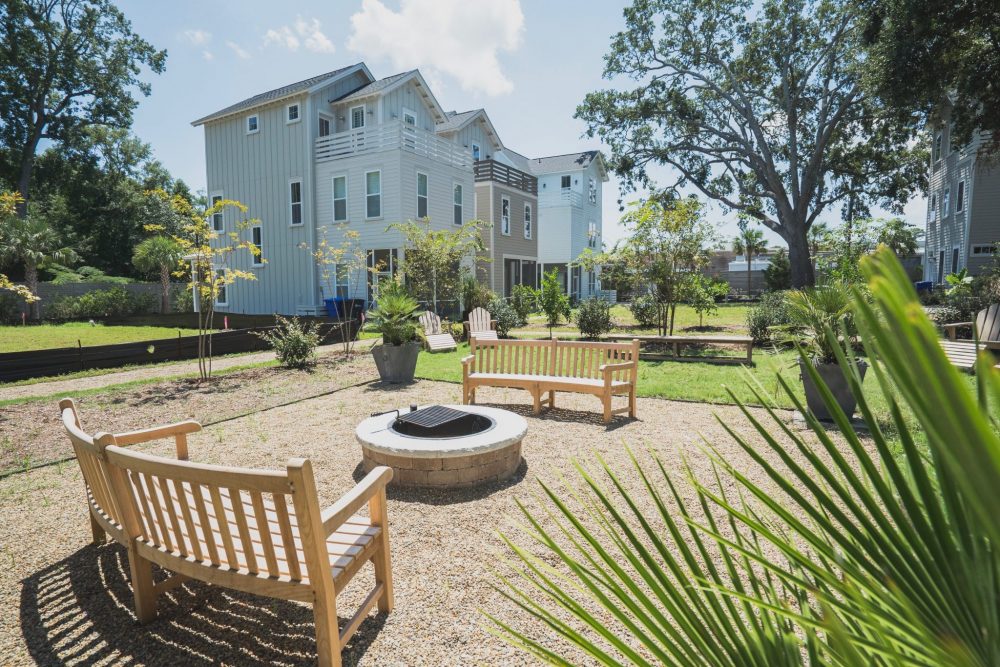 Some people, like me, love the city life. They appreciate the opportunity to meet their neighbors, walk to points of interest and feel connected to a hub of activity. Several Mount Pleasant residents – and more to come – were looking for this kind of lifestyle, and they found it living in Village Park.
Where exactly is Village Park? It's right in the center of Mount Pleasant, behind the Sea Island Shopping Center, just a hop and a skip from other East Cooper points of interest, not to mention a quick bike trip to beloved Sullivan's Island. The brainchild of boutique urban developer Fredda Culbreth, Village Park is a "pocket neighborhood for active people."
"This is a community for residents who want to enjoy urban amenities such as walking and biking, as well as a neighborhood lifestyle with garden benches, farm tables for picnics and a fire pit for the cooler weather," she noted.
Unlike some neighborhoods that might draw a certain age group or stage of life, Village Park draws all ages, according to Culbreth. New residents moving to the community range from 20 or 30-something young professionals to 60-something retirees; what they have in common is a love for being in the heart of old Mount Pleasant.
"The location is absolutely amazing. Proximity to downtown Charleston and the beaches is something you don't often find in new developments in Mount Pleasant," commented Jon Young, who, along with his wife, Jen, recently moved to Village Park.
"We really enjoy the location of the neighborhood the most. We're about a 15-minute bike ride to Sullivan's Island and the Ravenel Bridge," added residents Mike and Pam Russell.
Walk around Village Park and you'll notice immediately its cozy and friendly mood. With plenty of green space hosting the fire pit, benches, chairs and tables, residents can enjoy the beautiful Lowcountry weather we're known for at the end of a busy day or on a lunch break. Each home boasts a rooftop deck and a porch, and plenty of native trees and plants create whimsical, colorful scenery. It's exactly the kind of place that one can imagine befriending the neighbors – which, according to Culbreth, is common.
"People do get to know each other here," she commented. "It's traditional in that sense, but it has a contemporary style. Our neighborhood is cutting edge, a kind of a secret garden within a larger neighborhood. Being built on a transitional street means lower pricing for high-end homes. And as the street changes and grows (plans are currently in the works), our homeowners will get the benefit of higher property values in a sought-out area."
"It's a quaint little neighborhood with beautiful landscaping and friendly neighbors," added Young.
Currently, nine homes are built in Village Park, as well as a terrace (duplex-style) home offering 2,200 square feet on both sides. Four home sites are still available for new residents who crave a slice of city life in a lush setting.
For more information, contact Randall Sandin of Carolina One at
[email protected] or 843-209-966.
By Denise K. James.