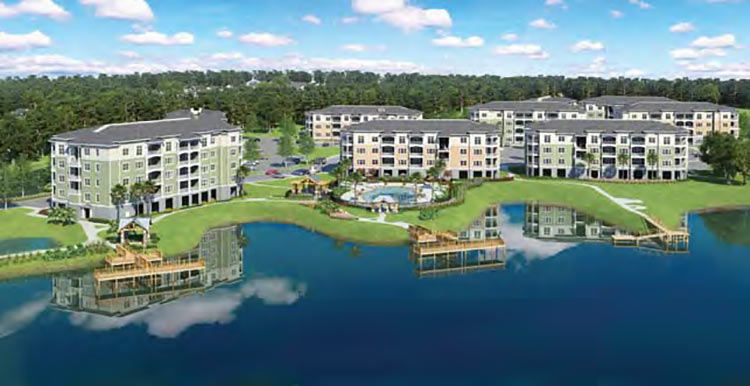 Close your eyes and imagine shirking the responsibilities that come with a large house – the yard, the endless maintenance – and downsizing to the perfect space for livability and comfort. Next, imagine that perfect space comes with an array of fine amenities, including deep water access in beautiful Charleston. Now open your eyes. This daydream is real for residents at Sweetwater Charleston, a brand-new apartment community located on Norwell Creek with easy access to the Wando River.
The history of the Sweetwater property is an intriguing one. Once the location of the original Detyens Shipyard, the land was later used as a private farm for shipyard owner and founder Bill Detyens. It was eventually purchased by Chip Kassinger of Kassinger Development Group, who brainstormed what exactly to do with the property for a good couple of years. He wanted to give the community something unique and memorable, something to enhance the Kassinger Group's reputation for building luxurious multifamily homes. Finally, the idea for Sweetwater was born.
"We're excited to be bringing a true waterfront apartment community to Charleston," Kassinger said. "Sweetwater is going to offer beautiful, energy-efficient apartment homes and top-notch amenities, plus deep water access."
Those "top-notch" amenities range from a spacious clubhouse, fitness center and business center to unexpected perks such as a yoga room, multiple pet parks and a community greenhouse. And then there's the water. Residents can enjoy parking a boat on-site and launching from ramps at the community's private docks, a unique privilege for an apartment community in the Lowcountry.
"We wanted to offer something different within a multifamily community – namely, the deep water access," Marketing Director Jess Batchelor pointed out. "We see a lot of people who are looking to downsize and want something simple. Now, they can still have this kind of view without the huge house."
For residents who suspect they'll still need space, the community has plans to accommodate with detached garages, storage facilities on the property and spacious closets inside each unit. Sweetwater offers multiple floor plans – studio, one, two and three-bedroom options – and all except the studio come with screenedin patios overlooking the picturesque property. Elevators are in the buildings with a fourth floor, making it simple to take a load of heavy groceries or luggage to the top. Each home comes with modern touches such as tiled backsplashes, stainless steel appliances and granite countertops. And none of the units are cramped, as Batchelor was swift to point out – the three-bedroom layouts are 1,553 square feet.
"Clements Ferry Road is an up-and-coming area," she commented. "It's a convenient location, right down the street from Interstate 526 and close to Daniel Island."
"It's going to be a great place to call home," Kassinger added.
Learn more about Sweetwater Charleston by calling 843-608-0758 or visiting www.SweetwaterCharleston.com.