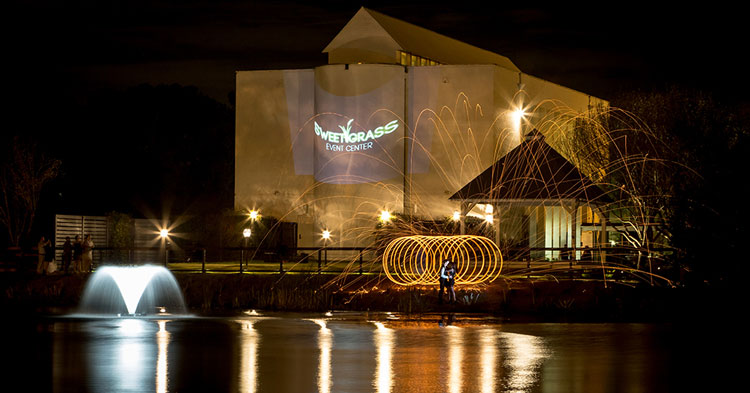 Some say that rain on your wedding day is lucky (except for good ol' Alanis Morissette, who says it's ironic) but at Sweetgrass Event Center, Mount Pleasant's premier indoor-outdoor venue, weather surprises really are no big deal.
Located behind Mercedes-Benz of Mount Pleasant and conveniently in the center of town, Sweetgrass Event Center has, since its inception in 2015, gained traction for hosting all kinds of events for residents of East Cooper and beyond, from weddings to reunions to birthday parties and more.
"Even before Mercedes was there, no one knew what this building was," remarked owner Robert Patterson, who purchased the former Sanctuary Hall and Gardens and transformed it into a "multifaceted" facility with lavish outdoor landscaping.
It's tough to choose between the beautiful grounds, featuring landscaped foliage and overlooking a small pond, and the light-laden indoor arena – but the good news is that you don't have to.
"From a social function standpoint, the grounds are beautiful – and how many outdoor venues have an indoor space?" Patterson pointed out. "Businesses will often charge a 30-percent fee to hold a tent as a backup for outdoor events in case of inclement weather – and then you lose that money if the weather holds up. With Sweetgrass, you can choose to move inside with no problem."
Besides the opportunity to host a remarkable event indoors or out, Patterson and his crew are able to put all the finishing touches on any party, from food and cocktails to flowers and entertainment. Guests using the Sweetgrass Event Center automatically work with Patterson's bartending services and two catering companies – offering anything from barbecue to a number of gourmet selections – but other services are available as well.
"Because I now own two catering companies and an event space, I've also developed partnerships with vendors for weddings and other parties," Patterson explained. "That gives me the flexibility to work with people on every element and have everything under one umbrella."
Patterson reiterated that although the space is an ideal choice for indoor and outdoor weddings, there are many other soirees that Sweetgrass Event Center can host. It's also a prime spot for corporate functions.
"I don't want people to think it's all weddings," he pointed out. "We've had fundraisers, concerts, birthday parties and more."
For example, Rhetta Cloyd, one of the recent guests, enjoyed the opportunity to host her alumni weekend oyster roast at Sweetgrass.
"… They knocked it out of the park," she exclaimed. "What could have been a disaster, with rain and cold wind, their team turned into a perfect setting for a perfect party. Every detail was planned, from umbrellas and space heaters to the linens and tabletop decorations."
Heather Nims James, another guest, agreed: "We held our daughter's sweet 16 party here and couldn't have been happier. The owners went way above and beyond to make sure this event went perfect and special. If you are looking for a venue for a party, I highly recommend it!"
Interested in booking Sweetgrass Event Center for your next shindig? Visit SweetgrassEventCenter.com, or call 843-216-2797.