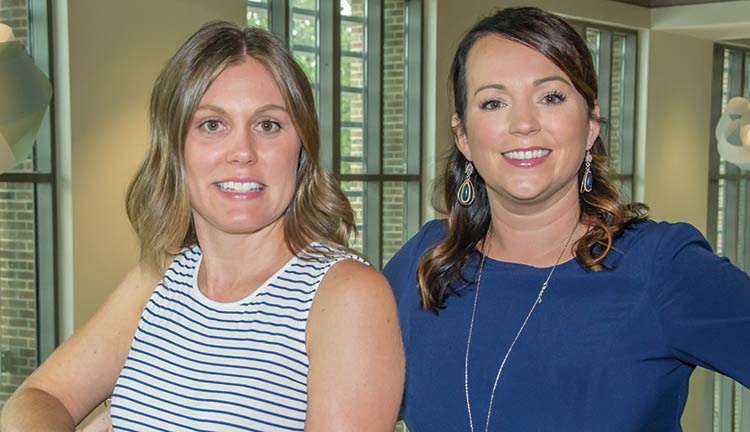 The town of Mount Pleasant has a historical lineage that shines brighter than the luminescence of an oyster shell under the midday sun. For centuries, it has served as a place where families can grow, agriculture can thrive and community can flourish. This plot of land overlooking the Cooper River has withstood hurricanes, battles and floods. It has grown in size, economy and stature. Now, the legacy of sweetgrass baskets, indigo, cotton fields and Shem Creek shrimp will live on in a newly developed Town Hall – 92,000 square feet of carefully crafted construction, whose charm reflects the very essence of this coastal community we call home.
Katherine Fishburne and Andrea Kuhfuss, the interior design duo behind the stunning structure, found the Lowcountry – with its marshlands and towering moss-covered trees – to be the essential muse. They worked with the town to deliver a one-of-a-kind structure, and the end result was a building of beauty, character and understated elegance.
"I love the process of seeing an idea go from initial plans and paper to reality," said Fishburne, who spent her childhood weekends roaming construction sites in Hilton Head Island with her builder dad, her curiosity sparked with each hammer's slam.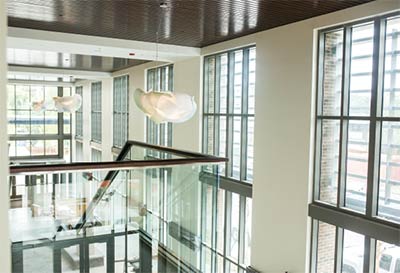 Starting in 2013, Fishburne and Kuhfuss lived and breathed this massive project. Long nights spent in the studio sketching out digital renderings, extensive meetings with furniture distributors and numerous construction-site strolls, tinged by airborne sawdust and the distinct sound of saws meeting planks, dominated their days. For these two ambitious visionaries, every minute was fueled by unrelenting bursts of creativity and inspiration.
"Walking into that lobby and seeing that high ceiling is a moment I'll never forget," said Fishburne. "It's satisfying to know we helped create a space which will help the town grow."
Wallpaper that resembles the texture and shades of sweetgrass – raised strips of gold and brown – wraps around walls as if to offer a hug. Tabby, a type of concrete consisting of crushed oyster shells, sand and ash, can be found in both circular-shaped courtrooms, behind where the judge or members of the Town Council sit. This clever nod to the sea life that fills our waterways provides texture and an undeniable gleam. Small flecks of shell particles provide a natural mosaic, which could easily be discovered on old church ruins found at the end of a dirt road. Sunlight seeps through large rectangular windows, giving the space a crisp, clean ambience.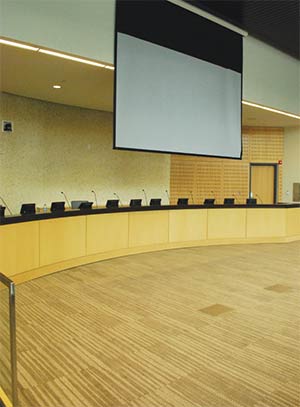 "We wanted everything to have that organic feel," said Fishburne. "From the color palette we chose to the materials we used, it all aligns with the natural beauty of Mount Pleasant."
The thought-out details – a nod to the lushness of the South – will not be lost on visitors. Grand light fixtures, stunning entanglements of aqua, pearl and green, dangle from the high ceiling. The colors and shape of these oversized orbs give an artistic pulse to the entire structure. Originally modeled after the shape of jellyfish, they also could be viewed as a free form interpretation of crashing waves or a rippled creek. At second glance, they take on the muted, smooth shades and texture of sea glass and become an oversized version of something you could find on the shore of Sullivan's Island or Isle of Palms.
Even shades of paint throughout the new Town Hall were chosen for their uncanny resemblance to the hue of pluff mud – a substance that cushions our riverbanks and appears at low tide, sometimes acting as a canvas for delicate fiddler crabs to etch out designs of their very own.
"Andrea and I were allowed to be progressive in our furniture selections and various design aspects," said Fishburne. "We've fused together both traditional and contemporary influences, creating a Modern Transitional style of design. It was a priority to create a building that was safe, secure and beautiful at the same time."
From making metal detectors a subtle yet cohesive part of the overall design to guaranteeing the Police Department was both functional and aesthetically pleasing, much thought went into keeping each corner and hallway warm and engaging. In addition to Town Hall being easy on the eyes, it is also easy on the Earth's resources. The building is outfitted with sensors to monitor when rooms are not in use, and the lights dim accordingly.
"To be a part of such an important project means a lot to me, especially being a South Carolina native," said Kuhfuss. "I love shaping and transforming our local communities. There is a complexity in designing public spaces. You have to understand how the spaces need to function and respond to both the input and expectations of those involved in the process."
Clean lines take center stage at Mount Pleasant's Town Hall. Considerate of all their visitors, the town even incorporated a mother's lounge within the walls of this architectural wonder. The environment is the antithesis of cold and sterile and possesses the allure of an arts center.
"I really love the volume and shape of the large courtroom," said Kuhfuss. "It is an important space and it is unique in its shape. I also am overall very pleased with the variety of flexible work environments we were able to create. When employees have choices about where and how they work, they are happier and healthier. Adaptability in the workplace is a huge trend and it really can have a big impact."
In addition to the grand spaces and inviting corners that can be found within the building, careful planning was put into the landscaping and the Town Hall's outdoor spaces – pockets of green that summon birds, butterflies and various other creatures. Visitors have access to a park filled with native trees and sitting areas – ideal places to sip sweet tea, read or simply take in the natural surroundings. A rooftop terrace on the top of the building gives way to views of skylines and the ever-iconic Ravenel Bridge.
"To know this building will be here for decades is such a reward in itself," said Fishburne. "It will be so cool to have the opportunity to one day take my children here and tell them, 'Mom was a part of all of this.'"
From the way the rotunda meets the rest of the building to the distinguished columns that offer support and a certain grandness, the finished product truly surpassed expectations. Beyond the steel and stucco, this building is one with immense heart – a testament to the resilient and spirited individuals who work each day for the greater good of the town and its citizens. With a sense of transparency and natural flow, the open doors of Mount Pleasant's Town Hall ushered in a Southern breeze and, with it, a new era in our diverse landscape.
By Kalene McCort