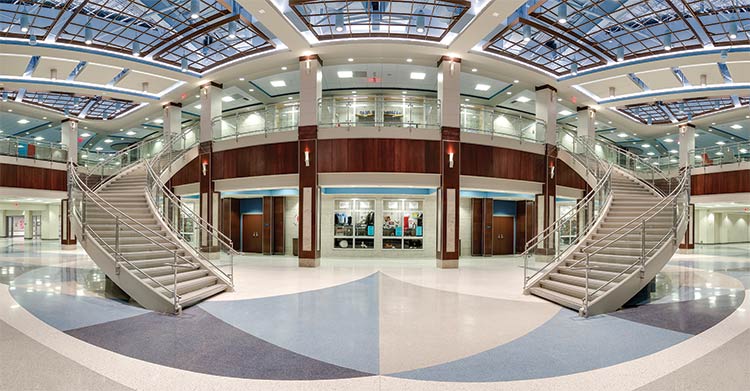 With the world about to sink into the economic doldrums of The Great Depression, Mason McKnight Sr. chose a positive perspective, making a living by building homes in and around Augusta, Georgia, and Aiken, South Carolina. Buoyed by the vision and enthusiasm of three more generations of McKnights, the company he started in 1929 is still thriving, though long ago it turned its focus to the commercial side of building.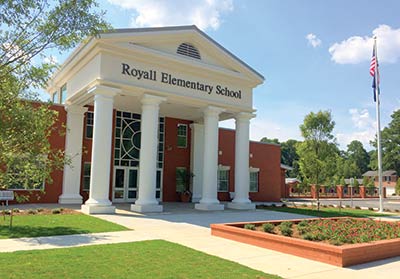 McKnight Construction Company, Inc., which builds schools, libraries and other government-related projects in Georgia, South Carolina and North Carolina, served as the general contractor for Mount Pleasant's new Town Hall. Still headquartered in Augusta, its annual revenues in 2016 were near the $90-million mark, according to the founder's grandson, who now serves as president. Success has not changed the way the company has been doing business and adapting to the ever-changing world of construction for nearly nine decades.
"We're a family-oriented company," Will McKnight pointed out. "People have been here a long time, and they bring a lot of pride to the company. For example, Tim Rich is the superintendent for the Mount Pleasant Town Hall job, and he has two sons who work with him."
"On every project, we focus on safety, teamwork, efficiency and integrity, ensuring that our customers get the best product in a timely manner," he added.
McKnight's own family has played a monumental role in the company's success as well. His father, Mason McKnight Jr., joined the business in the mid-1950s. Not long after, the company abandoned the residential market.
"Dad built three or four houses and realized he didn't want to stay in that business," said McKnight, a graduate of Georgia Tech. "They went into commercial construction, building along the East Coast, from Virginia to Florida."
Later, in the 1970s, Will McKnight and his two brothers came on board, and again, the company adapted to the winds of change in the construction business.
"There weren't many shopping centers being built, so we went into the government sector with HUD housing projects," he said. "But when Reagan was elected president, that business conked out, so we went into defense work, as well as schools and municipal work."
It certainly didn't hurt that several military installations were nearby, including Fort Bragg, Fort Gordon, Fort Stewart and Warner Robins Air Force Base. McKnight said 75 percent of the company's work in the 1980s was with the Department of Defense, adding that, by 2008, the DOD work had "played out." That's when McKnight Construction turned mostly to projects for schools and municipalities. Today, 90 percent of the company's business is government work, McKnight said.
Will McKnight's two siblings eventually left to start their own construction companies, but his daughters and their husbands now make up McKnight Construction's fourth generation of family members. Jane Marie Kinsey is the vice president and chief financial officer, while her husband, Joe Kinsey, a civil engineer, is a project manager. Blakely Downs is in marketing, and her husband, Ryan Downs, directs the company's real estate holdings.
In addition to Mount Pleasant's new Town Hall, McKnight Construction has left its mark on the Lowcountry with building projects at Rollings Middle School of the Arts, Alston-Bailey Elementary School, Alston Middle School and Sand Hill Elementary School in Dorchester County. The company is usually working on 10 to 15 projects at a time, all in various stages of completion, and, true to his hands-on approach to building, McKnight tries to visit each of those construction sites every two weeks or so. Weather permitting, he's been keeping up with the Town Hall project by flying into the Mount Pleasant Regional Airport in a single engine plane.
With a total of around 35 employees, McKnight Construction leans heavily on its subcontractors, choosing local companies to work with when possible.
"We don't have that many people working for us, so we sub a lot of our work," he explained. "We have a good relationship with our subs. We nurture them, and we match up the best one for the job so our clients are better served."
The Mount Pleasant Town Hall project was a very long process, working with the architect and the town to make sure we had the best subs and got local people involved," he added. "We tried to get local people to bid on the project. That was one of the goals of the town – to use local, qualified subcontractors. It took six to eight months to develop our workforce and the pricing to fit with what the town wanted and to be competitive."
McKnight Construction's job entailed more than simply building the new Town Hall. To keep the town up and running while work on the new building was underway, McKnight had to relocate fiber optic cable, a generator, the data room and electrical services and tear down half of a building so the town could continue to use the other half. When Mount Pleasant employees moved into their new home in July 2017, McKnight remained at the site to raze the two buildings remaining from the old Town Hall complex, build a park and a new parking lot and install the pad for what eventually will be the new gymnasium.
And what's so special about the new Town Hall, according to the man who runs the company that built it?
"The flow of the building. The people of Mount Pleasant will find it to be a lot more convenient, and the Police Department and business departments will all be under one roof. All the town's services will be in one place," he concluded.
By Brian Sherman