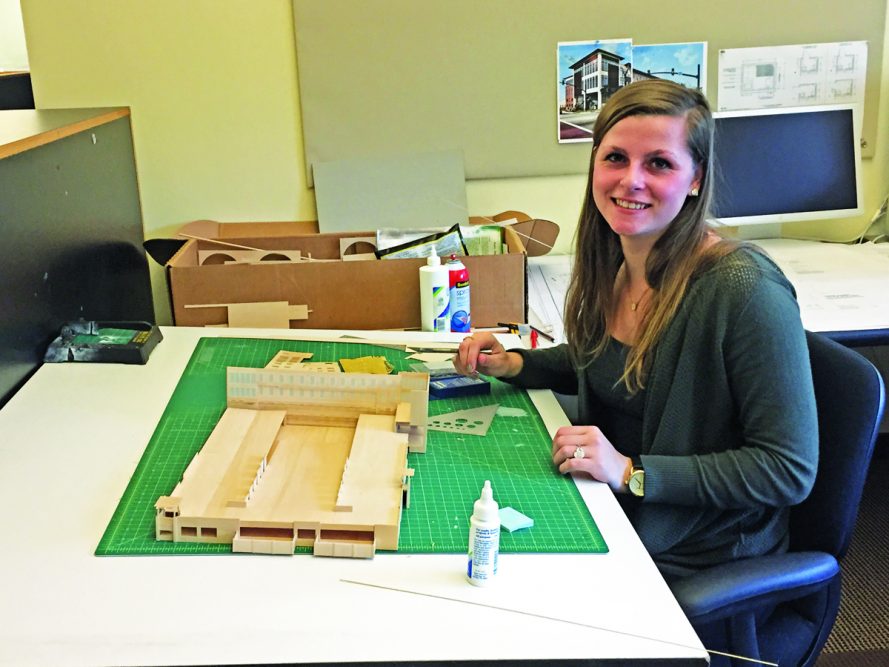 If a picture really is worth a thousand words, imagine how many words are conveyed from an intricately designed 3-D model. One talented Wando High School graduate was given the opportunity to make such a model of the new Mount Pleasant Town Hall – and she did not disappoint.
Harrison Novak, a junior at Clemson when the new building was completed, was double majoring in her senior year at Wando: Art and Architecture, and Math, Science and Engineering. Through the school's intern program, she had the opportunity to work at Stubbs Muldrow Herin, the architectural firm that designed the new Town Hall. As one of her first assignments, she was given the task of creating a scaled site model of the much-anticipated project. With only drawings for reference, Novak worked for three months to complete the job, using materials provided by SMH.
"I would leave school after last block and go work on the model for four hours Monday through Thursday," Novak said. "I had a desk all set up at SMH, with a computer behind me and all the tools and gadgets to use."
Novak said the intern program offered at Wando was extremely beneficial, and she felt fortunate to have been a part of it.
"You really get the experience of working a real job and learning the proper etiquette that goes with that," she said.
The model was displayed at the old Town Hall beginning in early 2015. As construction of the new building neared completion, Novak said it was great to see the project come to life.
"It's very rewarding to see it through from beginning to end," she said. "The work I did was tedious, and there were times I thought my fingers would fall off, but it's all worthwhile once you see the finished product."
Novak said she didn't face too many challenges along the way, with a few exceptions.
"I had never really done anything with landscaping before, but the people I worked with at SMH were incredibly helpful, offering advice, ideas and techniques," she added. "Also, to make a circular drum for the model, I learned how to create a curve, bending wood. That was complicated."
She said while it's challenging, architecture is very satisfying work.
"Making sure the windows are aligned and properly placed can be tough. The whole thing is a big issue, but somehow you work it out, and seeing how it all comes together is wonderful."
The finished model impressed even the most seasoned architects.
Sam Herin, one of the partners at SMH, said Novak surprised everyone with her innate ability to create a detailed model from nothing but architectural drawings.
"We gave her a stack of drawings and told her to start on one piece. Next time I went to check her progress, we figured she would still be working on the same piece, but she was beyond it," Herin said. "She's an amazing lady with a lot of talent. She did an excellent job."
"It's kind of funny," she said. "I studied engineering at Wando and was accepted at Clemson for engineering, but, once there, I switched to architecture because I loved it so much. I may want to do it for the rest of my life."
By Diane Pauldine. 
Photo provided.