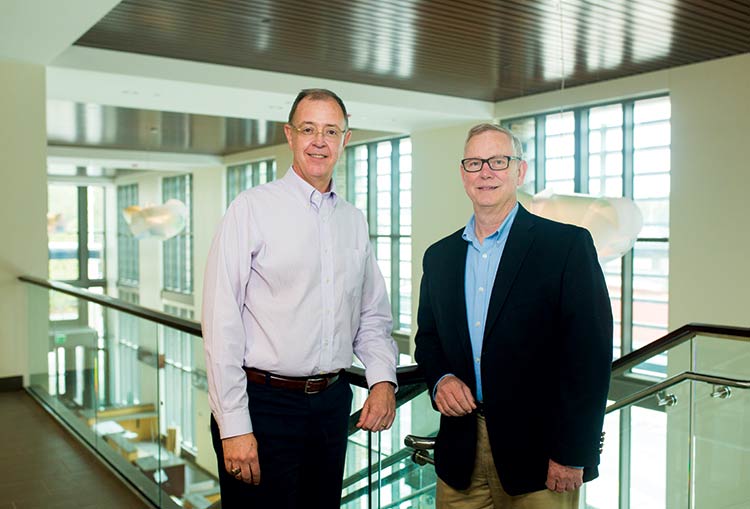 As more people embrace energy efficient technology, "going green" is no longer considered just being hip or part of a niche market. It's a green revolution gaining momentum as the benefits begin to outweigh the upfront costs. And it's not just consumers who want to be good stewards of the environment – it's businesses and municipalities as well. The town of Mount Pleasant is no exception.
Designed by local architect Stubbs Muldrow Herin, Mount Pleasant's new Town Hall took a giant leap toward eco-friendliness. Almost the entire building was designed to save energy and, in the long run, money.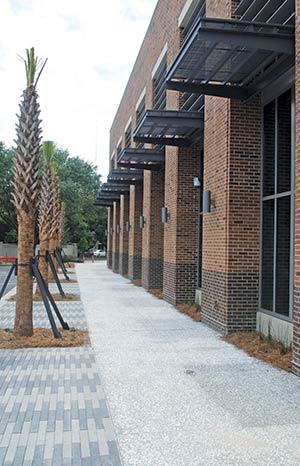 Local architect Sam Herin, Dennis Knight of Whole Building Systems and Mark Uyak of DWG Consulting Engineers were among the group of architects and engineers who worked on the project and who played a key role in creating a state-of-the-art, energy-efficient Town Hall.
The buildings that made up the old Town Hall, part of which was built as a school in the 1960s, provided about 60,000 square feet of space. Town officials asked that the new, 92,000-square-foot, three-story building use "the same amount of energy that was used before," Herin explained, adding that "we needed to solve some energy problems without creating comfort problems."
That certainly was a challenge but one SMHa attacked head on.
"The new Town Hall has a high-efficiency building envelope, which offers exterior insulation and a weather barrier," Herin pointed out.
Using passive design strategies, the building also features thermally broken windows and exterior shading that help keep the heat out. The key to this type of design is to take advantage of the local climate and the path of the sun – East to West – Herin explained.
"It's designed so that it doesn't get a lot of direct sun during the warmest times of the year," Herin said. "This helps the building to more easily cool down when it's warm and warm up when it's cold."
There are also LED lights throughout, automated heating/cooling and vacancy sensors installed in most of the rooms. The sensors save energy by automatically turning lights off when rooms are unoccupied.
Knight explained that lights will not automatically turn on when someone enters a room, but sensors can be preset to turn the lights out after the room is empty for a certain amount of time.
"You have to physically turn on the light when entering, but the system senses when you've been out of the room long enough," Knight said. "The sensors use sound, motion and heat to detect whether a person is in the space or not. Even if someone is asleep, the system senses that you're there."
After reviewing various design options, a decision was made by the town for the new Town Hall to be Energy Star certified, a program of the Environmental Protection Agency that recognizes superior energy efficiency. The EPA provides tools and resources to measure energy use, with a grade of 75 percent out of 100 percent necessary for Energy Star certification.
"Our target for the new Town Hall was 85 percent. There are benchmarks that had to be met to get that label, and we won't know until everything has been turned on for a while if we did it," Herin pointed out in June 2017, as town employees were preparing to move into their new home.
To save time and maintain efficiency, one unique feature of the new Town Hall is its notification system. When a certain area of the building is not meeting performance standards, Knight said, "an alert is sent by text or email from the system itself to let us know there's a problem."
"Whatever the problem is, it's dealt with more quickly.
The point is to keep the building functioning as it was designed and to not let it get out of tune," Herin added.
The building also features CO2 sensors in the high occupancy areas. None of the windows open, but the air is constantly monitored to ensure comfort and quality.
"The system is designed to use whatever source takes the least amount of energy," Uyak said. "When people aren't in the building, less ventilation is needed. When it's occupied, the ventilation that brings in outside air is back on."
At night, once town employees have left for the day, certain sections of the building are not completely shut down but are "set back," Uyak said.
"It would take too much energy to bring the building back to a comfortable level if you shut it down completely each night. But when people aren't in the building, the ventilation is reduced," he explained.
As Mount Pleasant's new Town Hall approached completion, demand from consumers and government incentives were making it easier and more financially feasible to go green. The new Town Hall did not miss out on the wave of eco-friendliness. It's not only energy efficient and comfortable but also provides an atmosphere conducive to working, learning and serving the residents of Mount Pleasant.
By Diane Pauldine