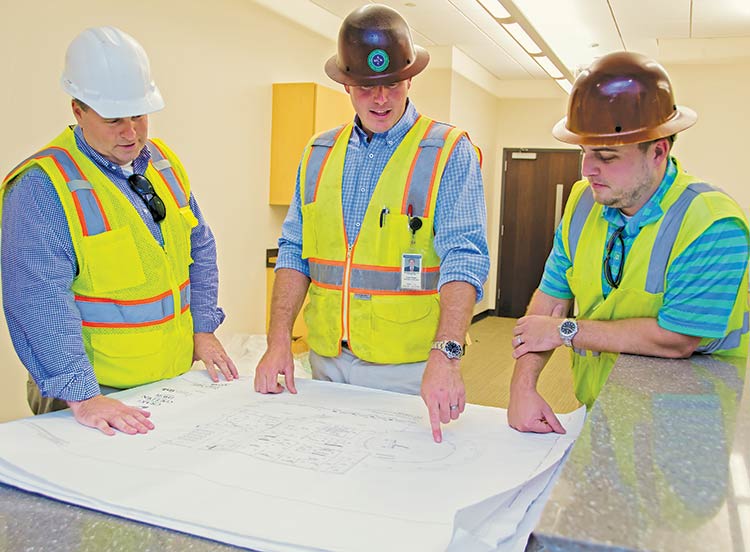 Almost every Wednesday for more than two years, Brooks Blumenthal arrived at the building site of Mount Pleasant's new Town Hall, making sure his own employees and a collection of hand-picked subcontractors were combining their considerable talent and experience to create a state-of-
the-art home for the town's residents and employees.
And though Blumenthal, the project manager for general contractor McKnight Construction Company, was in charge of all things related to the building process, he never showed up wearing a suit or dress shoes.
"In our company, you can call me a laborer," he commented. "I'll sweep the parking lot if that's what needs to be done. I don't mind getting dirty. I wouldn't ask someone to do something that I wouldn't do myself, and I take pride in that."

Just 36 years old when Mount Pleasant's Town Hall was completed, Blumenthal had been with McKnight since January 2004, when he graduated from Georgia Southern University with a degree in Building Construction and Contracting. The learning process got underway immediately.
"McKnight starts people in the field, on the front lines," he explained. "The real education begins on the job."
For Blumenthal, that education got underway at Fort Benning, where his job was to help build the passenger processing facility and do some work on the chapel. From there, he returned to Statesboro, home of Georgia Southern, where McKnight was renovating the library, adding 104,000 square feet of space and refurbishing four floors of the building. The project had been bid by Blumenthal's brother, Bobby, who worked for McKnight Construction at the time, and Brooks Blumenthal eventually served as project superintendent.
The library was originally built by McKnight Construction in 1972.
Blumenthal, a native of Augusta, where McKnight has its headquarters, pointed out that as one of three full-time project managers, he is responsible for bidding all his jobs. Unlike many construction companies, McKnight, a family-owned company that operates like a family, doesn't have full-time estimators.
"Our Estimating Department is comprised of our project managers. We all wear many hats, from estimating to project management, which makes our company unique," he stated.
While Mount Pleasant's Town Hall was under construction, Blumenthal was managing several projects, including a middle school and an elementary school in Atlanta; renovating Coastal Carolina University's Brooks Stadium in Conway, South Carolina; and Rollings Middle School of the Arts in Dorchester County. He had recently put the finishing touches on three other schools in the Summerville area: Sand Hill Elementary, Alston-Bailey Elementary and Alston Middle.
Blumenthal pointed out that many of the subcontractors who helped build Mount Pleasant's Town Hall are local, based either in Mount Pleasant, Charleston or other nearby locations. He added that being from out of town can be an advantage for a general contractor. For example, McKnight was able to use resources from outside the Lowcountry when necessary.
"The building industry is booming here. Everyone is busy, and that's good for business," he explained. "A masonry crew is tough to find here because the local manpower pool is so busy. Prior to bidding the Town Hall, I called a dozen or so site work contractors, and they said they didn't have the manpower to perform the work due to their current workload."
As a result, McKnight Construction handled the concrete and masonry work, which was helpful, Blumenthal said, to get the job started.
"It got us out of the ground quickly. We weren't relying on others," he said.
Blumenthal said the biggest challenge he faced in the Town Hall building process was finding and moving existing underground phone and data lines and handling that process without interrupting communications for town of Mount Pleasant employees – or any other businesses or residents in the area.
The project manager pointed out that he has learned over the years that every job is unique and that each project has its own challenges.
"I used to say that construction is construction, that ultimately it's concrete, sheetrock and steel," he said. "But every job has its complexities. Every job is important to the owner in a special way. We take as much pride in this job as in anything we do."
"From our perspective, it's a good looking building with a great design. The folks with roots here take pride in their town. I can only imagine the pride they take in their government facilities. That's special for me," he added.
Blumenthal pointed out that part of the success of the project was the result of everyone who was involved doing their job.
"The subcontractors teamed well together, and the architect and the town were always responsive," he said.
When Mount Pleasant's Town Hall was completed, McKnight Construction, under the direction of Blumenthal, went to work tearing down Building A, Building D, the old gymnasium and the former police station to make room for a park, a new gymnasium and additional parking.
Was he going to miss visiting Mount Pleasant every Wednesday?
"I hope I don't leave. I hope we have another project going on here. I like to visit new places. I just don't know where those places are going to be," he said.
"What's not to like about Mount Pleasant," he concluded. "It's on the coast, and this area is the culinary capital of the world."
By Brian Sherman