Libraries aren't just places to get books. Books are, of course, the centerpiece – and, as a writer and reader from way back, I couldn't be a more enthusiastic book lover. However, ask any frequent visitor of Lowcountry libraries what they love most about the excursion, and you're bound to hear numerous answers, from toddler story time to free educational lectures to events.
Come 2018, library aficionados in East Cooper will have even more reason to rejoice. The new library slated to be built in North Mount Pleasant near Carolina Park will open its doors with much fanfare. And the books are just the beginning.
"It's definitely going to be a 21st century library in terms of its offerings," affirmed Nicolle Davies, executive director of Charleston County Public Libraries.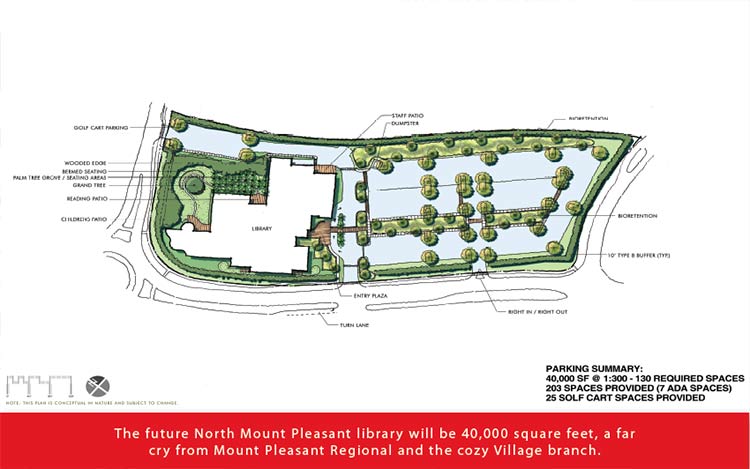 Davies went on to discuss what patrons can expect from their new library, including outdoor spaces, a "maker" space and a "spectacular" children's area. The maker space, one of the most anticipated parts of the new branch, will be a room to workshop and create with items such as a three-dimensional printer, a sewing machine and other various tools. Inspired individuals will also feel at home in the digital room, equipped with audio and visual recording tools, a green screen and a computer for editing.
"When you think about the do-it-yourself movement going on and how engaged people are with doing projects, it made sense to offer these," Davies pointed out.
Once creative types need a break from solo work, they'll find pockets for socializing with fellow library lovers in the outdoor spaces and the "living room" environment of the main floor, according to Davies. Comfortable chairs inside and landscaped areas outside will ensure a pleasant experience for all.
Furthermore, curious patrons who wonder how, exactly, returned books get checked in, sorted and put away in a timely fashion will love watching the new automated material handling system, another innovative part of the future North Mount Pleasant branch. Davies said the new system will operate on a conveyor belt, automatically check in materials and sort them for the proper bins – and people will be able to watch it behind the glass "just like at Krispy Kreme."
"It will also free up the staff up to spend more time with patrons," she added.
Wondering how all of this awesomeness is going to fit in one place? Well, first of all, banish the mental image you're harboring of the typical CCPL regional branch. The future North Mount Pleasant library will be 40,000 square feet, a far cry from Mount Pleasant Regional and the cozy Village branch in old Mount Pleasant. Yet Davies is confident that both libraries will continue to have plenty of eager patrons.
"The current Mount Pleasant branch is so busy, this one will give that one more room," she said. "And there's a significant demand for libraries in general, so the current branch won't lose anyone."
As of press time, the new library did not have a firm groundbreaking date, according to Davies, but it is expected to open by late 2018.
"When you think about the growth going on in North Mount Pleasant, this library cannot happen soon enough," she remarked.
By Denise K. James