It started as a pipe dream: a shady, smooth bike trail winding from Laurel Hill Park, past Boone Hall and Mount Pleasant Towne Centre, all the way to the Ravenel Bridge and into downtown Charleston. Now there is a path to reality for that dream.
As early as this summer, the plans could be set and the gears turning for a new pedestrian trail along the stretch of Highway 17 flanked by Laurel Hill Park and Oakland Plantation. The Oakland Pipeline Trail will literally lay the groundwork for an East Cooper Trail stretching from Sullivan's Island to the Ravenel Bridge.
"This would be the first big project of this type that we've done," said Clay Duffie, general manager of Mount Pleasant Waterworks, which provided the impetus for the project.
The Oakland Pipeline Trail gets its name from the pipeline beneath it, which is the real reason a trail is now on the table. MPWW is upgrading pipes along Highway 17 as part of a capital improvement plan, and construction inevitably involves clearing space above ground. Trees play a big role here, because laws require a company that clears ground either to re-plant trees or pay the Tree Abatement Fund. But there is a third option, and that is how the Oakland Pipeline Trail was born.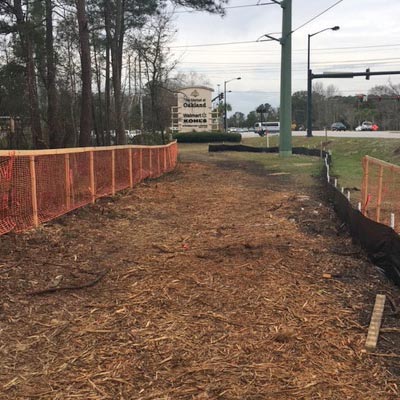 "If we can leave something behind that the public wants, we'll be happy to do that," said Duffie, explaining why MPWW chose to create a public recreational area on the land above its project. Rather than pay tree abatement costs, MPWW elected to use the money to build a public use area for the community.
"We like leaving things better than we found them," Duffie remarked.
Building a mile-long pathway in addition to the pipeline will take more than MPWW money, though. The planned trail is a collaborative effort, bolstered by Charleston's growing community of bike advocates, Mount Pleasant's elected officials, the Coastal Conservation League and the East Cooper Land Trust.
"We did propose the idea earlier, but it didn't get any traction with the town," said Duffie. "After the easement got cleared, they thought, 'That's a great place for a trail.' So it got resurrected."
While MPWW created the reason for the trail, East Cooper Land Trust has taken the project under its wing. Not only did the Land Trust commit to raising $150,000 by the end of 2017 to match MPWW's contribution, it also will be a driving force behind the legal proceedings and gaining public support.
"The project has the support of Charleston Moves, Charleston County Parks and Recreation Commission, the East Coast Greenway and Berkeley-Charleston- Dorchester Council of Governments," said Catherine Main, executive director of East Cooper Land Trust. "But community support will be the most important piece."
Mount Pleasant Mayor Linda Page gave her approval and the plan received an outpouring of public support at a Waterworks meeting in early March.
"They said, 'Great, if this is what you guys want to do, sounds excellent,'" said Jason Crowley, a land use project manager with the Coastal Conservation League. "There is good effort being made to bring more biking into transportation infrastructure, but there is a lot we need to do still."
"It's a work in progress," as Duffie put it. While he is committed fully to MPWW's part of the project, he knows that the Oakland Pipeline Trail is only one piece of a much larger puzzle.
"I hope interested citizens will recognize this and step up to the plate," Main agreed.
They should, according to Katie Zimmerman, the new director of Charleston Moves, because it is a trail for everyone.
"It [the Pipeline Trail] will serve not only people with all types of bikes but also people who want to walk or run safely in the area," she said. "It is a viable beginning to what could be a very promising connection for outer Mount Pleasant neighborhoods."
This dream reaches far beyond Mount Pleasant. Even the East Cooper Trail is only one piece of the larger plan for a bike trail through all of Charleston and, eventually, an interconnected East Coast Greenway. But that is a daunting task, and it's easy to get caught up in the politics. So what will it take to bike from Sullivan's Island to downtown Charleston, or even Avondale?
"Success depends on two things," said Zimmerman: "adding to the path as opportunities arise, making connections further and further until the route extends both to the beaches and to downtown Charleston." She added that the second thing is maintaining what is built, which requires funding from organizations and government, as well as public support.
"It's a little bit of politics. But it is also educating and re-educating the public about these types of transportation alternatives," said Crowley, who rides his bike to work every day. Another longtime bike advocate, Citadel professor Don Sparks, uses the analogy of freeways: "These projects should be thought of as part of the transportation network, not a recreational add-on or afterthought."
Stopping at just one mile of trail, he said, "would be like building two miles of interstate and being upset because no one is using it."
"They think, 'no one will use it,'" Crowley added.
"That's what they said about the Ravenel Bridge. You've probably never seen a day along the Ravenel Bridge without a pedestrian."
It's undeniable that Charleston is breaking ground to accommodate the rising population, but what we place on top of the construction scars will make the real difference.
"Every time we get a section of section bike and pedestrian path or trail or street, we are making things safer, more connected and, frankly, we are making transportation a bit more enjoyable," said Zimmerman.
"It's going to take commitment and work from elected officials, citizens and interested groups to ensure it happens," she added. "It'll be worth it"
By Enid Spitz