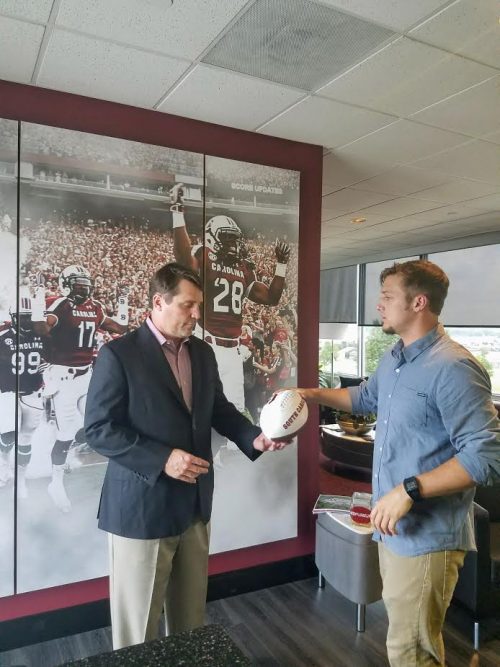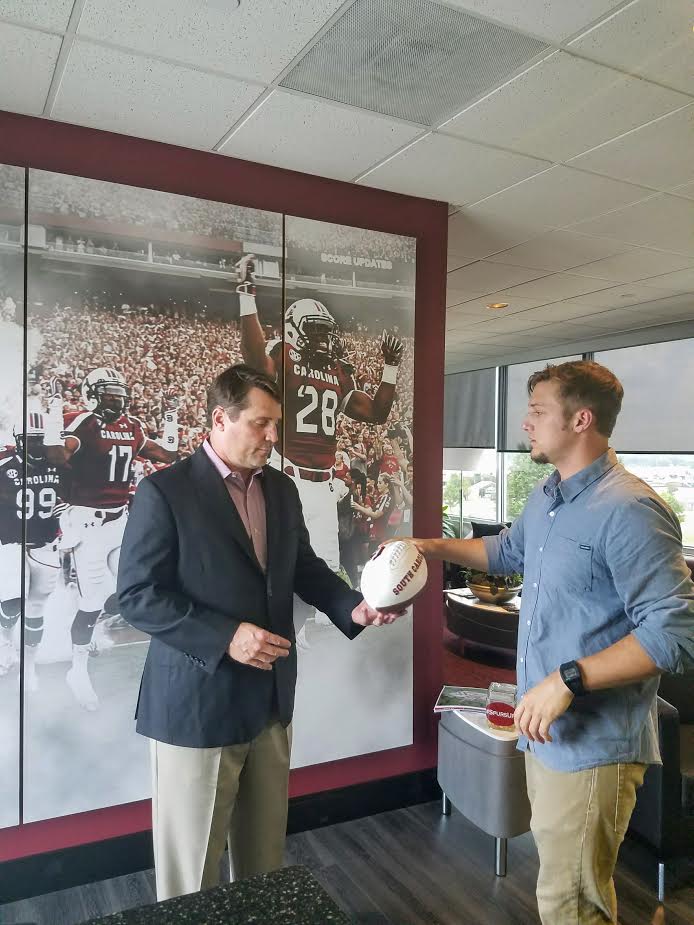 Back in mid-July, Publisher Bill Macchio and I started talking about what we'd put on the September/October cover of Mount Pleasant Magazine. After tossing around a few ideas – like a football, you might say – we decided that our traditional fall cover pertaining to Clemson and Carolina football was a formula that could not fail. So we set about figuring a way to take photos of Coach Will Muschamp and Coach Dabo Swinney, our latest take on the theme. That's when Ginger, our accountant, office manager and all-around-hat-wearer, discovered the Coaches for Charities Event in Greenville. She forwarded me the email, and I started working my magic, otherwise known as harassing the event planners to death to find out if we could crash the thing with a camera.
A couple of nail-biter days later, I was on friendly terms with Burt Trembly of Coaches for Charities. He was awesome and friendly, even asking if my photographer (Thomas Runion of Salt Glass Media) and I would want to stick around after snapping pictures of the coaches and photograph the whole event. We heartily accepted, and everything seemed hunky-dory – until one small caveat surfaced: Coach Muschamp would not be able to attend. Back to the drawing board.
Eventually, my editorial assistant, Natalie, got in touch with Steven Fink at USC and convinced him to let us "drop in" at Williams-Bryce Stadium to capture an image of Muschamp on the way Greenville. We were pumped, needless to say. It was going to be a hectic but satisfying mission – like all cover photos tend to be – and I happily accepted the support of one of my colleagues, Rainey. A rabid Gamecock fan, she ended up being invaluable to the trip. That's the thing about these fabulous front covers. It's tempting for me to take all the credit (I'm only human), but the truth is that it'd never happen without the support of my team. Kinda like football.
So anyway. The day of the trip arrived, and the office was buzzing with excitement. I had my bag packed with three different possible outfits for the event; Rainey had an assortment of newspapers and magazines for Coaches Swinney and Muschamp to autograph; Thomas had a bevy of lights and lenses. We were as prepared as we could be. And though I'm not necessarily a child of college football – more like a stepchild who waffles back and forth between two families, or teams – even I was looking forward to schmoozing. We set off around lunchtime, trailing each other up Interstate 26 in a fierce downpour of rain, all of us praying that the sun would peak through by 3 p.m. in Columbia.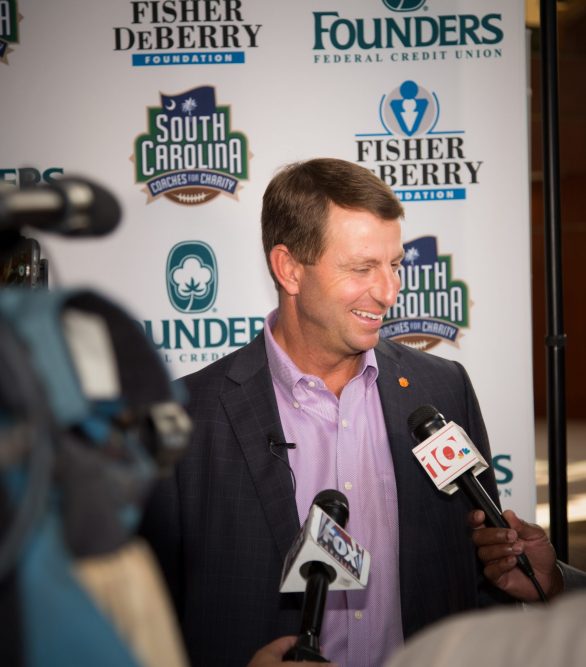 We got what we asked for. The gray parted into blue, a solid sign from the universe that our goals would be met. Steven Fink met us at the mouth of the stadium, shook our hands and put us at ease before Muschamp, a hospitable and patient man if I ever saw one, emerged on the scene and posed for Thomas before scrawling his name repeatedly with a permanent marker across previous fall issues of Mount Pleasant Magazine. One down, one more to go. We were charged up, thrilled at our luck and excited for what was to come farther upstate.
When we arrived at the Hyatt Regency in downtown Greenville, home of this year's Coaches for Charities event, Thomas, Rainey and I scrambled to get dressed in our dinner attire. Coach Swinney would be arriving any minute, and I still had no clue if I could handle my high heels with the ankle strap.
Eventually, the moment of truth arrived, and we had both coaches' photos safely saved on Thomas' memory card. Coach Swinney was a memorable character, filled with witticisms like: "No one has ever called my signature artful before!" following my compliments of his autograph.
Satisfied with the accomplished cover mission, Rainey and I got busy enjoying the first course of dinner and connecting with the football fanatics at our table. Meanwhile, Thomas circled the event, expertly snapping photos of everything from speeches made by South Carolina's best and brightest coaches to families clinking champagne flutes to silent auction items.
What was the best part of the entire experience? The magazine you're holding. While the event was fabulous and meeting Coaches Muschamp and Swinney was great, nothing was quite so lovely as returning home to Mount Pleasant, bathed in triumph and watching the September/October 2017 cover come into existence.
It's moments like those that I know I chose the right career.
By Denise K. James
Photos by Thomas Runion of Salt Glass Media.