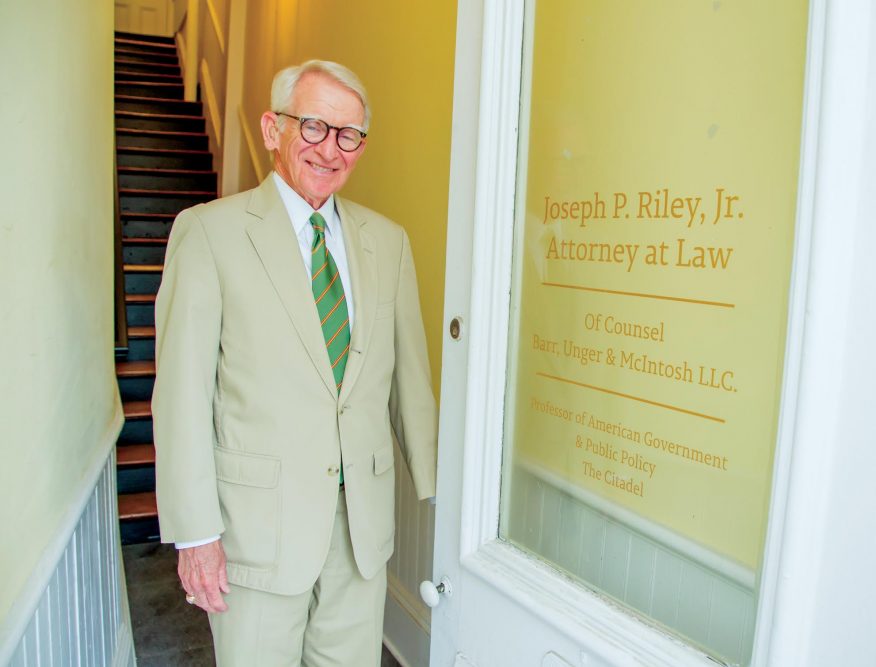 Joseph Patrick Riley Jr., lifelong Dodger fan, longtime mayor of Charleston and unabashed ambassador for the resplendent stretch of Coastal Carolina he has always called home, held up his hand, the space between his thumb and forefinger barely visible, to describe the size of the phone book that once listed every resident and business in Mount Pleasant, Sullivan's Island and Isle of Palms.
When Riley moved into the mayor's office in Charleston in December 1975, Gerald R. Ford was the president of the United States, the cost of a postage stamp was about to rise from 10 to 13 cents and Mount Pleasant's population, according to the 1970 Census, was only 6,879. But even back then, Riley, who remained in office for four decades, was confident that Charleston's neighbor across the Cooper River would someday be among South Carolina's most vibrant municipalities.
"I knew Mount Pleasant was a great place to live and that it was positioned strategically to benefit from the growth that was occurring," said Riley. "When the Pearman Bridge was built in the 1960s, that unleashed development because it was much easier to get to Mount Pleasant."
The completion of the Silas N. Pearman Bridge in 1966 certainly played a key role in Mount Pleasant's meteoric rise from small bedroom community to the fourth largest and fastest-growing town in the state, and the Arthur Ravenel Jr. Bridge, which replaced the Pearman and the older John P. Grace Memorial Bridge in 2005, didn't hurt either. But according to Riley, the most important factor in Mount Pleasant's growth has been the people who were elected to lead the town during his 40-year reign as mayor of Charleston.
"I got along with all the mayors of Mount Pleasant," said Riley. "We never had any arguments. We worked together. We were all part of the same community, and we approached it that way. We had a great team."
Riley has fond memories of all the Mount Pleasant mayors he served with. For example, he remembered that McGrath Darby's father ran a full-service gas station on Coleman Boulevard. On Saturdays, customers – and probably nearly residents as well – could hear the sounds of the Metropolitan Opera drifting from the station's radio. Johnnie J. Dodds, mayor of Mount Pleasant from 1976 to 1984, was, in an earlier time, Riley's baseball coach on Sullivan's Island. Riley didn't play ball on the Charleston peninsula because his parents owned a home on Isle of Palms and his family stayed there from July until Labor Day each year.
Riley said he and Dodds "went way back."
"He was one of my heroes and a kindhearted civic leader," the longtime mayor of Charleston commented.
Riley pointed out that he also worked well with Richard L. Jones (1984-1991), Cheryll Woods-Flowers (1992-2000), Harry M. Hallman Jr. (2000-2009), Billy Swails (2009-2013) and current Mayor Linda Page, who was elected in 2013.
"Linda has been terrific. It's amazing the consistent quality of leadership the people of Mount Pleasant have elected. It's been a huge benefit to our region," Riley remarked.
And who was the best mayor of Mount Pleasant during Riley's time at Charleston's helm?
"That's not for me to say. They were all great. Mount Pleasant and the whole region is blessed," he said. "Mount Pleasant has always had a great Town Council and a great group of public servants."
Though he never lived in Mount Pleasant, Riley's family played a role in the early growth of what would become the fastest-growing municipality of its size east of the Mississippi River. His father, "somewhat of a developer," convinced nine other people to help him buy and develop the land that eventually became Cooper Estates, off Johnnie Dodds Boulevard on the southwest side of Mount Pleasant.
Despite its incredible growth in recent years, Riley doesn't think Mount Pleasant will ever pass Charleston, North Charleston and Columbia to become the largest town in South Carolina.
"The land acreage just isn't enough. It's constrained geographically by Francis Marion National Forest and the Wando River. Even if the population becomes more dense, I don't think it will become so dense to make the population that large," he commented.
The longtime mayor of Charleston predicted that the Mount Pleasant of 10 to 20 years from now probably won't look a whole lot different than it does in 2017 – or than it did in December of 1975, if you don't mind more people, more businesses and more traffic.
"Mount Pleasant will be charming, beautiful and livable," Riley said.
He added that as mayor of the largest city in the area for four decades, he had a responsibility to all the towns and municipalities in the Charleston area.
"People may work in a different community, pray in a different community, go to the doctor's office, hospitals and restaurants in a different community and see friends and family in a different community," he explained. "What's important to Mount Pleasant is important to the entire region."
Riley, who turned 74 early this year, retired from his position as mayor of Charleston in January 2016 but certainly didn't retire from life. As the first occupant of the Joseph P. Riley Jr. Endowed Chair of American Government and Public Policy at The Citadel, he taught a class that delved into his time as mayor of Charleston. A 1964 graduate of The Citadel, he said he's looking forward to teaching again during the coming year.
After four decades as mayor of Charleston, Riley is right back where he started, practicing law in the same office on Broad Street where he launched his professional career in 1967, shortly after graduating from the University of South Carolina School of Law.
By Brian Sherman.
Photos by Jess Wood Photography.