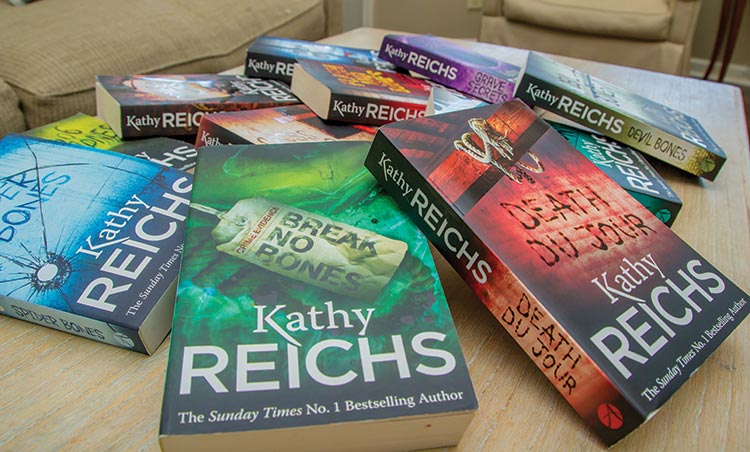 The similarities between Dr. Kathy Reichs and Dr. Temperance Brennan are striking. Both are world-renowned forensic anthropologists, dedicated to solving crimes and uncovering the truth by studying skeletal remains. And they both write fiction, basing their novels on actual cases they have worked on. Sorry, conspiracy theorists: The similarity ends there – sort of.
We used only real science. We didn't make things up. In TV, you have to answer to a lot of bosses. Writing for TV is quite different.
>Reichs is real and is both a scientist and a prolific writer who sometimes works her literary magic at the home she owns in Isle of Palms. Brennan? She's a product of Reichs' vivid imagination and professional acumen, the protagonist of "Bones," the Fox Network's longest running drama ever.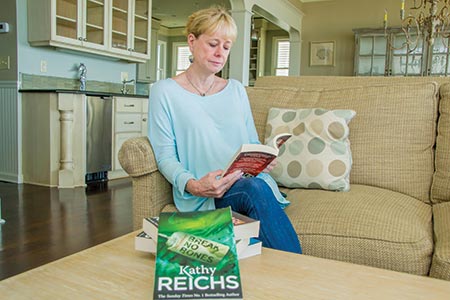 "Professionally, she's me," Reichs explained. "But I wanted her to have flaws in her personal life. For example, she's a recovering alcoholic."
After 12 years, the final episode of the TV show aired March 28, but Reichs won't be closing the book on her literary career anytime soon. She has written 18 Temperance Brennan novels, and her latest work of fiction, which has nothing to do with "Bones" Brennan, will be available to her current and potential fans in July.
Reichs was a professor at the University of North Carolina-Charlotte when she decided to try her hand at writing fiction and "bringing science to a broader audience." Two years later, in 1997, she completed "Deja Dead," a New York Times bestseller that launched her lengthy and still vibrant writing career. Seventeen more Temperance Brennan novels followed, and she also co-wrote the "Virals" young adult series with her son, Brendan Reichs.
A Chicago native who earned her doctorate at Northwestern University, Reichs added to her literary repertoire in 2005, when Fox decided to bring "Bones" to network television. Reichs was one of the writers for the show, as was her daughter, Kerry. And though Reichs created the main character, she explained that she didn't have all that much control over the content of the long-running drama. She said her main role was "to advise the other writers and keep the script scientifically accurate."
"We used only real science. We didn't make things up," she explained. "In TV, you have to answer to a lot of bosses. Writing for TV is quite different."
Because novels and television are aimed at disparate audiences, the Temperance Brennan in Reichs' books is not exactly the same as "Bones" in the TV show. In her novels, Reichs chose not to have her characters age, while the actress who played "Bones," Emily Deschanel, is obviously a dozen years older than she was when she was chosen for the role in 2005. And while the novels are set in cities such as Montreal, Charlotte and Charleston, the TV show takes place in the mythical Jeffersonian Institute in the nation's capital.
"Washington was an appealing setting because it wasn't being used. 'The West Wing' was getting ready to go off the air," Reichs pointed out.
"Bones" was actually shot in Los Angeles, 75 to 80 percent of it on the Fox lot and the rest on location, "maybe in the woods or on a college campus – something you really can't simulate," Reichs pointed out.
There's another twist that ties Reichs to the forensic anthropologist she conceived two decades ago. In the TV show "Bones," Temperance Brennan is an author in her spare time, and the protagonist in her novels is none other than Kathy Reichs – a different Kathy Reichs, according to the real-life writer.
"The Kathy in Temperance's books is younger and single, and her romantic life is a mess," said Reichs, who is married with three children and six grandkids.
Reichs amassed a mountain of experience in the world of forensic anthropology before she started writing about it. She is among only 79 people listed as an active diplomate on the website of the American Board of Forensic Anthropology, and, at one time, she was working on around 75 cases a year. She said she is currently involved in only one active case.
"It's a big commitment," she said. "You know you're committing yourself for expert testimony and the trial."
Reichs pointed out that not all of her work in forensic anthropology concerned criminal cases. For instance, an older person might wander away from an assisted living facility, never to be seen alive again.
"Two years later, the body is found in the woods somewhere, and I would help positively identify the person," she explained.
She said in many cases, the only way to positively ID a decomposed body is by using dental records or DNA. First, however, law enforcement officials must have some reason to think the body is that of a specific person.
"A forensic anthropologist can determine the age, sex, height and race. Then the police can match that information against a list of missing persons," she said.
Reichs has plied her trade around the world. She spent two weeks in New York City in 2001 with a Disaster Mortuary Operational Response Team that was charged with sifting through the debris of the twin towers of the World Trade Center, trying to separate human remains from the rest of the debris from the 9/11 attacks. She also has testified at the United Nations Tribunal on Genocide in Rwanda and helped exhume the bodies of 23 murder victims buried in a mass grave in Guatemala. In addition, she has offered her experience and expertise to the Joint POW/MIA Accounting Command. JPAC is responsible for finding and identifying American soldiers listed as prisoners of war or missing in action, especially from the Vietnam Era but also during the Korean Conflict and even World War I and World War II.
Reichs will be treading new ground with her next novel, which is scheduled to be released July 11. Temperance Brennan will be nowhere to be found in "Two Nights," which takes place in part near Isle of Palms. The main character, who in her 30s lives on Goat Island, went through a difficult childhood, escaping from a doomsday cult, getting kicked out of high school and enlisting in the military to avoid serving jail time.
"She's a darker character, and she's really withdrawn," Reichs commented.
Reichs no longer teaches but is still on the faculty at UNC-Charlotte. Her contract calls for her to write one book a year. However, if the skill of an experienced forensic anthropologist is required to crack a complicated case, she'll be available to help out – especially with Temperance Brennan out of the picture.
By Brian Sherman