Driving under the suspension cables of the Ravenel Bridge never loses its magic. There is a certain spell cast by the sky or stars pulsing between those white lines as you race by. As an Uber driver, that bridge is like a moment of truth.
I started driving for Uber right after moving to Charleston from across the country. I never would have driven in Portland because of the rain or in California due to the traffic, but Charleston seemed reasonable, and the extra income as I settled into Southern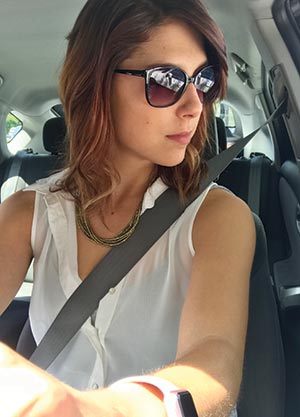 life was reason enough to go through the surprisingly simple setup process. Snap a selfie, verify your insurance, swing by a Jiffy Lube for testing and get a car wash. Next thing you know, there's an Uber badge in your mailbox and enough money in your Uber account to cover gas, expenses and a dozen decent oysters. Plus, I drive a Prius.
The simplicity of it is striking: I open the app, see a map and sometimes red hot spots that indicate high demand and surging prices. I wait, usually under three minutes, for the first blinking circle to take over my screen, indicating a request. I tap; I drive; I drop off. Since I drive primarily on weekend nights, the requests usually roll in non-stop, a new one before I even finish the last ride. On my best night so far, I made $92.90 after Uber fees for a couple hours of driving.
Uber is spending money, travel funds and a nice side gig for me, but people do drive to pay rent and make a living. Nineteen dollars an hour is the estimated salary of an Uber driver from a 2015 TechCrunch study. Driving full-time at 40 hours a week, you could make nearly $40,000 a year after taxes and fuel at that rate. If the alternative is minimum wage and following a corporate schedule, the Uber salary looks pretty enticing. Maybe that explains why the demographics of Uber drivers are more racially diverse than most professions. A relatively high percentage of drivers are veterans, and 30 percent of new drivers last year were female. You make significantly more than taxi drivers – in the case of New York, it's double. But every fare is attached to a rider, and therefore, an experience.
Riders are always hesitant when they ask, "Do you do this full-time?" or "What's your other job?"
Uber drivers are not only the new taxi drivers, they are the 21st century's therapists, travel agents and possibly the only conversation all day where you don't have to battle a smartphone for your companion's attention. As a writer, teacher and part-time retail worker in my non-Ubering hours, talking to people is at least 80 percent of my livelihood. Uber requires competent driving skills, a decent sense of direction and an unrivaled knack for dealing with human eccentricity.
Front seat or back? Small talk or silence? Want to go by a certain route? Add a stop along the way? Music requests? There are infinite variables for every ride, as with any customer service interaction. Only this one is performed at 25 to 65 miles per hour and inside my private property.
So far, I've driven countless couples on their way home from King Street on Friday night, sorority students after formals, business meetings back to the Holiday Inn, solo travelers searching for the best fried chicken and one dancer to the Silver Slipper at 10 on a Thursday night. She had just awoken from a nap.
Mount Pleasant has its own Uber-dentity. As far as Charleston Uber life goes, the city is unofficially split up into around six main neighborhoods. There are no lines on the map, though the bright red hue that designates surge pricing does often fall along these unofficial borders. As a driver, you know there is North Charleston, far out West Ashley, Folly, the peninsula, Mount Pleasant and the Airport (its own microcosm). If you stay downtown, you'll get paid next to nothing for mileage but pick up the biggest surges and up to 10 rides an hour. Far north and west are the only times I use cruise control. Those are the commuter rides; I once had a pastry chef start snoring in my back seat on a 20-minute drive from Glenn McConnell to downtown. I went over extra potholes on purpose, mentally apologizing to the Prius, once we got within a mile of the drop off. Of these regions, Mount Pleasant is … the most pleasant, to be terribly cliché.
Driving above the Cooper River and below those landmark triangular arches, you catch a moment of pause.
Most trips into Mount Pleasant are homecomings, either groups Snapchatting in the back seat on the way home from Mynt in the earliest hours of Saturday or couples headed back to their weekend stay at the Wyndham Garden Hotel – or maybe 30-something friends calling it a night early and anticipating Netflix. Occasionally riders bound for The Shelter or the beach make Mount Pleasant a destination, but most inbound rides are winding downs. Headed the opposite way are the tourists from the Yorktown, The Shelter's happy hour starters headed to King or a house party, or couples with dinner reservations. Other than one ride I did from a front porch to the dentist on a random sunny Tuesday, it's rare to start and stop without driving the Ravenel Bridge.
On that crossing, this high-tech taxi service feels suddenly very analog. Uber is as easy as downloading an app and uploading a profile. What's striking is how close driving takes you to people's lives. On the Ravenel Bridge, the homecomings watch the stars get bigger as the downtown street lights shrink. The outgoings get a moment of clarity before descending into the tangled spaghetti bowl of downtown streets. Riding up and down the other side comes with a subtle roller coaster whoosh of anticipation. It's worth looking up from the smartphone that got us both there in the first place.
by Enid Spitz