It's Monday morning after a long holiday weekend. Fifteen minutes before going on live TV for an hourlong show, the team in the ABC News 4 studio is calm and collected as they prepare to tape Lowcountry Live.
The thought of live television may sound daunting to most people, but, for these professionals, it's just another day on the job that they genuinely enjoy.
Less than 10 minutes before Lowcountry Live starts, co-hosts Tom Crawford and Erin Kienzle are relaxed and jovial as they tape promos for upcoming shows. Reading their lines off the teleprompter, they both make funny little mistakes, then shake it off and shoot again.
But as the clock counts down and the real show is about to begin, Crawford reminds himself: "This one's live."
"Don't mess it up," Kienzle quips, and they both laugh.
They have been hosting Lowcountry Live for more than two years, and their on-air chemistry is undeniable. Both have extensive backgrounds in broadcasting and bring enthusiasm and grace to the local lifestyle show, which showcases businesses, community events and charitable causes. Every weekday from 10 a.m. to 11 a.m., viewers can tune in to find out about food, fashion, fitness, fun and furry friends, as well as human-interest stories about issues that matter to the Charleston community.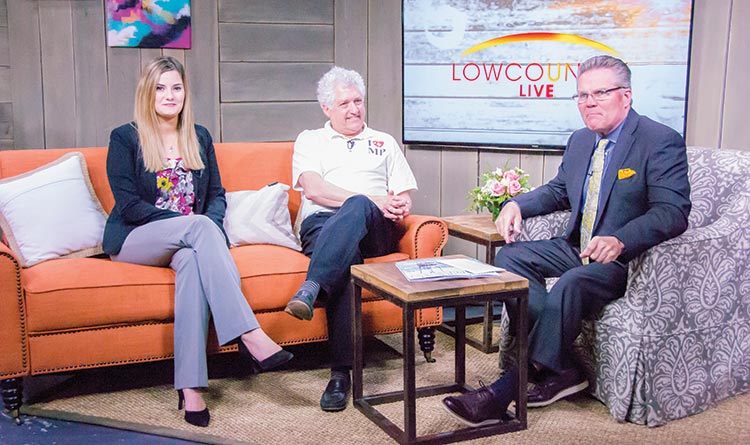 "Appearing on Lowcountry Live isn't just your average TV appearance," said Producer Rachel Burns. "It's your moment to shine. Our show reaches tens of thousands of households, and we love being a part of our viewers' mornings."
Mount Pleasant Magazine recently partnered with Lowcountry Live for a segment that appears every other Monday. Publisher Bill Macchio and Editor Denise K. James discuss articles from the magazine and highlight upcoming events.
"Our show has a pulse on everything going on in the Lowcountry, and so does Mount Pleasant Magazine. The partnership just makes sense," Burns said.
The big studio where Lowcountry Live is filmed in Mount Pleasant is cool and cavernous. The room is divided into little sets: the news desk, the green screen for weather, a big kitchen for cooking segments and a cozy and attractive sitting area, where most interviews are filmed – the guests on the couch, the host in an armchair.
From mini-horses and international sommeliers, to bestselling authors and BRAVO reality stars, Lowcountry Live features a wide variety of guests. The attentive production team works together behind the scenes to make sure the show runs seamlessly, whether it's a cooking segment or a local nonprofit highlighting a worthy cause.
Crawford said it's important to him to talk to guests ahead of time.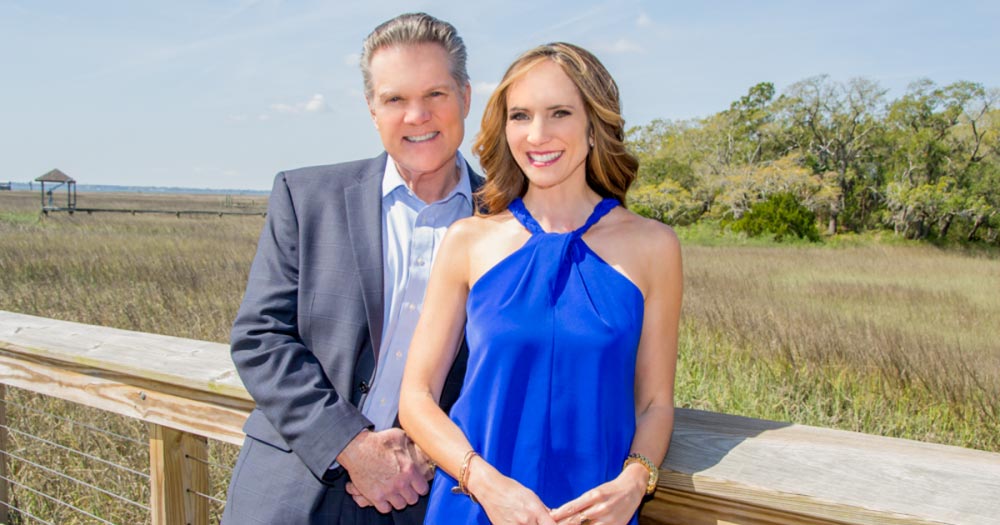 "I remind them that we are just having a conversation so they feel more comfortable before cameras start rolling," he explained.
During the final segment of the Monday show in April, Pet Helpers discussed a fundraiser called Sketch and Fetch – a partnership with a local school that had students paint colorful portraits of adoptable animals. Three young students whose paintings were displayed looked wide-eyed at the camera equipment and large monitors and watched excitedly when a close-up of their artwork came on the screen.
Kienzle said, "That's the neat part about the show. So many people know guests who have been on, it's a community show and they feel like they're a part of it."
To be a guest on the show, contact [email protected].
By Pamela Brownstein