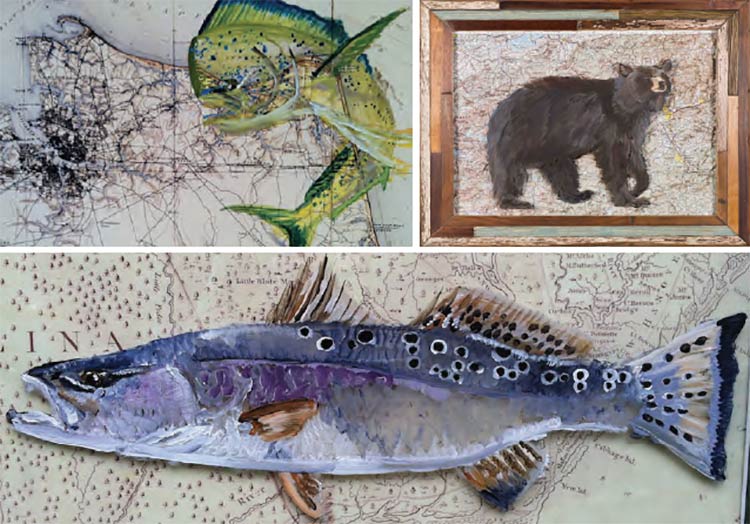 In the South, we cherish the natural world. From the flawless stature of a coon hound to the tranquil image of an ivory egret midflight, we savor the sights that can be found throughout the Lowcountry. The 2017 Southeastern Wildlife Exposition is once again set to display the very best in outdoor living, art and zoology on Feb. 17, 18 and 19.
For Daniel Island artist Amanda McLenon, SEWE is a homecoming of sorts. It's fair to say it's the origin of her artistic journey – one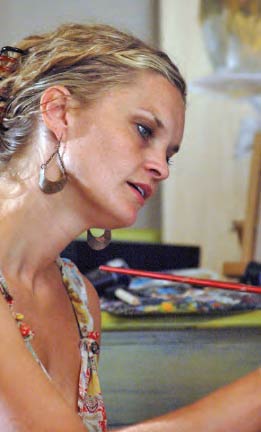 of the very first places she unveiled and sold her work. Creating wildlife paintings, heavily draped in wonder and soul, she continues to awe onlookers with her depictions of regal redfish and serene seagulls.
Her detailed paintings of elegant flamingos and striped bass have attracted attention from fishing guides, outdoor enthusiasts and interior designers looking to fill wall space with coastal charm. Fans can take in her new collection at The Gaillard Center, where other SEWE painters, sculptors and knife makers will have their wares on display this winter.
"I am really proud to be featured as part of SEWE," said McLenon. "I see familiar faces, as it draws a crowd of wildlife enthusiasts, and we all share a passion for the outdoors and for its conservation."
A teacher and marine biologist, McLenon's talent for painting emerged in 2009 when she picked up a brush on a whim and uncovered her innate ability to capture one of the creatures she had studied for years.
"I still marvel at how casually I started painting and wonder if I would have discovered my ability had I not gone to the craft store with my friend Bobbie one day," said McLenon. "I was planning to put photos in an old windowpane, and, when she bought paint for another project, I decided instead to paint it. I automatically painted an image of a fish in reverse on the glass, and, when I flipped it over, I was shocked: It was pretty good."
Her spontaneous decision to explore painting would eventually lead to a 2012 Lowcountry Artist of the Year Award, showcases at The Spoleto Festival and her very own studio space at Redux Contemporary Art Center. Every Saturday, McLenon sets up a booth at The Charleston Farmers Market in Marion Square, selling originals, prints and chic throw pillows that display blue-clawed crabs and sassy peacocks. She also stays busy by doing her part environmentally, as ambassador to the South Carolina Aquarium Sea Turtle Rescue Program.
When not searching for antique windowpanes to transform into canvas, you can find McLenon on her bike, with her camera on her back. She zips through the Lowcountry's trails and hidden spots in search of animals in the glistening waters and pluff-mud pockets that dot our region. Catching a glimpse of an unassuming sea turtle or preening wood stork are all part of a day's work for this adventurer.
"I spend time outdoors observing these beautiful creatures, and that I get to take back to my studio and try to convey the feelings on canvas," said McLenon.
While the Lowcountry provides her with endless inspiration, she also takes pleasure in exploring other corners of the globe. A 53-day research cruise to Antarctica would bring her face-to-face with penguins and seals. She's even safaried in Africa and hopes to have the opportunity to eventually explore more continents.
McLenon's work is multilayered, not just due to the fact that she knows the inner workings of her subject's anatomy but also because she incorporates remnants of our region's past into many of her pieces. Her work is rarely one-dimensional and continually delights onlookers with the stories it tells.
"I have collected antique maps and nautical charts as long as I can remember. My grandfather was a collector and flea market junkie and I am, too," said McLenon. "I also lived on a sailboat for a while and of course studied Marine Biology, so nautical charts remind me of time on the water."
From the Charleston peninsula to the mountainous topography of Asheville, the maps she chooses usually correlate with the region native to the animal she is depicting.
"When I started painting on glass, the maps were such a fitting backdrop that I started incorporating them almost immediately," said McLenon. "I think they add a sense of place, and for many people the artwork becomes really personal with a map."
Long hours in the field and late nights in the studio are all worth it for McLenon, who revels in connecting with fans and seeing firsthand the response her work evokes.
"The most rewarding aspect is seeing a painting of mine have an emotional effect on someone," said McLenon. "Watching people of all ages respond to my artwork and engaging in dialogues about what inspired me and what I know as a biologist about these animals – this is what feeds my soul."
By Kalene McCort